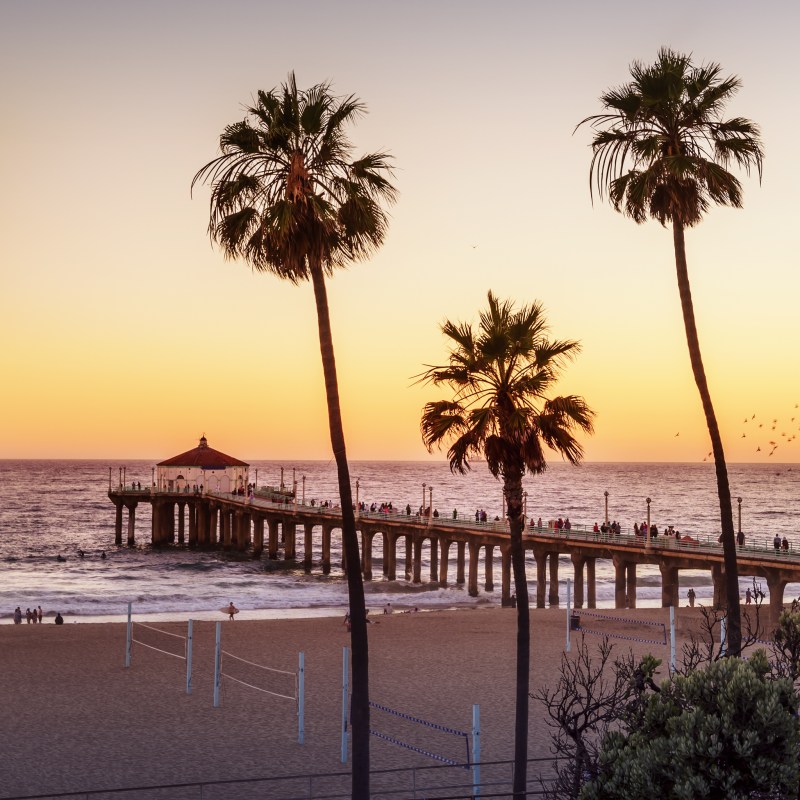 In 2020 Manhattan Beach was voted the Best City To Live In in the United States by 24/7 Wall St. Located on the Pacific Coast about 20 miles from downtown Los Angeles, residents have easy access to a major urban area combined with miles of ocean coast. It's easy to see why many athletes from Los Angeles teams call this town home.
But Manhattan Beach isn't just for locals, it's also an ideal destination for a weekend getaway. This upscale beach town is home to great restaurants, world-class shopping, and endless outdoor activities. It's a fitness enthusiast's dream come true with plenty of options available for both water and land sports. Add in the year-round temperate weather, and this may be one of the best places to spend a weekend in Southern California.
Things To Do In Manhattan Beach
Boredom isn't an option in Manhattan Beach. Despite its small size, it packs a punch when it comes to things to do. Get outdoors and enjoy the sun or slip inside to one of its many shops. In fact, a weekend may really not be enough time to experience all this seaside town has to offer.
Stroll The Pier
Start your visit to Manhattan Beach with a stroll on its pier. This is a lovely way to get a view of the town and observe all beach activity. You'll likely see surfers bobbing up and down in the water, volleyball players lunging for the ball, and bikes zipping by on The Strand — a paved path that borders the beach. Built in 1920, the pier is a focal point of town. At the end is an octagonal building that houses the Roundhouse Marine Studies Lab and Aquarium. If you're traveling with kids or grandkids, the aquarium is a great place to pop-in and learn more about the ocean environment and marine life of the area.
Shop Till You Drop
Whether you're looking for an upscale mall or small boutique shops, Manhattan Beach has both. If you've started your day at the pier, just walk uphill to the downtown area. Art lovers should not miss the highly regarded Riley Arts Gallery featuring the work of local artists. Their collection includes original paintings, fine art limited edition prints and photographs, vintage advertising, and movie posters. If you're in the market for a surfboard, head to Spyder Surfshop and check out their extensive collection of boards.
Or head to the recently renovated Manhattan Village, home to dozens of popular stores like Mac Cosmetics, Ann Taylor, and Bath and Body Works. This indoor/outdoor mall has been redesigned to feature large outdoor areas for relaxing, socializing, and dining.
Roll Along The Strand
Among the most popular activities in Manhattan Beach is bike riding. The Strand is a 4.5-mile paved path offering a scenic beachfront ride. Begin in Manhattan Beach, ride through Hermosa, and conclude your ride in Redondo. Along the way, you'll see joggers, rollerbladers, and skateboarders. Keep your eyes open for a possible dolphin sighting in the ocean.
If you want something more challenging, try the South Bay Bicycle Trail, a total of 22 miles, starting in Malibu, passing through Manhattan Beach, and ending at Torrance Beach. Most of this trail is along beachfront paths, but a portion is on busy city streets.
Bring your own bike, borrow one from your hotel, or rent one at a local shop. To make your ride easier, consider renting an electric bike at Manhattan Beach E-Bikes. If you need a break along the way, stop at one of the many restaurants, bars, and cafes for a snack.
Ride The Waves
Manhattan Beach is a popular surfing spot, so if you love riding the waves, grab your board and have some fun. In fact, El Porto — one of the city's beaches — is considered a top place to surf in Los Angeles. Thanks to an underwater cave, El Porto offers some pretty sizable waves well into the winter that more seasoned surfers will enjoy.
If, however, you've always dreamed of learning to surf, now is the time. One Wave Surf School has been teaching visitors and locals to surf for over a decade. Founder Tyler Tryfas has a master's degree in education and over 15 years of surfing experience.
Spike The Ball
If you prefer the sand to the water but still want to be active, try playing volleyball. This sport has long been popular in the area. In fact, this town has long been host to one of volleyball's biggest tournaments, the Manhattan Open. But you don't have to be a pro to play. The courts are open to the public and available on a first-come, first-served basis. If you're not familiar with the game's etiquette, visit this website.
Savor The Sunset
The sun rises in the east and sets in the west, making any beach town in California a great place to watch the sunset. Manhattan Beach is no exception, and this town is a fantastic place to stroll along the sand and watch the sun sink over the horizon while the sky explodes with color. And if you're here in the winter, you're in for a special treat since winter sunsets are typically the most colorful.
Grab a blanket and sit on the sand for sunset, or head out to the end of the pier. Better yet, do both. Start at the end of the pier and end with a picnic dinner on the sand. Make your picnic extra special with a Bliss Beach Instagram-worthy set-up that includes day beds, seating, a side table, an umbrella, and a large rug.
Pro Tip: Liquor is not permitted on most public beaches in California, so avoid an expensive ticket and stick to non-alcoholic beverages with your picnic dinner.
Best Restaurants In Manhattan Beach
With plenty of excellent restaurants, you'll never go hungry while visiting Manhattan Beach. But be sure to make advanced reservations for dinner since this is a popular evening destination for locals.
For a hearty breakfast, head to Uncle Bill's Pancake House. Since 1961 this restaurant has been serving comfort food to residents and visitors. With over a dozen types of pancakes to choose from, you'll have plenty of delicious choices for the most important meal of the day.
If you prefer a healthier breakfast, try Edo Bites at Manhattan Village, the newest creation by popular LA chef Edoardo Baldi coming in March 2021. Be sure to try their avocado toast and a fresh seasonal fruit salad. If you want to indulge a bit, add a fresh-baked pastry to your order.
Nick's Manhattan Beach — part of a popular Southern California chain — serves steak and seafood in a comfortable and stylish setting. Be sure to try their bacon deviled eggs and one of their classic cocktails.
For the best seafood in town, be sure to dine at Fishing With Dynamite. This highly regarded restaurant serves a wide range of seafood dishes from Maryland blue crab cakes to shrimp pupusas. If you prefer your seafood raw, try one of their raw bar platters featuring oysters and chilled crab.
Best Hotels In Manhattan Beach
Whether you're looking for a high-end luxury hotel or something more budget-friendly, there are options for you in Manhattan Beach.
If you're looking to get as close to the ocean as possible, then make your reservation at Sea View Inn. Located just two blocks from the beach, all stays at this hotel include the use of bicycles, beach chairs, boogie boards, and beach umbrellas. Park once and walk to everything including restaurants, bars, and shops.
Shade Hotel is a luxury boutique property that features a rooftop relaxation pool and large, well-appointed rooms. If you're coming for a romantic getaway, be sure to reserve a room with a spa tub and private balcony.
To get even closer to the ocean, head to neighboring Hermosa Beach and stay at the Hermosa H20 Hotel. Located one block from the beach, this hotel has a modern and stylish decor that hints at the seaside setting. All stays include a continental breakfast and the use of bicycles.
Pro Tips
Like most beach towns, parking is limited, so select a hotel within walking distance of the beach, restaurants, and shops so you can leave your car in the hotel's parking lot. Then walk or bike everywhere you want to go.
Catering to its wealthy and fit residents, Manhattan Beach offers endless outdoor activities, high-end dining, and extensive shopping outlets. All of this makes it a fun and exciting weekend getaway. Choosing which time of year to visit will just depend on personal preferences. If you'll spend most of your time on the beach or in the water, come during the summer. But if you'd rather eat, shop, and relax, any time of year will do.
Related Articles: