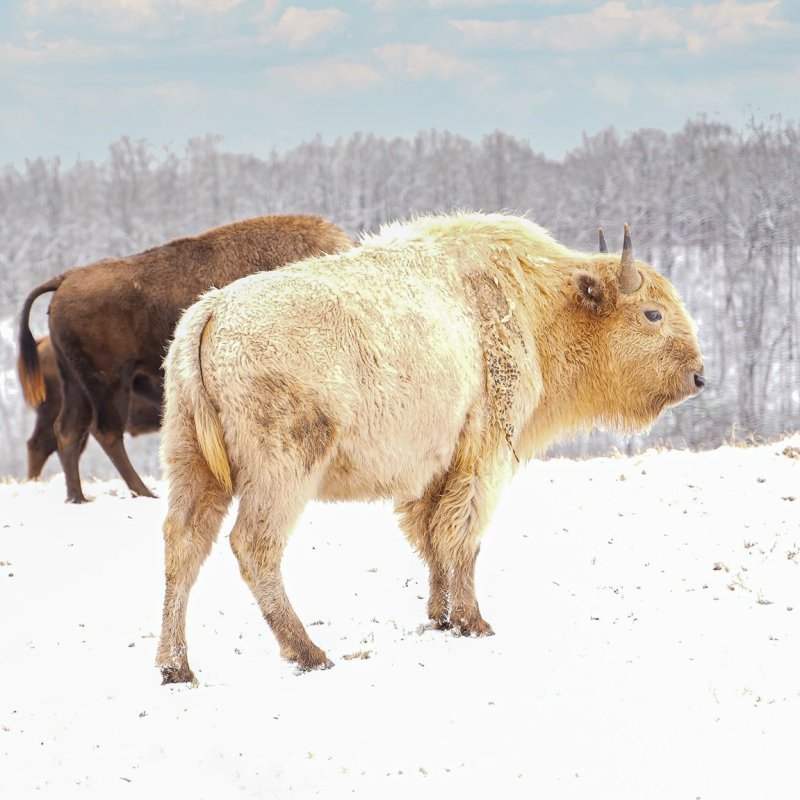 A white bison is not only rare, it's sacred to Native Americans. Now, thanks to a nature park in Missouri, you can see a white bison with a herd of other bison.
Dogwood Canyon Nature Park wrote in an Instagram post: "Meet Takoda! The newest addition to the Dogwood Canyon family, Takoda is a rare white American bison whose name is Sioux for 'friend to everyone.'"
The 10,000-acre Dogwood Canyon Nature Park is owned and operated by the not-for-profit Johnny Morris Wonders of Wildlife Foundation. Johnny Morris, by the way, is the founder of Bass Pro Shops.
Shelby L. Stephenson, public relations manager at the Johnny Morris Foundation, explained in an original TravelAwaits interview that Takoda, who will be two years old this May, "was born on a private bison ranch and came to live with our herd of 25 at Dogwood Canyon earlier this year — where he will serve as an educational ambassador for his species as well as a visual example of the meaning of the white buffalo in native cultures, especially Plains tribes."
Dwindling Numbers
Experts estimate that at one time, there were as many as 30 million bison on the plains of North America, The Nature Conservancy explains.
By the way, although the names "bison" and "buffalo" are often used interchangeably, they are actually distinct animals. Bison are found in North America, whereas buffalo are native to Africa and Asia.
By the late 1800s, however, bison were nearly extinct. The Nature Conservancy notes that by 1905, there were only 835 wild bison and 256 bison in captivity.
Through the implementation of conservation efforts at zoos, parks, and sanctuaries, bison numbers have been able to grow to approximately 350,000 today. Although that number is roughly one percent of what the North American herd size had been, it's enough to save bison from the danger of extinction. Today, some 15,000 bison roam public lands across the U.S., while the remaining bison are members of private herds.
A Special Birth
A white bison's birth is "an exceptionally rare occurrence — with some estimates stating that only one in 10,000,000 bison were born white," Jeremy Hinkle, director of wildlife at Dogwood Canyon, said in an article on Prevention.com. "According to traditional Native American teachings spanning thousands of years, the white bison is a sacred animal that promotes prayerful communication between Indigenous people and the Great Spirit, while also serving as a sign of peace and good fortune."
Officials at Dogwood Canyon Nature Park explain that they hope having Takoda in the herd can also help educate people about both the history of the American bison and how conservation saved the species from becoming extinct.
"Welcoming a remarkable white bison like Takoda to Dogwood Canyon Nature Park allows us to expand on the important message that Native Americans live out an unwavering conservation ethic," said Bob Ziehmer, senior director of conservation for Bass Pro Shops. "Their wisdom and understanding about the vital balance between land and people inspires our core conservation principles, even today."
How You Can See Takoda
Dogwood Canyon Nature Park is in the Ozark Mountains — just outside of Branson, Missouri, in Lampe.
On the park's two-hour Wildlife Tram Tour, visitors can see Takoda and other members of the bison herd, as well as Rocky Mountain elk and white-tailed deer. There also are walking and biking paths, and horseback riding excursions. Dogwood Canyon ticket information can be found here. For additional area inspiration, consider all our Branson content here. And for a deeper dive into North American Indigenous traditions, read up on Native American Culture: Tribes Return To Traditional Names And Why That Helps Travelers.