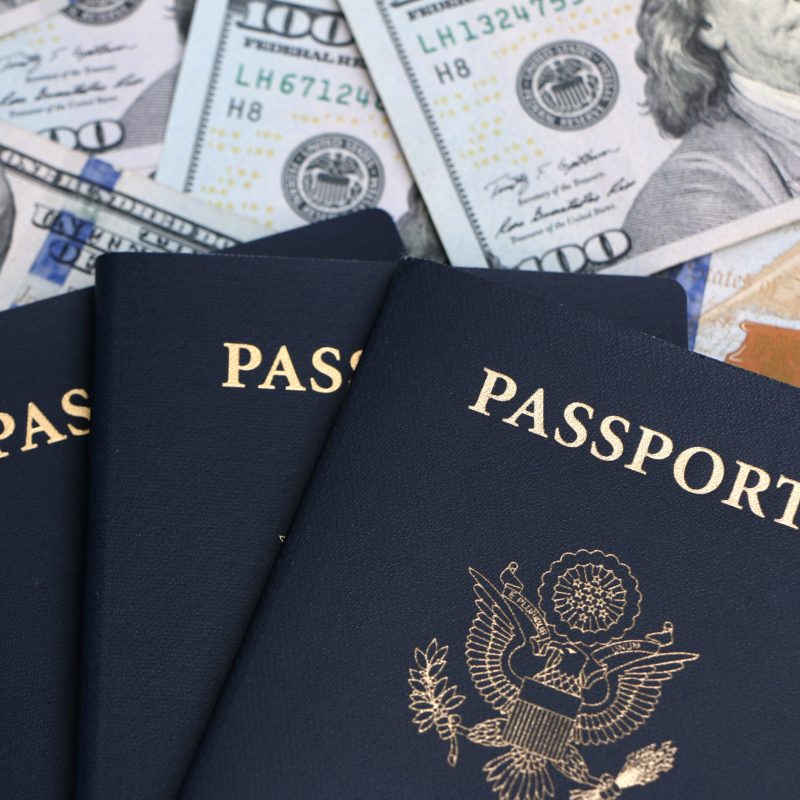 If 2020 taught us anything, it's that many of our rainy day funds were far more fragile than we thought. Resolving to save more money in 2021 can help us prepare for any of life's chaotic and unexpected twists and turns, from broken-down cars to global pandemics.
Saving money on a tight budget can seem impossible, but making small, significant changes can add up quickly. Save more money without drastic life changes with these easy tips.
Editor's Note: This content was originally published on our partner site OOLA.com and has been republished with permission. It is not provided by American Express. Any opinions, analyses, reviews, or recommendations expressed in this article are those of the author alone and have not been reviewed, approved, or otherwise endorsed by American Express. Terms apply to American Express benefits and offers. Visit americanexpress.com to learn more.
Determine Monthly Spending, And Go From There
Diving into the nitty-gritty of money earned, spent, and saved each month can be a humbling experience, to say the least, but it's absolutely necessary to create an accurate and reasonable budget. Monitor bank accounts and count cash regularly for an entire month to determine where your money is spent, outstanding debts, and other crucial information that will help you start saving money as efficiently as possible.
Treat Yourself And Your Savings Account Simultaneously
As the great Donna Meagle said, "treat yo'self." Depriving yourself of the things you love won't help maintain long-term saving habits, so don't be afraid to loosen the purse strings occasionally. The next time you splurge on a morning coffee or post-work beer or two, add the same amount to a high-yield savings account, like the American Express High Yield Savings Account, member FDIC. It will ultimately encourage you to spend less without feeling like you're going without.
Consider A High Yield Savings Account Or CD
Maximize your savings by earning interest through an American Express High Yield Savings Account or CD. Both types of accounts increase funds through paid interest rates, but high-yield savings accounts, like the American Express High Yield Savings Account, offer easier access to those funds than CDs. American Express High Yield Savings Accounts are FDIC-insured, highly ranked savings accounts with no minimums or monthly fees.
Try Instituting One "No Spend" Day A Week
It might take a few weeks to get the hang of it, but planning on not spending any money one day out of the week can help save money without feeling like a huge commitment. Give yourself the freedom to switch your no-spend day as necessary; life has a funny way of going against the grain of even the best-intentioned resolutions.
Get The Most Out Of Your Grocery Trips
Groceries are an unavoidable expense, but there are plenty of ways to save substantially. Making (and sticking to) a list, signing up for a grocery store rewards program, and clipping coupons help shrink the grocery bill without skimping on food. It's also best to avoid grocery shopping while dehydrated or hungry, both of which can cause costly, impulse-driven purchases.
Buy And Make Food In Bulk
Speaking of saving on groceries, get the most bang for your buck by buying and making food in bulk. Not only can buying in bulk be significantly less expensive, but doubling recipes and freezing leftovers for later reduces overall cost and makes meal prep a breeze. We call that a win/win/win. These mouthwatering, freezable soups and stews are cost-effective and perfect for the chilly months ahead.
Set Small Savings Goals First
Setting the bar too high can inevitably lead to failure and disappointment. Life's already tough enough as it is — don't add to the burden by placing undue pressure on yourself with lofty, unattainable goals. Instead, try small savings goals that are easy to follow and can help boost confidence to tackle bigger financial hurdles in the future.
Put Dollar Amounts Into Perspective
A $250 pair of boots seems relatively inexpensive when compared to similar shoes being sold alongside them, but at $12/hour, it would take over 20 hours of work to afford them. As cute as they are, are those shoes really worth 20+ hours of work?
How often would you wear them? If you could hypothetically "earn" a dollar for each day you wore the shoes, would you ever "earn back" your money's worth? Looking at the price of something from a different perspective helps keep you honest and prevents overly frivolous spending.
Manage Subscriptions And Credit Wisely
Monthly subscriptions can add up quickly and unexpectedly. Canceling subscriptions you can do without (or ones you didn't even realize you had) can significantly decrease your monthly spending. Use a credit card to pay for monthly subscriptions like Netflix, Amazon Prime, or Hulu to better keep track of your spending and build your credit.
Look To Your Local Community
Since most of us could stand to save a few pennies, why not make it a group effort? Reach out to friends, family, or co-workers or turn to social media to swap clothes, books, toys, kitchenware, or tools. Not only will it still feel like getting new stuff (because to you, it is), it's also ridiculously cheaper and helps all parties involved.
Avoid Vampire Energy Losses
Save money without even thinking about it by cutting vampire energy, or energy wasted by electronics that are plugged in but not in use. The NRDC estimates $19 billion are spent on vampire energy per year in America, and considering these extra costs can be avoided by simply unplugging chargers, lamps, coffee machines, or computers, we consider that statistic absolutely unacceptable!
Ask For More Ways To Save
Sometimes the only reason we spend more than we have to is that we never asked otherwise. If you have a spotless driving record and have been paying the same hefty car insurance bill for years, consider asking for a discounted rate. Refinance or pursue income-based repayment options for substantial loans.
Cash-back credit cards like the American Express Blue Cash Everyday card help you stretch each dollar you spend even further. It might seem a bit nerve-wracking at first, but the worst thing that could happen is your financial situation stays the same, so why not give it a try?
Lighten Your Laundry Load
Washing clothes in cold water can save up to $60 a year in laundry costs and extends the life of your wardrobe by preventing fading, shrinking, color-bleeding, and wrinkling. Air-drying also does double duty, decreasing monthly energy costs and better preserving undergarments, workout gear, jeans, and thin sweaters and dresses.
Change Up Your Cosmetic Costs
Looking good helps us feel good, but it doesn't need to cost a manicured hand and foot to do it. Opting for an all-natural look two or three times a week means using (and buying) less makeup. While we understand the importance of visiting your favorite hairdresser or nail tech every so often, cutting back appointments to every five or six months can turn a costly habit into a self-care splurge to look forward to.
In the meantime, taking care of manicure or pedicure fill-ins, trimming split ends, and/or enjoying a deep-cleansing facial from home can keep you feeling pampered and fresh-faced without leaving your wallet empty and dry.