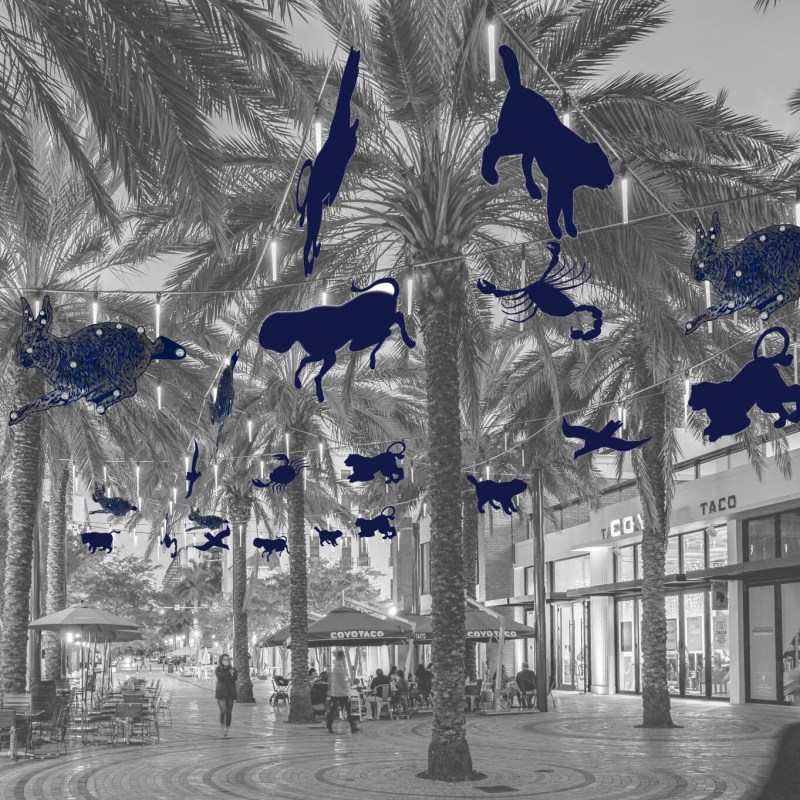 The combination of the COVID-19 pandemic and winter's shorter days can be challenging for some people. The city of Coral Gables, Florida, is taking unique steps to remedy the situation.
Beginning February 12 and running until March 14, the Coral Gables Community Foundation will present an art initiative called Illuminate Coral Gables (ICG). The project will use "light and technology to transform public art by day into magical and mysterious work at night," the Board of ICG said in a statement (PDF).
The museum-quality exhibition will use "art and culture as a beacon of resiliency, community strength, and support for the City's residents, visitors, and small business community downtown," the board said. "Once the pandemic struck, it was clear that ICG was the perfect exhibition for tough times because it's free and can be safely navigated outdoors by foot, bicycle, or vehicle."
Artwork Specific For Coral Gables
ICG features art installations, sculpture, and video projections created for Coral Gables locations. Indeed, seven of the artworks are new, site-specific commissions. ICG, which is curated by Lance M. Fung along with Catherine Cathers, Jennifer Easton, and Rosie Gordon-Wallace, features work by international, national, and local artists.
"What's really exciting about Illuminate is that it's much more than a light festival," City of Coral Gables Mayor Raul Valdes-Fauli said. "This festival will display the works of world-renowned artists illuminating buildings in our city."
Catherine Cathers, an IGC board member and arts and culture specialist, adds that "Each piece has layers to experience and just like a museum exhibition, repeat viewing is a must!"
Artists And Their Work
One of the works to be displayed is Kiki Smith's Blue Night — a site-specific commission which will be installed in Giralda Plaza. The piece reflects Smith's interest in stars and constellations.
"Forty-two suspended mirrored renderings of animal constellations from both the Northern and Southern Hemispheres will reflect light through transparent blue backgrounds: holographic vinyl denotes the stars that comprise the constellations," a Broadway World article explains. "An Augmented Reality … component will enable viewers to see ghosted constellation images and asterism [a well-known pattern or group of stars] on their devices throughout the day and night."
Another work to be featured is Cai Guo-Qiang's Fireflies. Originally commissioned by the Association for Public Art with Fung Collaboratives, the project made its debut in 2017 in Philadelphia. Curated by Fung, Fireflies received major support from the Pew Center for Arts and Heritage, the John S. and James L. Knight Foundation, and the National Endowment for the Arts.
An interactive work, Fireflies is comprised of 27 pedicabs with 1,000 handmade silk Chinese lanterns. Essentially interactive sculptures, the pedicabs move through the city, taking visitors for free rides.
When he was invited to curate and produce IGC, Fung immediately asked Cai Guo-Qiang to participate.
"Fireflies is one of the most successful and historic public artworks I have been a part of," Fung said. "It's about bringing people together, sharing stories, and reinforcing the value of community — all while being a deeply conceptual artwork — by embracing different cultures and the actual general public it's meant to serve."
There are, of course, other artists whose work will be on display at Illuminate Coral Gables. They are Carlos Estevez, David Gumbs, Sandra Ramos, Joseph Mills, the artist team of Antonia Wright and Ruben Millares, and Jonathan Perez — in collaboration with Florida International University art and art history students.
Know Before You Go
The inaugural edition of Illuminate Coral Gables runs February 12 to March 14, and admission is free. Coral Gables is around 5 miles from Miami.
As you would expect, numerous safety measures will be followed, including the requirement for facial coverings and social distancing. Hand-sanitizing stations will be available.
A map of the art's installations can be found here.
While you're in the area, consider: