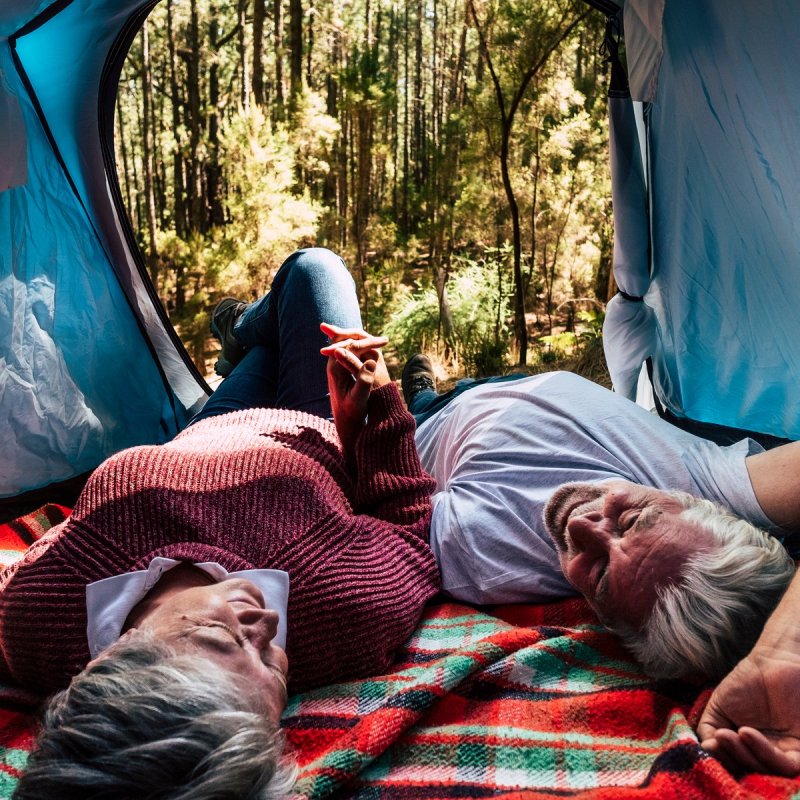 The open road beckons with the promise of an exciting adventure. It's time to get out and explore America. Road tripping is the new vacation craze. Camper rentals are up, families are spending time together outdoors, and the options for parking your RV for free are extensive.
Free camping, also known as dispersed camping, boondocking, going off the grid, and dry-docking are essentially parking your self-contained, self-sufficient camper or tent in that perfect, free camping spot. With the growing interest in hitting the road, options for free camping are gaining traction across the country. With a few simple tools and some planning, your overnight accommodations can be inexpensive and many times free.
Dispersed camping or boondocking is camping on public lands where there is not a developed campground or recreation facility closeby. Typically there are little or no services provided. You are dry camping, self-reliant on your generator, your own water supply, and everything you need to survive.
We spoke with camping experts Brandi and Sean Green from Campers and Campfires to get their take on free camping in the U.S. The Greens have been educating newbie campers and camping enthusiasts for over five years. Their extensive camping knowledge is a great source of information. Brandi noted, "We love traveling and want people to enjoy camping."
If you want to learn more about dispersed camping, my article Dispersed Camping: What It Is and Why You Should Try It will have you checking your calendar to see when you can get out and explore this great country and camp for free.
1. Bureau Of Land Management
The U.S. Department of the Interior, Bureau of Land Management (BLM) manages 245 million acres of U.S. land, including forests, mountains, rangelands, arctic tundra, and deserts. More prominent in western states, BLM is the lead agency of public lands and resource management.
The BLM website offers a Visit Us search page that allows you to select a location and keyword activity. This planning tool will guide you through the process of finding a potential dispersed camping site. Many sites are not marked and are along secondary roads, so packing a good map to backup your potentially spotty GPS is a good idea.
If you dream of sleeping under the stars in your own secluded site, dispersed camping on BLM land is something you need to try.
2. National Forest Service
The U.S. Department of Agriculture National Forest Service oversees our National Forests and Grasslands for your recreation pleasure. Their purview includes our public forests, trails, recreation sites, wilderness areas, and scenic rivers.
The U.S. National Forest Service offers a Visit Destinations search page that allows you to search dispersed camping sites, trails, and other available activities.
The National Forest Service brings the lyrics "this land is your land, this land is my land" to the forefront of your camping experience.
3. National And State Parks
The National Parks Service has an interactive camping map that highlights Camping Opportunities across the country. Each map point connects to an appropriate local park website for all the up-to-the-minute details for that particular park.
Many state parks offer beautiful campsites on or near protected outdoor recreation areas, too. Each state has its own regulations and camping registration requirements that can easily be found with a web search.
4. Army Corps Of Engineers
The U.S. Army Corps of Engineers oversees outdoor recreation projects across 43 states. Camping and other opportunities can be sourced by state on their status map.
Brandi instructed, "National and state parks along with the Army Corps of Engineers sites are the best value in the Southeast because they do not offer full hook-ups." Of course, this means you might not have sewer or cable services at your campsite.
5. Boondockers Welcome
If going totally off the grid seems a little daunting, there are sharing groups where you can park your self-contained RV on a member's property as their guest. Boondockers Welcome requires a minimal annual fee. This allows you to request a stay on a member's property for a predetermined number of nights.
Sean likes the idea of these host sharing sites for campers looking to venture away from traditional campgrounds. "The Boondockers Welcome program is a space sharing community. It is a network of wineries, golf courses, and yard sharing. Some participants offer hookups beyond the basic amenities."
Their interactive search map allows you to explore hosts by area and access to reviews by guests. Some properties are as simple as an overnight spot in the owners' driveway; others have beautiful lakefront vistas. The possibilities are wide open.
6. Harvest Hosts
Another site sharing group is Harvest Hosts. Their niche stays are focused on wineries, breweries, golf courses, farms, and attractions for self-contained RVers. Harvest Hosts has a 24-hour stay policy and your small annual membership fee covers your stays for the year. They offer two membership plans: the Harvest Hosts Classic, which covers all stays excluding golf courses. The second is the Harvest Hosts + Golf, which is a 50 percent increase but still a great value, particularly if you are a golfer.
Harvest Hosts covers the U.S. and Canada, offering stays at over 750 wineries and breweries, over 370 golf courses, and over 750 other various attractions. Imagine embarking on a cross-country trip that parks you onsite for a round of golf one day and a vineyard view with a wine tasting the next. It takes dry camping to an entirely different level.
7. Blacktop Boondocking
Not at all glamorous, but if you are in a pinch, blacktop boondocking can be a free and easy way to park for the night. Many big box stores like Walmart, Bass Pro Shop, Cabela's, et cetera allow guests to dry dock overnight in their parking lot. Tents are generally prohibited as are awnings, firepits, lawn chairs, etc. This is a place to get some rest, not set up camp, and the store managers are anticipating you stocking up on provisions at their store.
It is important to note, not all stores welcome overnight guests. RVers are required to speak with the store manager for permission to stay — or risk dealing with a tow truck driver.
8. Kampgrounds Of America
One of the oldest and most trusted camping resources is Kampgrounds Of America (KOA). This is not a free camping program, but it is the premier resource for camping research. Every form of camping, from glamping to tenting, can be found on their extensive campground list. The KOA franchise offers camping options across the U.S. and Canada.
Brandi remarked, "KOA offers online memberships. They tend to be more expensive, but they are about as nice as you will get on the road."
9. Planning Is Key
Planning your route, desired attractions, daily driving time, and overnight accommodations is key to a successful trip. Many free and nearly free camping opportunities require some advanced planning and reservations.
The Greens have taken several long-haul trips including a 52-day round trip from Georgia to California and a 36-day trip through Canada. Sean said, "We use paper and pencil when we plan. We decide how many miles to drive in a day and what we want to see." Brandi cautioned, "Plan every third day off and do nothing. It is mentally draining when full-force vacationing or traveling on the road every day."
Allstays is a camper and trucker research tool that collects reviews and tips on where to stay. The application is sortable by state and town, offering reviews and information about campgrounds, public lands, state parks, and big box stores. There is a modest subscription fee, but the wealth of information available is a good road trip resource.
When you are ready to get out on the road and experience amazing adventures, finding free camping spots requires a small amount of planning. The reward is a unique and fascinating travel experience.
Brandi summed it up best: "I have been camping for over 40 years. I love camping so much I wanted to share the experience with my husband and children. Camping is the best experience you can possibly give them while maximizing your budget."
Final Tip
If you are planning to rent an RV for a long haul, rent one for a test run first. Driving an RV is a little different than a van. Practicing self-contained dry docking can take time to perfect. You don't want to be caught unprepared.