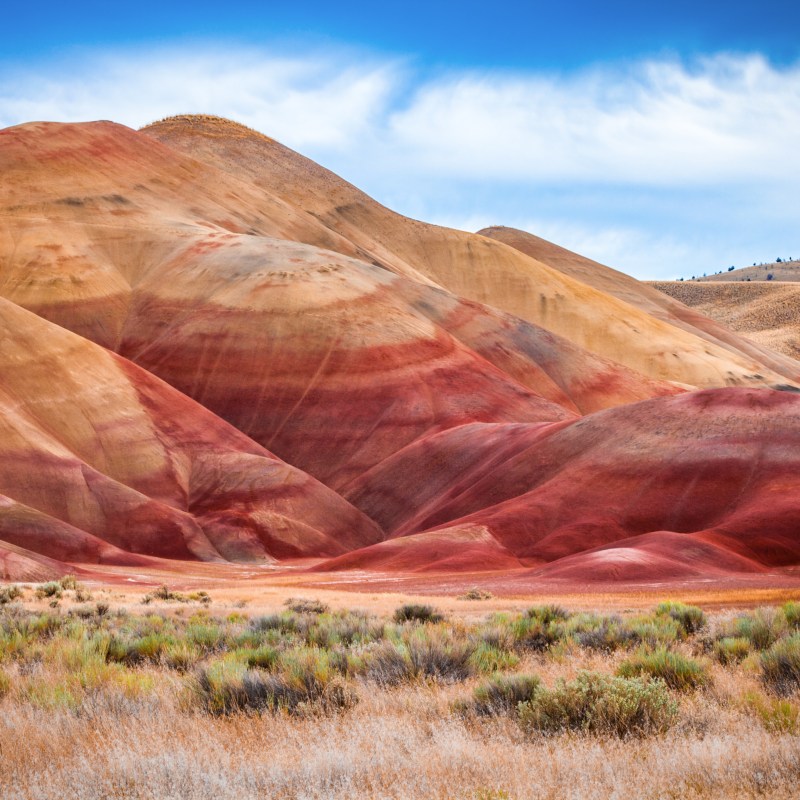 Beautiful natural formations are on display in Oregon's Painted Hills, a colorful landscape unlike any other in the state. These orange and red hills earned their name from the striped patterns scattered across the hills, creating an ombre effect reminiscent of tie-dye patterns. It is a beautiful sight to behold, and definitely worth an in-person visit.
These hills, a unit of the John Day Fossil Beds National Monument, showcase a range of colors: yellow, red, orange, black, and even gold. Visitors may be shocked to notice that the hills appear to be entirely different colors between each visit, as shifting light sources and changing moisture levels dramatically alter the colors visible in the hills.
Open year-round, the Painted Hills also undergo natural seasonal color shifts, displaying vibrant yellow flowers in the spring contrasting with piles of bright white snow in the winter.
These colorful stripes are more than a pretty view — they are millions of years of history directly on display. Each stripe is a distinct sedimentary layer, functioning as a visual timeline of the landscape, with the oldest rocks on the bottom and the youngest at the top. These layers offer insight to historical geology, helping paleontologists understand how the Earth has adapted over time, as well as physical geology, contributing to scientists' understanding of how all rocks form and shift.
The Painted Hills are also recognized for their diverse collection of leaf fossils. More than 100 species have been discovered in these hills via leaf fossils, as well as more than 50 species of fruits and seeds. This geologic formation is both a gorgeous natural structure and a useful source of scientific knowledge.
Frequent national park and monument visitors will find exploring the Painted Hills to be a unique experience, as there are very few human installations. There is no visitor center, no water, and limited restrooms and trash cans. It is an immersive visit to a quiet, beautiful natural formation.
The Painted Hills are one of three units in the John Day Fossil Beds National Monument. The units are spread out across east-central Oregon, so far apart that each is considered its own day-long attraction. The Painted Hills Unit is located just outside of Mitchell, Oregon, and is by far the most visited unit in the national monument.
The unit has five possible trails to choose from, and each has its own designated parking lot, so visitors should know ahead of time which path they want to park near. All paths offer incredible views, and beginner-level hikers should not feel intimidated by any of the trails.
The Carroll Rim Trail is a 1.6-mile uphill climb to one of the best views in the park: a panoramic view of the Painted Hills. The Red Scar Knoll Trail and the Painted Cove Trail are both shorter loops that wind directly through the vibrant rocks, allowing visitors to fully immerse themselves in the gorgeous yellow and red patterns. The Painted Hills Overlook Trail is .6 mile round trip on a level ground, perfect for those in search of an easy walk with a great view. The final path, Leaf Hill Trail, is a favorite location for paleontologists to study, and it is filled with signs and exhibits delving into the history of the Painted Hills.
However you choose to explore the unit, visiting the Painted Hills is a gorgeous experience. These colorful, history-filled hills are a must-see.
Interested in more unbelievable sights? Consider these: