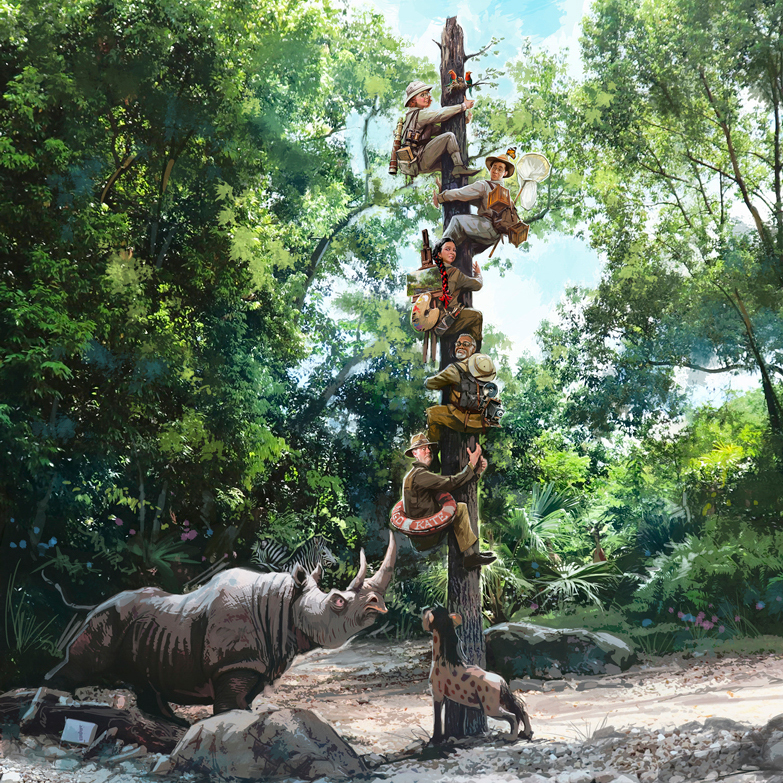 Some significant changes are on the way for the Jungle Cruise attraction at both Disneyland park at Disneyland Resort and Magic Kingdom Park at Walt Disney World Resort.
The enhancements, which are expected later this year, will add some new scenes and more humor, Walt Disney World announced. Perhaps more importantly, the enhancements will also make Jungle Cruise more inclusive and less racially insensitive in its depiction of some cultures.
A Modern Update
Disney World explains that Jungle Cruise is a "scenic and comedic boat tour of exotic rivers across Asia, Africa, and South America." That said, times have changed since the attraction's opening, and in recent years the attraction has been criticized for its depictions of Indigenous people.
"At Disney Parks, we continue to look for ways to enhance classic attractions and elevate the experience for all of our guests," Michael Ramirez, public relations director, Disneyland Resort, wrote in a recent Disney Parks Blog post. "We're excited to share that we are building on the story of the Jungle Cruise at both Disneyland park at Disneyland Resort and Magic Kingdom Park at Walt Disney World Resort to include new adventures that stay true to the experience we know and love — more humor, wildlife, and skipper heart — and also reflect and value the diversity of the world around us."
For example, new renderings of the attraction by Disney Imagineers show five explorers — including two women and people of color — escaping from an angry rhinoceros by climbing a tree.
These changes "reflect our commitment to creating unparalleled experiences that reflect, not only the best in storytelling, but also the values and rich diversity of our world," Robert Iger, executive chairman of Walt Disney Co., posted on Twitter.
As part of the enhanced storyline, each of the explorers who has climbed the tree to escape from the rhino has been given a backstory and cultural heritage so they have unique personalities, which helps guests connect with them, Walt Disney Imagineering Creative Portfolio Executive Chris Beatty explained in a WDW News Today article. "We're not really re-envisioning that scene, we're just adding a narrative and storytelling to bring things to life and connect that moment with other happenings along the river," Beatty says.
The Humor Remains
Among other things, the Jungle Cruise attraction is known for its humor and joke-telling skippers. While the skipper will remain a key feature, at least one of them will be changing.
"As part of this story update, we'll get to follow a skipper and his passengers as their journey goes awry," Kevin Lively, Disney Imagineer and former Jungle Cruise skipper, explained in a new video. "For the first time ever, this skipper role will not only be that of a live, experienced, and witty guide, but also represented by a show figure within the attraction itself. In fact, the expedition will be up a tree, literally, after their sunken boat splits apart."
But, if the explorers and the animatronic skipper in that scene have climbed a tree to escape the rhino after their boat has been wrecked, one must wonder, What happened to the shipwrecked boat? That question, in turn, leads to another humorous scene.
Another Disney Imagineer artistic rendering shows that a "family of chimpanzees jumps on the wreckage of the boat and they are almost making fun of us. One is wearing the skipper's hat and is on the microphone," Beatty explains in the WDW News Today article. "The mother chimp has opened up all the maps and it looks like she's reading them. A little chimp has gotten into the wildlife painter's supplies and has made a mess with paint everywhere. It's the animals really getting the last laugh in this cute scene."
Know Before You Go
There hasn't been an update yet about when these changes will be made to Jungle Cruise, so be sure to check with Walt Disney World for news.
In the meantime, all four Walt Disney World theme parks are open. However, Disney World does note that due to the COVID-19 pandemic, "certain parks, hotels, restaurants, and other offerings may be modified or unavailable, limited in capacity, and subject to limited availability or closure." For more inspiration and updates, see all our Disney content here.