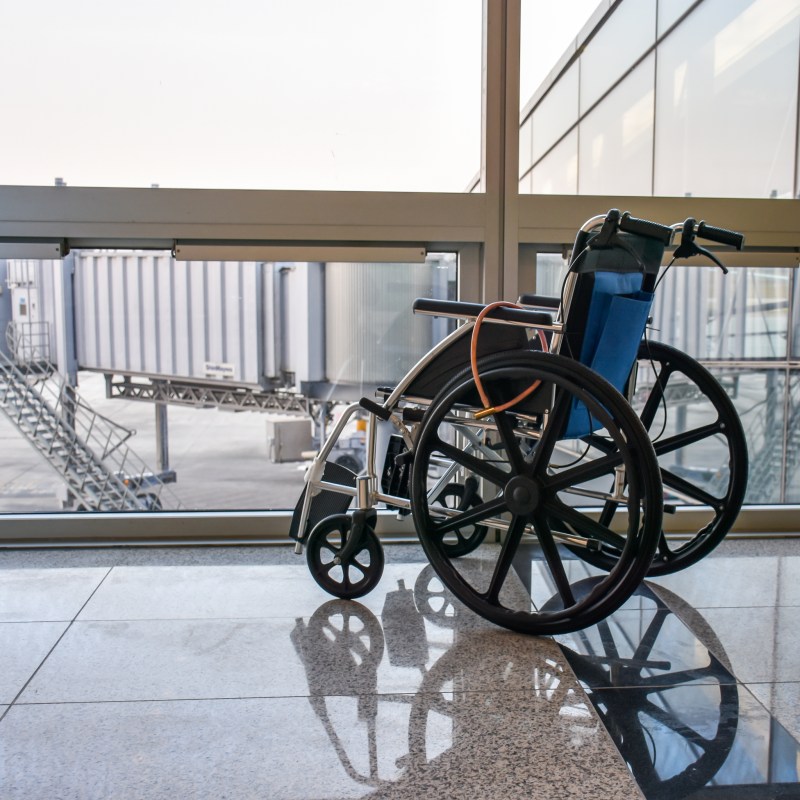 For people with disabilities, air travel can be inconvenient and difficult at best — and sometimes impossible.
All Wheels Up — a disability advocacy group that works directly with the Federal Aviation Administration, Congress, and other air travel organizations — is working to make air travel a little easier for those with disabilities by giving away CARES harnesses and ADAPTS slings through its new Fly Safe Today program.
The Problem With Planes
"Keys to a safe flight for a person with a disability are a protected transfer and a secure positioning," said Michele Erwin, founder and president of All Wheels Up.
That's not as easy as you may think. One of the main challenges is that airplanes don't have a dedicated wheelchair spot. That means passengers who use wheelchairs must transfer from their personal wheelchairs to an aisle chair and then transfer again to their plane seat, Erwin explains.
Secondly, she explains, the FAA's 1977 evacuation plan for airplanes is outdated and doesn't account for evacuating someone who is physically disabled.
"At AWU, we don't believe someone who is disabled should need to pay for their own device that allows a safe evacuation," Erwin told TravelAwaits.
To that end, All Wheels Up is giving away ADAPTS slings, which are evacuation devices used to help passengers with mobility impairments — whose personal wheelchairs are stored in the cargo hold — safely exit the plane in case of an emergency. Incidentally, the devices also may be used to help these passengers safely transfer from their wheelchairs to their plane seats.
All Wheels Up is also giving away CARES harnesses, where are supplemental double-shoulder straps. When used along with the airplane seat's lap belt, the harnesses can help better secure and position people with physical disabilities in their airplane seats.
"Fly Safe Today is a pilot program we launched this week, but our long term goal is to give away 200 of each device annually," Erwin says.
Getting The Slings And Harnesses
Applying for a CARES harness, ADAPTS sling, or both is easy.
Erwin explains that travelers simply need to email to All Wheels Up at contact@allwheelsup.org. In the email, travelers must list their name, age, email address, home address, and phone number. They also need to explain how and why this equipment will help them Fly Safe Today. That's it.
Finally, it does need pointing out that while All Wheels Up works with Congress, the FAA, Department of Transportation, airlines, and airplane manufacturers to make air travel accessible for people who use wheelchairs, it is a grassroots, non-profit organization.
If you would like to make a donation to help with the Fly Safe Today program or the organization's overall mission, head here.
Related Reading: