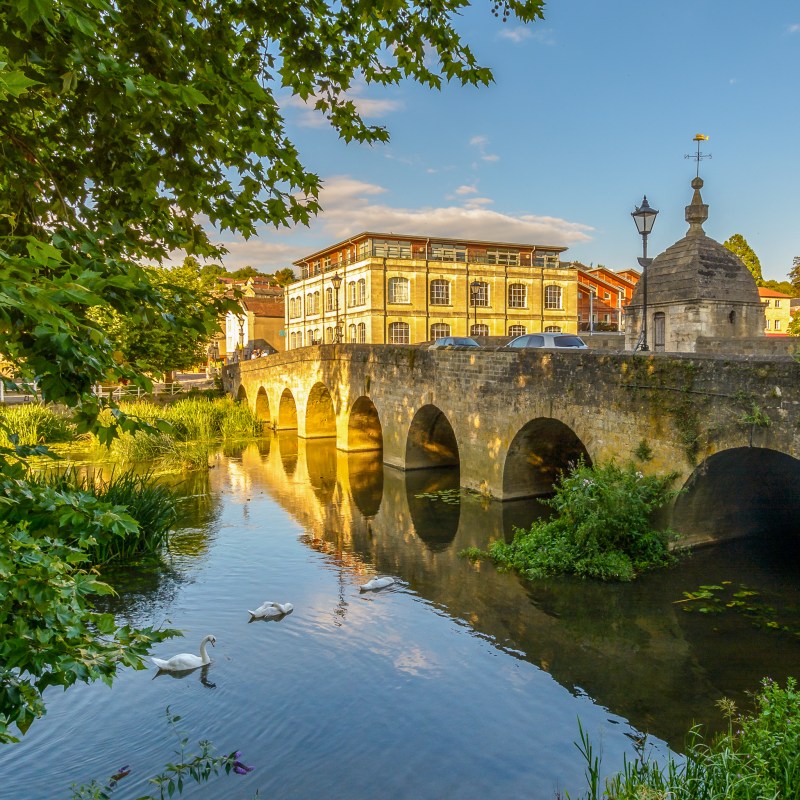 Must-visit UK cities include Oxford, Bath, London, and Edinburgh. These are expensive cities for tourists and also incredibly crowded. I decided to stay in smaller towns nearby. This resulted in time spent in adorable towns with excellent access to their famous neighbors but enough attractions in their own right for memorable stays.
1. Woodstock, Oxfordshire
Oxford has cobbled streets and medieval collegiate buildings. It sounds quaint, but seven million yearly visitors on top of the 25,000 students and countless academics make parking tight and accommodation pricey. Woodstock is 8 miles outside Oxford and one of the prettiest towns in England.
Things To Do In Woodstock
Visit Blenheim Palace — Winston Churchill's birthplace. Tickets are expensive, but locals pointed out the secret green gate — an entrance to the estate. All quite legal. The British have historic rights of way.
We freely entered one of England's finest landscapes — Lancelot (Capability) Brown designed grounds with sweeping gravel carriageways, massive lawns, and picture-perfect bridges mirrored in the lakes.
Of note, a 300-year-old, 20-foot diameter Cedar of Lebanon tree — dubbed the Harry Potter Tree after appearing in The Order of the Phoenix. Wander Woodstock's charming streets and browse quaint shops. The Church of St Mary Magdalene has a Norman doorway and musical clock, regularly playing tunes. Or take the 18-minute bus ride into Oxford to discover why Oxford is worth a visit on your next England trip.
Best Restaurants In Woodstock
Lunch at the 16th-century alehouse, The Black Prince — with outside seating and decent proximity to the secret gate. Brotherton Brasserie offers dining under traditional gaslighting. Try the Devonshire teas at the Blenheim Buttery or the gin high tea at The Feathers. Woodstock has many restaurants, teahouses, and pubs you can stroll to.
Best Hotels In Woodstock
We chose the Plane Tree House, a higgledy-piggledy 17th-century townhouse with multiple bedrooms, three bathrooms, and exposed oak beams. The bus stop to Oxford is outside. Lince Lodge is an upmarket cottage inside Blenheim Palace Park. Once a 13th-century coach inn, Macdonald Bear Hotel is now one of the finest four-star hotels in Oxfordshire.
2. Bradford-On-Avon, West Wiltshire
I came back exhausted after my day in Bath, relieved after the traffic and crowds to return to the quintessential town of Bradford-on-Avon, where I was staying with friends who moved to the UK. Bradford-on-Avon is like Bath in miniature — built from the same Jurassic limestone (Bath Stone). The train journey between the two takes 12-15 minutes.
Things To Do In Bradford-On-Avon
Bradford-on-Avon is a time capsule of historic Britain. As one of the best-preserved Saxon buildings in England, St. Laurence Church is a chance to step inside a church from 1,000 years ago. Explore the impressive 14th-century tithe barn — one of England's largest. Browse The Shambles — timber-framed buildings dating back to Tudor times and now quaint shops. See 17th-century weavers' cottages perched on the side of the Avon valley, looking across to the 'Broad Ford' on the Avon that gave the town its name.
Cross the town's partly medieval bridge. The second pier from the southwest end is wider than the others and has a square stone building with a domed roof once used as the town lock-up.
Follow the canal paths to the countryside or hire a canal boat and cruise to Bath — an easy journey involving one loch. Take narrowboat tours to Bath or the village of Avoncliff with its 200-year-old aqueduct. Use Bradford-on-Avon as a base to drive to Stonehenge or Avebury. Or take the train and explore these historic locations in Bath.
Best Restaurants In Bradford-On-Avon
The 15th-century Bridge Tea Rooms near the town bridge offer award-winning afternoon teas served by Victorian-costumed waitresses. I contacted the friends I stayed with for some insider tips on eating out in Bradford. Their favorite restaurant is Ravello, next to the Bridge Tea Rooms — Italian food, in a sympathetically modernized historic building with outdoor seating.
They suggested The Weaving Shed — modern cuisine and outside tables for soaking up the English summer along the town's river. Nearby sharing this outdoor space is Il Ponte and Olea Mediterranean.
"On a sunny day, you could be forgiven for thinking you were in Italy," they said. For excellent Thai food, The Thai Barn is run by a Thai woman and her English husband. A little further afield, they suggested the highly-awarded Merkins Farm for good English breakfast portions and vegetarian options. The cafe has jolly 1950s decor and views of the Westbury Hills, including the famous White Horse. For meeting locals, a pint at the Stumble Inn — local brews and friendly board games.
Best Hotels In Bradford-On-Avon
While I was fortunate to stay with friends, Bradford-on-Avon has many Airbnbs to choose from. For a boutique hotel experience, I recommend Timbrell's Yard near the river with trendy Nordic-style rooms, a bar, and fine dining. Or stay in a quirky B and B inside a windmill. On the outskirts of town, Widbrook Barns offers glamping or luxurious converted farm buildings with rooms named after children's books — plus breakfasts worth getting up for. Very Enid Blyton.
3. Lewes, East Sussex
The Blitz during the Second World War forced London residents to flee. The group of artists and writers known as the Bloomsbury Group headed to the rural area of East Sussex with its rolling downs and stunning coastline where they already had affiliations. Lewes is a pretty medieval town, only an hour's express train from London Bridge Station, so it's suitable for London day trips.
Things To Do In Lewes
I chose Lewes to immerse myself in Bloomsbury history. Both Virginia Woolf's Monk's House and Charleston, where her sister Vanessa Bell and friends lived and loved, are only short country bus rides from Lewes. The American wit Dorothy Parker described the group as painting in circles and loving in triangles, referring to their modernist painting techniques and complicated triangular and often bisexual relationships.
Lewes offers numerous attractions. Lewes Castle was built in 1069 by William the Conqueror's brother-in-law. Climb the ramparts for views of the quilt-like Southern Downs. Wander cobbled streets leading like wheel spokes from the castle and explore interconnecting laneways lined with ancient flint stone buildings, Georgian homes, and Edwardian shop fronts. Visit the Fifteenth Century Bookshop and Ann of Cleves House, a part of her divorce settlement from Henry VIII, now a museum devoted to Tudor life. Thomas Paine (1737-1809) lived in Lewes before emigrating to the American colonies. The town has its own currency featuring Paine's profile on the pound notes.
Just when I thought I'd exhausted Lewes attractions, I crossed a bridge over the River Ouse and discovered the Cliffe, a once working-class area. Residents disassociated themselves from those they described as the nobs on "castle hill" (an unflattering British term sometimes used for the upper-class) proudly calling themselves Cliffinians. Today it's a charming area of antique shops and quirky cottages festooned with hanging flower baskets. Lewes is a good base for walkers — 2,000 miles of rights of way, on the downs — many close to country pubs. Brighton, with its famous pier and bizarre Royal Pavilion, is only a 16-minute train ride away.
Best Restaurants In Lewes
I discovered Bill's in Lewes. Bill's is a British chain founded by Bill Collison in 2001 when he opened a small greengrocery in Lewes and used excess produce to cook up his creations. He served wholesome food in a quirky setting, and I was so enamored with this original Bill's that I now seek them out in the UK.
A number of townsfolk have turned the street-frontage rooms of their homes into simple cafes with pastries stacked enticingly against window panes. Lewes has over 20 pubs such as the White Hart (with its Thomas Paine connections), Rights of Man, Brewers Arms, and the Snowdrop Inn. The Snowdrop Inn was built on the site of one of England's worst natural disasters when an 1836 snow avalanche buried a row of cottages. The striking gold-banded Harvey's Brewery, in the Cliffe, is a family business spanning 200 years. Their John Harvey Tavern is popular for pub lunches.
Best Hotels In Lewes
After London's expensive accommodation, paying $55 a night for an Airbnb in Lewes was a relief, plus my accommodation was built into an original castle wall. For upmarket stays, try Pelham House, a 16th-century townhouse hotel. The wood-paneled dining room serves fine meals and resembles an exclusive gentlemen's club. The luxurious 19-room Shelleys Hotel has a private garden and family associations with the poet Percy Shelley. Both hotels offer packages with fine-dining.
4. Leith, Edinburgh
When visiting Edinburgh, first-time tourists stay in the Old Town, but the Royal Mile leading down from Edinburgh Castle has become a strip of souvenir shops drowning in tartan and other tourists. The port area of Leith, about an 18-minute bus trip from Edinburgh Castle, is like a breath of sea air. Though once an independent town, these days, it's incorporated into Edinburgh but hasn't lost its village feel. Leith offers more affordable accommodation and a slightly edgy neighborhood with trendy bars and restaurants. Leith outranked San Francisco in Time Out's 2018 list of the 50 coolest city neighborhoods in the world.
Things To Do In Leith
Visit the retired Royal Yacht Britannia and have tea onboard at the Royal Deck Tea Room, the Queen's favorite viewpoint. Walk the Water of Leith Walkway linking Leith to Edinburgh — also available as a history audio trail. Antony Gormley's sculptures of human-sized figures calf-deep in water are along the way. Enjoy music and theater at Leith Theatre, a community arts space. Head to the Pitt — an old industrial yard injected with the new life of food stalls, live music, and a bar on weekends. View portraits by Sir Henry Raeburn and learn about Leith's maritime history at Trinity House Maritime Museum in a Georgian mansion.
Best Restaurants In Leith
Leith boasts two Michelin-star restaurants. Tom Kitchin's Kitchin has kilt-clad staff, local delicacies, and Martin Wishart European-style dining. Both blend French culinary techniques with Scottish produce, such as Highland game and local seafood. Fishers inside a 17th-century watchtower is great for seafood. The Chop House Leith has carnivore delights and innovative cocktails. Teuchters Landing, a quaint pub, serves traditional Cullen skink and haggis stovies, real ales, and single malts. For a Highlander breakfast with haggis and potato scones, head to the historic Clock on the Shore. As Edinburgh's hippest area, many restaurants offer vegan options, especially Toast and Leith Depot. And every traveler needs a Kcal Kitchen to reset — a clean eating restaurant with protein-packed pancakes, power salads, and zoodles.
Best Hotels In Leith
Malmaison, a waterfront hotel, offers boutique rooms and contemporary dining. The Fingal is a 23-cabin luxury floating hotel offering art deco elegance and stays fit for royalty. The GPO Cafe and Rooms is a smart, affordable hotel in an old post office with large, bright rooms and an artisanal cafe.
Related articles: