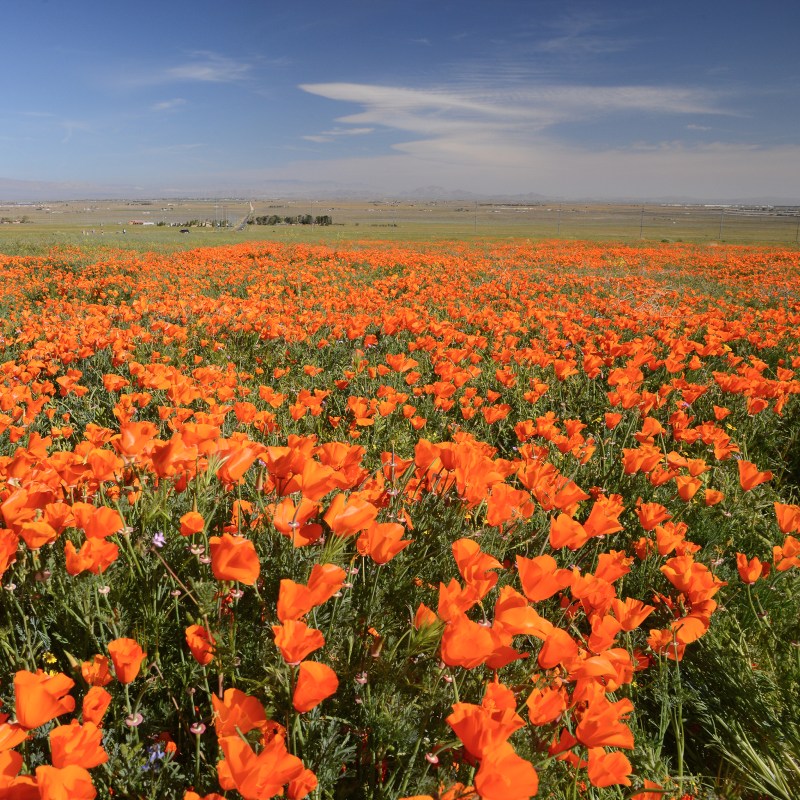 As winter fades and temperatures start to warm, spring flowers burst from the ground and welcome us back outdoors. Spring is a welcoming space between the chill and gloom of one season and the heat of the next. It's a beautiful time of year to picnic, hike, or just gaze at nature's blooms.
Fortunately, Southern California has plenty of opportunities to experience spring flowers, beginning as early as February and continuing into May. Some of these sites are easily accessed, while others may require some trekking. So set aside a day, choose your destination, and appreciate what Mother Nature has to offer.
1. Antelope Valley California Poppy Reserve
One of the best places to view California's official state flower is at the Antelope Valley California Poppy Reserve. From mid-February through May, thousands of bright orange poppies can be seen on these gently sloping hills. The reserve offers 8;p miles of trails, including a paved section that is wheelchair accessible. In addition to poppies, you may see owl's clover, lupine, goldfield, cream cups, and coreopsis. There's also plenty of wildlife, including meadowlarks, lizards, coyotes, gophers, and bobcats.
The reserve is located about an hour and a half north of Los Angeles. Their website begins posting the status of the poppies in February. Be sure to check this information before your trip. Also, be aware that strong winds are common in the area, so check the weather report.
Consider visiting the nearby Arthur B. Ripley Desert Woodland State Park on the same day since your parking pass is good at both locations. This park is a native Joshua Tree and Juniper woodland, just 7 miles west of the poppy reserve.
2. The Flower Fields At Carlsbad Ranch
Each spring, a large swath of land in north San Diego County bursts into color when the ranunculus bloom. Yellow, orange, pink, white, and purple flowers seem to go on forever at The Flower Fields at Carlsbad Ranch. From early March to early May, 50 acres of flowers can be explored.
Luther Gage settled in the area in the 1920s and began planting ranunculus seeds on his farm. Over time these multilayered flowers were cultivated to produce 13 different colors and have become wildly popular in floral shops around the country.
The colorful fields alone are worth the trip. Many other activities are offered, including an antique tractor wagon tour, cymbidium orchid greenhouse, sweet pea maze, and Santa's playground for children.
If you're interested in purchasing ranunculus to take home, pop in to Armstrong's Garden Center on-site. For a complete day trip, head to nearby Carlsbad Village for lunch and shopping.
3. Anza-Borrego Desert State Park
March kicks off the wildflower season in Anza-Borrego Desert State Park. Located about 2 hours northeast of San Diego, Anza-Borrego is California's largest state park encompassing 600,000 acres of desert terrain. Most of the park is wild and remote, with access only by primitive roads or on foot.
There are over a hundred varieties of wildflowers and blooming cactuses in Anza-Borrego. Expect to see a wide range of colors, from hot pink and dark purple to bright yellow and snowy white. Some of the flowers can be seen near the visitor center, while others will require hiking. Popular trails for wildflower viewing include Borrego Palm Canyon, Hellhole Canyon, Cactus Loop, and Calcite Mine.
The amount of rain during the prior year will determine how many wildflowers there are each spring, so be sure to visit the park's wildflowers page before making the trip. During years with a large number of blooms, crowds are possible. Try and beat the crowds by arriving early.
4. Joshua Tree National Park
Joshua Tree National Park encompasses 1,200 square miles of land spanning both the Mojave and Colorado Deserts. This park is always a delight to visit, but spring brings the added pleasure of colorful blooms. Located 2 hours east of Los Angeles, Joshua Tree flowers can be explored by car or foot.
Wildflowers may begin blooming in the lower elevations of the Pinto Basin and along the park's south boundary in February and at higher elevations in March and April. Desert regions above 5,000 feet may have plants blooming as late as June. Check the park's wildflowers page for updates.
The park offers four visitor centers, one at each entrance, staffed by knowledgeable rangers and volunteers. This is a great way to start your visit and get some guidance on the best places to see flowers.
After exploring the park, head into the town of Joshua Tree for some food and shopping. This quirky, unincorporated town is full of funky art, unique boutiques, and several good cafes and restaurants.
5. Point Dume State Beach
Head to the headlands above Point Dume State Beach to witness carpets of yellow giant coreopsis. Point Dume is a promontory on the coast of Malibu, just west of Los Angeles. Expect to see the flowers throughout the spring.
Wildflowers are just one of many gorgeous sights at Point Dume. On a clear day, you may see Santa Catalina Island rising out of the Pacific Ocean. And keep your eyes on the ocean below since migrating gray whales are often seen. And locals rave about this spot for romantic sunsets.
When you get hungry, head 20 minutes west into the town of Malibu for a delicious dinner at Duke's or Malibu Farm Cafe.
6. Laguna Coast Wilderness Park
One of the best ways to enjoy wildflowers is along a scenic trail, away from busy roads and crowds. Laguna Coast Wilderness Park, a 7,000-acre preserve, is home to some of the last remaining coastal canyons in California. You'll find this park in Orange County, about an hour south of Los Angeles and an hour north of San Diego. With 40 miles of trails, there are plenty of opportunities to see wildflowers from March through May.
There are four staging areas throughout the park, each home to several trailheads. First-timers may want to start at the Nix Canyon Nature Center to learn more about the area and ask volunteers to recommend a trail. You're likely to see orange California poppies, white popcorn flowers, purple school bells, yellow prickly pear flowers, and much more throughout the park.
Before or after your wildflower hike, grab a bite at one of the many great restaurants in Laguna Beach. If you're able to stay until the evening, you'll be rewarded with gorgeous sunset views over the Pacific Ocean.
7. Lake Elsinore
Another great option for viewing California poppies is Lake Elsinore, a town located about an hour northeast of San Diego. A few years ago, this was the epicenter of a super bloom — an exceptionally successful wildflower season. Most years, it's just a lovely location for a hike through Walker Canyon. The 4.6-mile loop trail is often crowded, so it's best to arrive early in the morning. You'll be rewarded not only with the field of orange flowers, but there are explosions of yellow and purple blooms as well.
During the spring, the City of Lake Elsinore provides wildflower updates on its website, so be sure to check this prior to travel. During peak season, they may close some roads and require visitors to use shuttles.
Lake Elsinore is the largest freshwater lake in California and is a popular watersport destination. After appreciating the wildflowers, check out all the lake offers, including local restaurants and breweries.
8. Carrizo Plain National Monument
Located in California's Central Valley, the Carrizo Plain National Monument is the last of the state's historic grasslands. It's also a great destination for wildflower viewing, with March and April the optimal times for blooms. Expect to see yellow fiddlenecks, goldfields, and hillside daisies, along with purple filaree and baby blue eyes.
Allow time to see some of the other sights within the national monument, including Painted Rock, Soda Lake, and the San Andreas Fault. There are plenty of scenic hiking trails as well.
There are no services in the national monument, so come prepared with all the food and water you'll need for the day. And be sure your car has a full tank!
Pro Tips
It's worth repeating that precipitation and weather have a profound impact on the number of wildflowers that bloom each year. Each location will have a different result every year. Always check with local tourism boards or park websites before embarking on a trip.
Many of the recommended locations are remote and offer limited services. If you're visiting such a site, be sure to bring everything you'll need for the day. If you're hiking, bring proper footwear, clothing, and a first aid kit.
Wherever you view wildflowers, be sure to stay on marked trails and follow all posted signage. Tremendous damage has been done to poppy fields over the years as crowds deviated from trails. These are sensitive environments that can take years to recover from such damage.
Related articles: