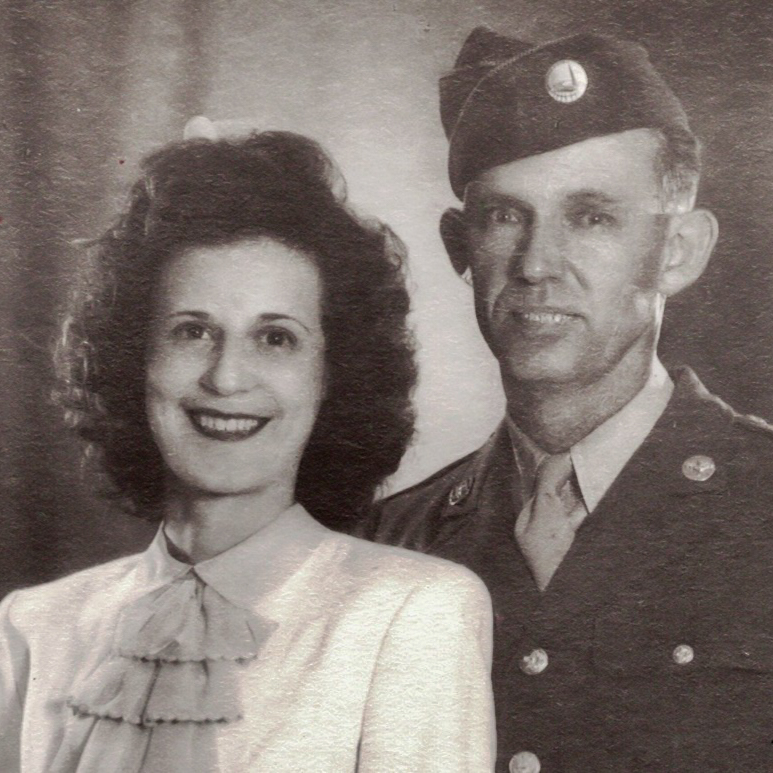 While thinking of her sweetheart who had just left home for World War II, a young woman wrote a love song in 1942. With assistance from a famous Hollywood composer, who helped write the accompanying music, the song "I'm Dreaming of No One But You" was finished but never recorded — until now.
Thanks to a dedicated grandson, you can listen to the song today, on what would have been songwriter Leona Augustine's 106th birthday.
Life On A Farm
Leona Augustine grew up on a farm in Missouri. Her father, Louis, played in the local cornet band. At home, he enjoyed playing music with his children; Leona played piano and her brother Andy played the violin, shares Jacob Luecke, Leona's grandson, in an interview with TravelAwaits.
When Leona and Andy got older, they began to collaborate and compose their own songs. Later, Leona began writing songs by herself and mailed them to publishers across the country, hoping the songs would be published and distributed.
Thinking of Felix Luecke, her sweetheart and future husband, she wrote the lyrics and melody of "I'm Dreaming of No One But You." Eventually, she connected with noted composer Bob Carleton, who likely wrote the song's chord structure. Although the song was copyrighted and its sheet music was printed and published, it appears it was never recorded by anyone, Luecke explains.
A Song's Second Chance
"We know all of these details about Leona and the song's history because a few years ago, my dad gave me a big envelope filled with documents and photos about our family — including the rejection letters Grandma received and saved from music publishing companies and the sheet music for 'I'm Dreaming of No One But You,'" Luecke says. "Grandma died when I was young, so I didn't know her, but I play acoustic guitar and also enjoy writing music, so I was really excited to learn she and I share a musical aptitude and interest."
Intrigued by the song and its history, Luecke first tried to transcribe it for guitar, but that didn't work very well, he explains. He then realized the song needed to be played in the swinging, big band style that was popular when the song was written.
Using fiverr, a freelance services marketplace, Luecke first worked with Venezuelan composer Samuel Fuentes on the big band arrangement. He then ended up working with professional musicians from nine different countries to get separate tracks for 22 musical instruments, as well as vocal tracks from a man and a woman to create a duet.
"Each time I received a recording from a musician, I would spend hours checking the track against the score to make sure each note was correct," Luecke says. "There usually would be a couple of missed notes that required a revision, which wasn't a big deal. I also spent countless hours using my music software, Logic Pro X, to fix subtle timing and tuning issues in almost every track."
The Song Gets Released Today
"I'm Dreaming of No One But You" is being released today, January 15, 2021, on what would have been Leona Augustine's 106th birthday. You can listen to it on all major streaming services, including Spotify, Apple Music, and YouTube Music, as well as on Facebook. You can watch the music video here:
"On a personal level, this has been a unique opportunity to learn about my family's history and also 'meet' my grandmother and share our common interest: writing, composing, and playing music. I'm excited to be able to share Grandma Leona's talent with the world," Luecke says. "I think this is a great time to record and release this song because it will resonate with people. During the COVID-19 pandemic, a lot of people have been separated from their loved ones, just like they were when Grandma Leona wrote the song during World War II. I hope everyone enjoys listening to 'I'm Dreaming of No One But You.'"
For even more on Leona and the story behind her heart-warming song, visit LeonasDream.com.