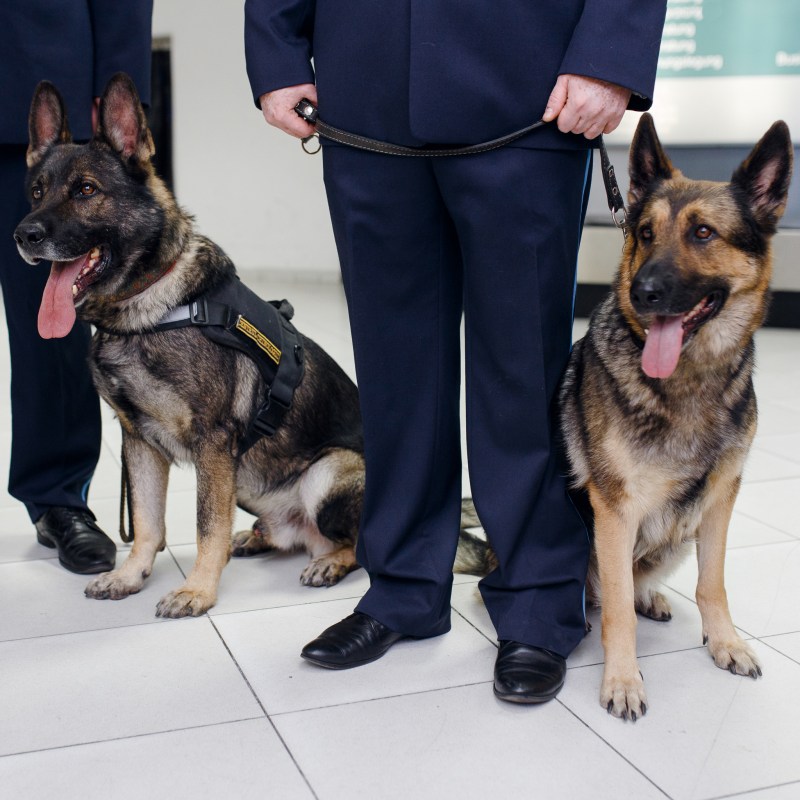 If you've ever seen a TSA Canine Unit at work in an airport or parking lot, did you wonder what the dog is like when they're off duty? Now, thanks to a new calendar, you can learn all about some of TSA's star canines.
What Do TSA Canine Units Do?
The Transportation Security Administration (TSA) was created November 19, 2001 — in the aftermath of the attacks on September 11, 2001 — to protect the country against similar attacks in the future. As part of that mission, TSA uses highly trained explosives-detection canine teams to detect explosives and deliver a visible deterrent to terrorist activities, TSA explains.
Today, there are more than 1,000 TSA canine teams working at more than 100 of the nation's airports, mass-transit, and maritime locations. They screen passengers and cargo and support other security missions.
Training these teams is a massive effort conducted by the TSA National Explosives Detection Canine Program, which trains TSA- and state and local law enforcement-led canine teams. Their $12-million training center features 17 indoor areas that resemble various transportation sites.
Seven breeds of canines are used in the program: German Shepherds, Labrador Retrievers, German short-haired Pointers, Wirehaired Pointers, Vizslas, Belgian Malinois, and Golden Retrievers. Impressively, there are approximately 240 canines in training at any given point, according to TSA, and 300 canines typically complete training each year.
Canine Stars
Now, thanks to the 2021 TSA Canine Calendar, you can learn all about some of these star performers. One dog is spotlighted each month. You'll learn their breed, where they work, and fun information about their favorite treats, toys, and off-duty hobbies.
More information about the calendar is available here, and you can download the calendar here (PDF).
While each dog is special, don't miss these:
Hunter
Featured in April, Hunter was named to honor firefighter Joseph Gerard Hunter, FDNY, Squad 288/HazMat 1, who died in the line of service on September 11, 2001. Hunter, who works at Los Angeles International Airport, is a German short-haired pointer. His favorite treat is an ice cube and he enjoys playing with his Nylabone toy.
Jade-Jane
Featured in July, Jade-Jane was named to honor Jane S. Beatty. Beatty died at the World Trade Center on September 11, 2001. Jade-Jane, a German short-haired pointer, works at Portland International Airport. When she is not at work, Jade-Jane enjoys chasing squirrels and running. She loves Fruitables snacks.
Kajla
Featured in August, Kajla — who is a vizsla — was the winner of TSA's 2020 National Cutest Canine Contest. Although Kajla loves working at Daniel K. Inouye International Airport, she also likes to unwind after a long day by playing with her toys.
JJagoda
Featured in September, JJagoda holds the honor of being one of the few original TSA-bred dogs who are still in service. She also was named to honor Jake Denis Jagoda, who died in the World Trade Center on September 11, 2001.
Since she is a labrador retriever, it's only natural that JJagoda loves to go swimming and relax in the sun. Her favorite toy is a frisbee, which she will jump to catch. JJagoda works at Washington Dulles International Airport.
Related Reading:
The Best Dog Sunglasses Review 2021