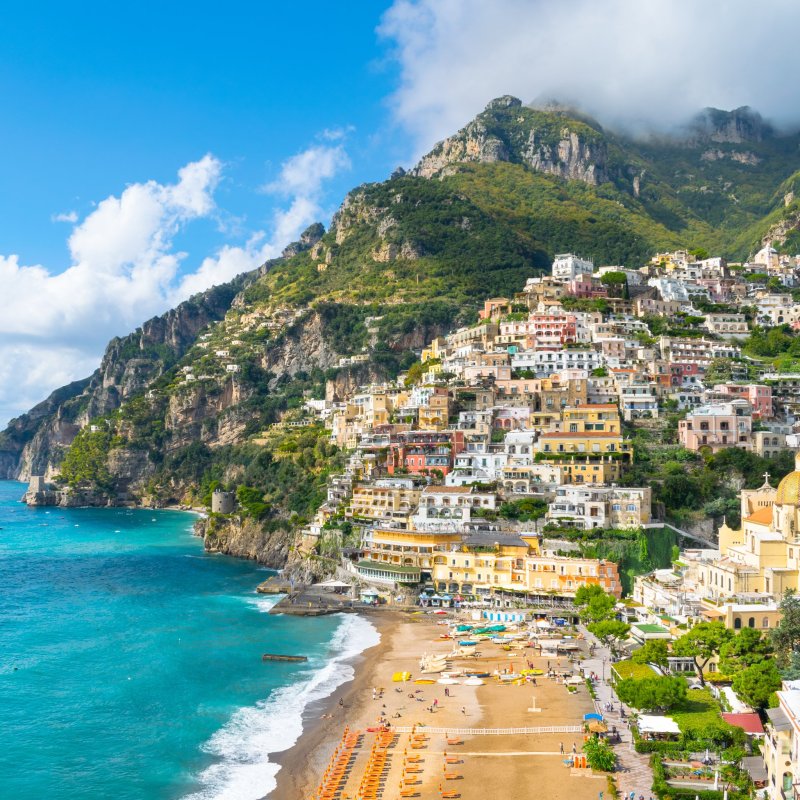 When you think of a beautiful beach on the coast of Italy, you likely think of the Amalfi Coast — even if you aren't familiar with the name.
The Amalfi Coast, a 25-mile stretch between the Gulf of Naples and the Gulf of Salerno in southern Italy, is a popular tourist destination known for its blue skies, steep coastal mountains on the edge of blue seas, and colorful villages, as well as olive groves, vineyards, and lemon terraces. The Costiera Amalfitana, Amalfi Coast, is so pretty that it's even listed by the United Nations Educational, Scientific and Cultural Organization (UNESCO) as a World Heritage Site that has "exceptional cultural and natural scenic values."
Let's take a look at some of the villages along the Amalfi Coast.
1. Positano
The Ancient Romans built villas on the coast of Positano, and it continues to be a major resort area — only now it's known for drawing intellectuals, artists, actors, and celebrities, Positano.com notes.
Spiaggia Grande, the main beach of Positano, is one of the largest on the Amalfi Coast. The town itself, however, is well known for its pastel-colored houses perched on the sides of cliffs, Walks of Italy explains. While that makes for beautiful views, note that it also makes for a difficult walk from the beach up through the village.
2. Ravello
While Positano is known for its large crowds, Ravello calls itself the "hidden treasure" of the Amalfi Coast. Located on a hilltop more than 1,200 feet above the sea and three miles from Amalfi, Ravello is also known for its Duomo (Cathedral), and Villa Cimbrone and Villa Rufolo.
It also has attracted visitors, including actors, authors, composers, and artists seeking inspiration, for centuries. For instance, Lonely Planet explains Richard Wagner visited the area to cure his writer's block, DH Lawrence plotted Lady Chatterley's Lover there, and the area so impressed American writer Gore Vidal that he stayed for 30 years.
3. Praiano
If you're interested in Positano but want to skip the crowds, the neighboring town of Praiano is the place to visit. About a 10-minute drive from Positano, Praiano is described as a quiet fishing village.
Praiano is known for its "crystal-clear seas that are awarded the Bandiera Blu Blue Flag for cleanliness, and the encompassing views," Summer in Italy explains. While it is a resort, the area has also been able to maintain its quiet atmosphere, which is "friendly and laid back."
Praiano is also ideal for a base during a vacation to the Amalfi Coast because other towns can be easily reached from there by bus or boat.
4. Amalfi Town
From the middle of the 9th century until the 13th century, Amalfi was an important trading center. Today, however, Amalfi is more known for its medieval architecture, including the 11th-century Cathedral of Sant'Andrea and the statue of St. Andrew sculpted by Michelangelo, Touropia notes.
Amalfi was also a maritime powerhouse, and every four years there is a Regatta of the Ancient Maritime Republics, which includes historic boat races and a parade.
5. Atrani
Sitting between sheer cliffs and the blue sea near the so-called Valley of the Dragon, Atrani was once the summer residence for noble families, Summer in Italy explains. The mostly level village is within walking distance of Amalfi and is a short drive from Ravello, Charming Italy notes.
The center of Atrani, which sits among ancient houses and a maze of lanes, is well known for its open-air venues and pastel-colored buildings stacked on top of each other. The beach can be reached by following a path.
Atrani is also known for the Collegiata di Santa Maria Maddalena, which features a yellow and green majolica tile dome and bell tower, and an arched bridge built in the 1800s.
6. Minori
A little over two miles from Amalfi and a 45-minute walk from Ravello, Minori is a small town that's popular with Italians, an article on Lonely Planet notes. The area is known for its seafront, beach, and shopping streets.
Minori's cathedral, which is dedicated to Santa Trofimena, was restored in the 19th century, Positano.com explains. The cathedral has three light-filled aisles and a 17th-century marble pulpit. What's more, its lower basilica houses the relics of the town's patron saint.
Interestingly, Minori is also famous for its pasta factories, and its specialty is scialatielli, thick ribbons of fresh pasta, which feature prominently on many local restaurant menus.
7. Furore
Furore is a little-known town spread over a vertical stretch of hillside above the Mediterranean Sea. It's even called paese che non c'e, the "town that doesn't exist," an article on Fodors explains. That's because there isn't a real piazza in the town.
And yet, the town also calls itself the paese dipinto, or "painted town," because the buildings' walls are home to murals painted by local and international artists, Fodors continues. This open-air "gallery" of sorts began with three murals in 1980 — and has been added to regularly since then.
The main tourist attraction is the Fiordo or fiord, where a cluster of old fishermen's houses perches on the side of a rocky gorge, according to an article on Italy Heaven.
Now that you're familiar with Amalfi Coast, you can — hopefully — begin planning your bucket-list vacation soon. Also consider our other Amalfi Coast and quaint Italy content here: