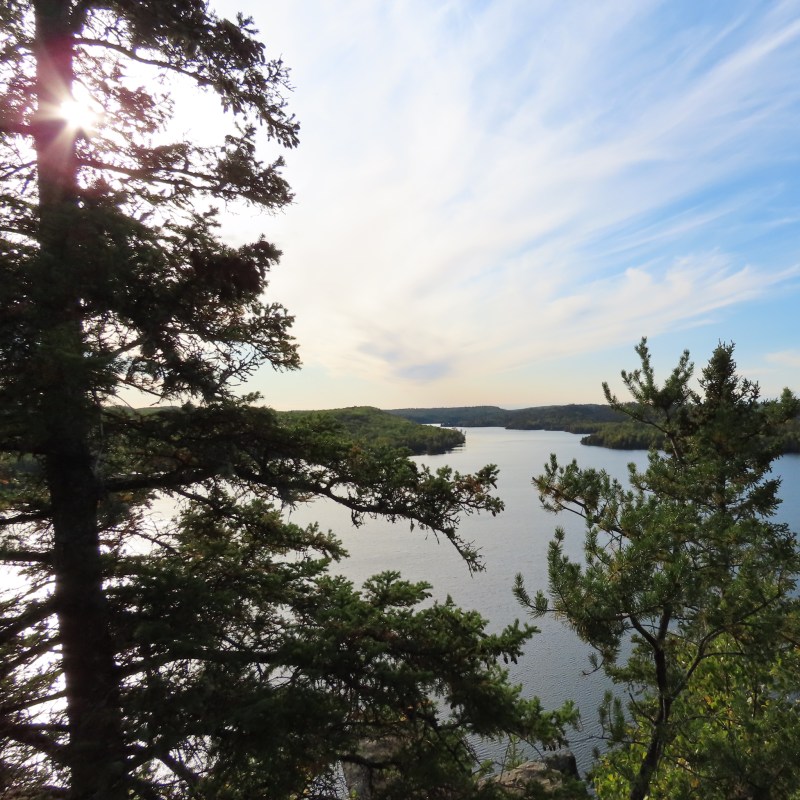 More moose call Cook County in northeast Minnesota home than do people. Yet with more than 3,300 square miles of beautiful scenery, you'll be fortunate to encounter one. From exploring Lutsen Mountains to watching Grand Portage's High Falls drop water like it's filling a bucket from a faucet, you'll have so much to explore as you enjoy these 11 scenic stops in Cook County. Located about 90 minutes north of Duluth along Highway 61's North Shore Scenic Drive, a drive through Cook County will bring you to the bosom of Mother Nature, as well as unique villages and towns along the way.
1. Sugarloaf Cove
Schroeder
Sugarloaf Cove is a beautiful spot on Lake Superior that features a unique, mile-long walk along an interactive trail where you can take in the wildlife as well as the impressive trees rising skyward. Once at the cover, you can walk along the rocky beach featuring colorful pebbles and polished rocks washed ashore. As you explore the beach, which is surrounded by forest and Lake Superior, you'll find old logs and more items that the lake sends to the land. The view of Sugarloaf Point and Lake Superior is one of the best you will find on the North Shore, and you're always on the edge of the water. While at Sugarloaf Cove, stop in at the Sugarloaf Cove Nature Center, where you can view exhibits and learn about the history of the area, including the lava rocks that date back more than a million years.
2. Temperance River State Park
Schroeder
Located midway between Schroeder and Tofte, Temperance River State Park offers visitors an opportunity to hike through the forest along the edge of the Temperance River Gorge. On your hike, you can enjoy the majestic waterfalls in the park. French traders, such as Pierre-Esprit Radisson (namesake of the Minnesota-based hotel group), and the Ojibwe Native Americans controlled the area for years. As you explore the trails, you may encounter wildlife, including white-tailed deer, beavers, river otters, black bears, and timber wolves. You can camp in the park and enjoy activities such as fishing and rock climbing.
If your time is limited, you can enjoy an hourlong hike through the park, along the river's gorge, and over a footbridge that will take you to the park's lagoon and its beautiful view.
Pro Tip: You'll need to buy your vehicle's park permit in advance.
3. North Shore Commercial Fishing Museum
Tofte
Offering a look at commercial fishing on Lake Superior, the North Shore Commercial Fishing Museum also includes a look at the early days of the area's communities. With more than 3,000 items, the museum features artifacts, photographs, and memorabilia tracing the North Shore's fishing history. The museum has rotating exhibits, so you're always going to see something new. During the winter, the museum is only open on weekends; from mid-May to October 19, it is open Tuesdays through Saturdays.
4. Lutsen Mountains
Lutsen
The Lutsen Mountains ski area is a year-round attraction. From riding the Summit Express Gondola to Moose Mountain, where you can hike during warmer months and ski during winter, Lutsen Mountains is a must-stop during your drive. You can spend as much time as you want in the mountains exploring the trails and inhaling the magical view of the surrounding forests. The gondola ride itself offers breathtaking views of the forests as you glide high above the treetops with a view of Lake Superior on one side.
Fika (fee-kah) is a Scandinavian word that means coffee break. And Fika Coffee is a perfect spot to take a break in Lutsen, with its signature maple latte made from locally-sourced maple syrup. For a complete meal, check out Papa Charlie's Tavern and Stage, whose menu includes chicken wings, burgers, and pizza.
Lutsen is an excellent location to stay during your trip. Caribou Highlands Lodge offers the feel of a cabin and the amenities of a hotel. Offering options from cabins to a lodge, Cascade Lodge has been part of the Lake Superior scene for about 100 years.
5. Poplar River Falls Trail
Lutsen
With the Poplar River running along the base of the Lutsen Mountains, enjoy a hike along the Poplar River Falls Trail, which takes you along the backside of the mountains. Stop and enjoy the view from a bridge above the river's waterfalls. You can head back to the trailhead or continue on to Moose Mountain, which is about a six-mile hike from the trailhead. If you want, grab a ride back to Lutsen on the gondola.
6. Cascade River State Park
Lutsen
Cascade River State Park offers a fun hiking experience as you walk amid moss, ferns, birch trees, and spruce trees. With waterfalls flowing over volcanic rock, you'll appreciate impressive views as the river flows into Lake Superior. Look for wildlife such as deer and moose.
For more Lutsen inspiration, consider these can't-miss experiences in Lutsen, MN, during every season.
7. Art Scene
Grand Marais
Grand Marais could easily be mistaken for a New England coastal community. Thousands of people enjoy strolling along Grand Marais' streets, visiting quaint art galleries and studios, and taking art courses at the North House Folk School. The community also hosts an annual plein air art festival, where artists create paintings of (and amongst) the area's outdoor beauty.
If you prefer to stay in Grand Marais, the town is home to a couple of interesting hotels. The Mayhew Inn, Grand Marais's only boutique hotel, offers a scenic view of Lake Superior. With only six rooms, the hotel features a contemporary modular design. The Mangy Moose Motel includes a rustic stay with the feel of a cabin deep in the woods.
You'll want to grab a pizza at the vintage Sven and Ole's, which is known for its hand-tossed pizza. The downtown eatery also offers appetizers and hoagie sandwiches. During the summer season, you'll want to join others and stand in line waiting for the freshly-made cake donuts at World's Best Donuts.
As we've written before, there are plenty of things to do in Grand Marais.
8. Grand Marais Lighthouse
Grand Marais
The Grand Marais marina is home to boats of all shapes and sizes, from sailboats to larger tourist vessels. You'll find kayaks, fishing trawlers, and speed boats all looking to explore their niche of Lake Superior. While at the marina, walk along the seawall to the Grand Marais Lighthouse and explore the distinctive lakeside volcanic basalt. The century-old lighthouse still functions as a beacon to travelers along the lake. At the north end, you'll find Artist's Point, a rocky peninsula popular with visitors, hikers, and people painting outdoor scenes.
9. Gunflint Trail
Grand Marais
Home to the Boundary Waters, a chain of lakes buffered between the United States and Canada, the Gunflint Trail takes you on a 114-mile roundtrip drive to beautiful water and dense forests. With several attractions available along the way, the Gunflint Trail is a must during your visit to Cook County. With beautiful lakes surrounded by forests, the drive is one of the most beautiful you'll ever take. With plenty of opportunities to explore lakes, such as Birch Lake and Loon Lake, you'll want to take a few hikes along the shoreline trails. The lakes are fresh and clear, showcasing why the Boundary Waters are so popular with kayakers, boaters, and anglers.
Restaurants and lodges located along the trail offer excellent meals featuring burgers, fish, salads, and more.
Pro tip: You'll want to spend at least half a day to genuinely appreciate the beauty of the scenic highway.
10. Grand Portage State Park
Grand Portage
Located at the top of Minnesota only a few hundred feet south of the Canadian border, Grand Portage State Park, on the Ojibwe reservation, is home to four miles of hiking trails that lead you to waterfalls. A half-mile trail takes you from the visitors center to High Falls, which, at 120 feet, is the tallest waterfall located in the state (though it's partially in Canada). The area includes several observation decks with impressive views of the falls and the Pigeon River. A 3.5-mile trail takes you through the park's wooded area before running past Middle Falls. The welcome center offers a history and culture lesson into the Ojibwe people, including traditional words for animals that you may see along the trails, such as otters, foxes, and eagles.
11. Grand Portage National Monument
Grand Portage
Located on the shoreline of Lake Superior, Grand Portage National Monument celebrates the history and culture of the Ojibwe and, later, European fur traders who made their way across Lake Superior to develop trading relationships with the Native Americans. As part of an 8.5-mile trail, Grand Portage National Monument includes a fort featuring replica buildings, such as a great hall and kitchen, where Ojibwe history and culture are shared with visitors.