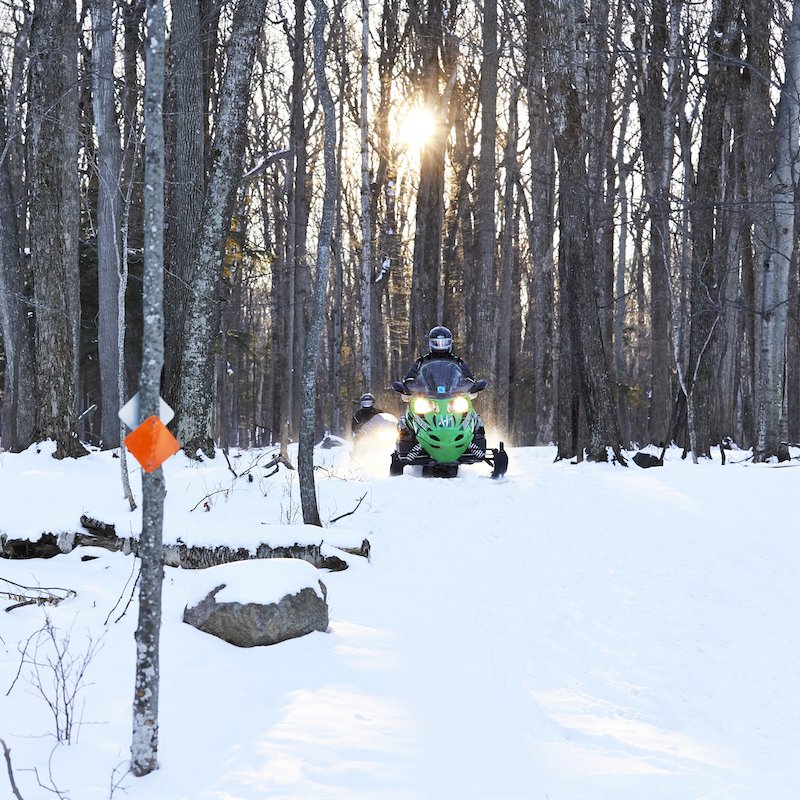 The development of the modern snowmobile involved different people and several evolutionary steps, but Wisconsin is often hailed as the birthplace of the snowmobile.
Carl Eliason of Saynor, Wisconsin, is credited with inventing the snowmobile in the 1920s; he called his invention the "Motor Toboggan" and helped launch a passionate pursuit that continues for snowmobile lovers around the world to this day.
One of the most exciting ways to enjoy the frosty weather is available on the many Wisconsin snowmobile trails. It's easy to appreciate gorgeous outdoor scenery when you're traveling along well-groomed trails that pass in and out of Wisconsin's incredible landscape. You can go fast or slow, relishing areas that might only be available to see from the privileged vantage of snowmobile trails during the winter.
Because we have experienced the thrill of snowmobiling for ourselves, we can offer a few insider tips to help you make the most of any snowmobile adventure. Before we share the great trails that can be found all over the state, we'll provide some ideas for having the best experience possible when enjoying Wisconsin snowmobile trails.
What To Know Before You Go
Snowmobiling is an exciting activity, and it is especially fun for anyone who loves to drive. You can always ride solo, but many rentable snowmobiles also fit two people. If you both want to drive, switch it up somewhere along the way so each rider can experience being the driver in front and riding on the back.
Steering a snowmobile has more in common with driving a wide truck than a sports car. We can attest to this from one of our outings. We made a turn that was far more round than sharp and ended up beside a tree instead of on the trail we had wanted to turn around on. Get safety instruction and take your time if you're a beginner. Most rental locations, tours, and classes will provide you with what you need to know.
Snowmobiling is quite adventurous because you have to command a heavy motorized vehicle that slides along the snow with a lot of power. You'll need to wear a helmet when riding, which can muffle the sounds around you. If you don't like loud noises or are especially sensitive, you might want to consider adding some earplugs as well. While they don't necessarily create an overwhelming volume, snowmobile engines are significantly louder than self-propelled winter activities like skiing or snowshoeing. It's useful to understand ahead of time that this is a different sort of high-velocity winter sport. Adrenaline junkies will love how the engine revs up your energy.
Make A Plan
Be sure to have a map of the trails you plan to use. Get the most updated information possible because conditions change quickly during winter, and you don't want to head out only to find that your trail of choice is closed. You'll also want to dress appropriately. In addition to protective outdoor winter gear, think about wearing a face covering and reflective glasses or goggles to keep the wind off your face and the sun out of your eyes. It's surprising how much glare can come from the snow all around you. Make sure that your clothes, scarves, gloves, and the like do not have any loose straps and remain secure.
Finally, decide how long you want to ride, and plan accordingly. Will you be out there on your own, with a group, or taking a lesson or excursion with an experienced guide? Take food, snacks, and especially water. You might not think you'll get much of a workout sitting on a snowmobile, but just being out in the elements and having to concentrate does take energy. If your group or guide is handling that aspect of your adventure, that's great. But be sure to keep some water with you even if the food and snacks are packed by someone else. And whether you plan to ride alone or with a buddy, be sure to give someone who is not going with you the location, itinerary, and planned duration of your outing for safe measure.
Hit The Trails In Racine County
Racine may be known for its outstanding supper clubs, but when winter comes, the snowmobiling is awesome. The county boasts 188 miles of groomed trails and is conveniently located 40 minutes from Milwaukee and less than two hours from Chicago. The trail map (PDF) will show you plentiful choices of trails from Burlington and Rochester to Union Grove and Caledonia. Racine snowmobiling trails are known for their flat, fast, smooth grades, making this a perfect system for those who want to feel the speed of well-groomed snow. Racine County Alliance of Snowmobile Clubs can provide the latest information as well as contacts at the many area clubs, who can tell you all you need to know to enjoy your ride. We have found the people of Racine to be very friendly and helpful to visitors. If you can spend a little more time here, you might enjoy checking out some other wintertime fun, such as snowshoeing and curling.
Snowmobile With The Rock County Community
We've written about how much fun we've had in small towns of southern Wisconsin like Beloit and Janesville. The fun doesn't stop when the snow begins to fall. To take advantage of the best snowmobile trails in Rock County, Wisconsin, connect with those who know and love them most. Several active snowmobiling groups like the Rock County Snowblowers, Janesville Snow Chiefs, Orfordville Country Riders Snowmobile Club, and Marshall Sno-Drifters Snowmobile Club, promote trail safety, grooming, and fun. The Rock County Snow Mobile Alliance is a good resource for the latest information on the local trails and to connect with others about which trails are best when. Check out the trail map (PDF) of the county's quadrants. When you're through, don't forget to warm up with our favorite cocktail, a delicious Wisconsin-style old fashioned — brandy, sweet.
Eagle River: The Snowmobile Capital Of The World
Eagle River has a reputation as the big Kahuna of Wisconsin snowmobile trail systems. It boasts more than 500 miles of spectacular trails through a beautiful landscape that includes the Nicolet National Forest and many gorgeous lakes. Winning many accolades from snowmobiling enthusiasts, Eagle River is proud of its moniker as "Snowmobile Capital of the World." The city hosts notable snowmobile races and the fantastic World Snowmobile Headquarters museum. If you're looking for a great place to spend more than just your time on the trails, Eagle River offers many options for enjoying Wisconsin hospitality and fun. We especially love the multiple supper clubs, where Friday fish fries are always in fashion.
Keep Up The Fun In Minocqua
The massive snowmobile trail system in Minocqua is sure to offer something different for every ride. Snowmobile clubs and volunteers keep over 1,700 miles of trails clean and groomed. With 233,000 acres of public forests and more than a thousand lakes, Wisconsin's beauty is fully on display here. In particular, the Bearskin State Trail is a favorite for snowmobiling because it connects to many other trails that go in all directions, so you can keep the fun up for as long as you like.
Access Special Snowmobile Trails In Door County
Door County is well-loved as one of the most beautiful parts of Wisconsin in any season. But when the snow falls, snowmobiling is a wonderful way to explore parts of the county that are normally off-limits to the public, as many of the snowmobile trails are on private land and only open to the public in the winter. More than 250 miles of interconnected snowmobile trails offer views of countryside, lakes, farmland, woods, and more. Potawatomi State Park and Peninsula State Park are local favorite snowmobile areas.
Explore St. Germain And The Snowmobile Hall Of Fame
St. Germain is full of snowmobile trails that are well groomed and travel in just about any direction. The vast network of trails shines as the tall pines of the Northwoods glisten with snow. Lakes and rivers add to the scenic escape, which beckons to be explored. Wide, smooth paths, frozen lakes, and untouched trails through the woods add enough variety to satisfy any level of rider. And if you really want to learn about the history of the sport, St. Germain hosts the Snowmobile Hall of Fame, which is filled with machines, memorabilia, and tributes to the masters of the sport.
Snowmobile In Snowy, Snowy Hurley
One of the most important aspects of snowmobiling is, well, snow. Hurley, with snowfall totals that can hit over 200 inches in a single season, is one place you may find the white stuff even when there's paltry winter weather elsewhere. Hurley is located in Iron County, which has over 500 miles of trails connecting with over 1,500 miles of trails in Vilas County, Price County, Ashland County, and the Upper Peninsula of Michigan. There are waterfalls, rivers, and miles of scenic trails that go through the forest, meadowlands, and other areas of pristine beauty.
Pro Tips
Whether you're planning on a quick day of riding or a weekend or more of fun, be sure to check for what's happening with the weather before you go. And once you arrive, enjoy the many pleasures of Wisconsin hospitality that will make your visit unique and memorable.
Additional Winter Resources:
The Best Heated Gloves For Winter Exploring