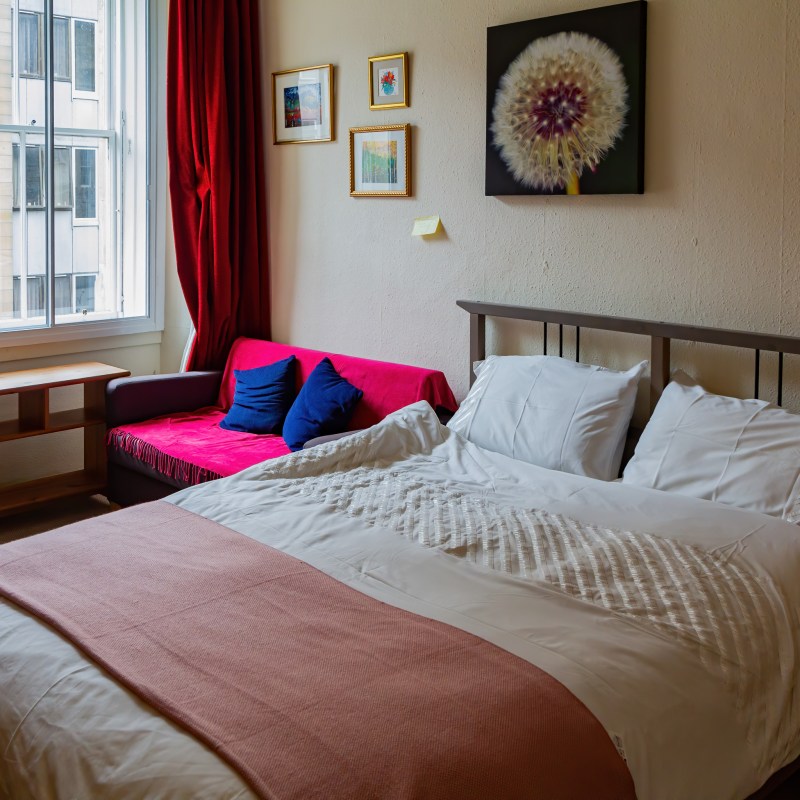 As a full-time international housesitter, I admit I sleep around. You can, too — without being saddled with pet duties.
The concept of hospitality exchange has been around for more than 70 years as a way for travelers to stay with hosts in cities they visit in exchange for — well, nothing but good conversation!
Hospitality exchanges are not working vacations where the traveler works in exchange for accommodations and meals. While these opportunities can provide valuable and interesting work experience, they can also leave little time to explore your destination. I participated in a volunteer program in Madagascar for the week preceding my 2-week guided tour, giving me a chance to learn a new skill and explore that magnificent country.
Nor are they home exchanges, where two parties switch homes, as in the movie The Holiday where Cameron Diaz exchanged her Beverly Hills mansion for Kate Winslet's country home in Surrey … and vice versa. I've done that, too, exchanging my studio apartment in Santa Monica for a small flat in Paris. It was wonderful! But, it takes a bit of serendipity to find someone who lives in your desired destination and who wants to visit your hometown — and is available to travel the same time you are.
Instead, hospitality exchanges are a more flexible option. You stay in someone's spare room — or bunk on their couch — for a few nights while the host is home. Besides the obvious cost-savings, travelers have the benefit of learning about a new destination from a local. (Please see more benefits below.)
There are more than a dozen hospitality web sites that connect hosts and guests. Most rely on each party creating and posting a profile indicating their travel plans and interests. Some encourage each party to leave a public review on the site as a way of keeping everyone operating from integrity. Some, but not all, require hospitality reciprocity — if not with the person who hosted you, then another traveling member of the site — a "pay it forward" ethos. Most have a 2- or 3-night limit, so participating in a hospitality exchange could be a great way to dip your toe into a new destination before moving to longer-term accommodations.
If you don't mind being a guest in someone's home and relish the idea of "living like a local," a hospitality exchange might be perfect!
Here are 13 sites to check out:
1. Evergreen Club
Evergreen Club is a bed and breakfast network for travelers aged 50 years and up. While not free — it's $75 to join, plus $15 a night for singles and $20 a night for couples, which includes breakfast — it can be a great way to travel around North America. Hosts are not professional bed and breakfast owners, so guests are expected to be fairly independent, but can enjoy hearty breakfasts and lively conversations with their down-to-earth hosts. Unlike the other hospitality exchange sites listed here, you must be able to host to join Evergreen.
2. The Affordable Travel Club
Much like the Evergreen Club, The Affordable Travel Club offers up that comfy spare bedroom and a hearty breakfast to travelers aged 40 and up traveling in North America, Europe, Australia, New Zealand, and a handful of other destinations. It's $65 to join and $15/night for a solo traveler, $20/night per couple.
3. Couchsurfing
The site that jumpstarted the hospitality accommodation trend, Couchsurfing, began in 2004 and now boasts 14 million members in 200,000 cities. Lately, it's come under fire for levying a mandatory fee to join (about $15/year) and is still reeling from reports that it's become more of a dating hookup site with some male hosts accepting only young female travelers.
Although Couchsurfing skews toward the young backpacking crowd, I used it in 2009 when I was in my early 50s during a drive across America. I stayed in Memphis and Nashville with hosts who were my age. My accommodations were private, lockable rooms.
4. Servas
Servas began matching hosts and guests in 1949 as a way to promote peace and social justice. Today, there are hosts in 120 countries.
Servas requires both hosts and travelers to be interviewed by current Servas volunteers, so this non-profit organization is viewed as one of the safest hospitality exchanges. Fees for American travelers are $98/year — fees for travelers from other countries differ. All travelers must be at least 18.
5. The Globetrotters Club
Since 1945, the Globetrotters Club has encouraged traveling and exchanges of all types — advice, experiences, and hospitality. Its Globe Magazine, which is sent to 19,000 members worldwide, is packed with travel tips, articles, photos, requests for travel companions, and hospitality offers. The annual cost is about $17.
6. Teachers Travel Web
Teachers Travel Web is open to all educators, trainers and school staff, and their families — including those who have retired — from any level of the education world. The site features members who are willing to provide hospitality and engage in home exchanges or housesitting. Membership cost is $20/year.
7. TeachSurfing
Non-profit organizations, schools, and communities in 150 countries host travelers who are willing to share their knowledge and skills through TeachSurfing. TeachSurfers hold workshops in subjects such as economics, IT, health, language skills, sports, and the arts.
8. Hostwriter
I've recently joined Hostwriter (for free) and am still exploring the site's networking possibilities. Besides offering accommodations with other journalists worldwide, the site connects writers who want to collaborate on stories or offer local advice to foreign journalists. To join, submit work samples for professional verification.
9. BeWelcome
Another non-profit hospitality exchange site is BeWelcome, which has hosts in 120 countries. Founded in 2007, the French site is a free alternative to Couchsurfing and works in the same way: Hosts and guests leave public reviews for each other.
10. Trustroots
The hippier version of Couchsurfing is Trustroots, another free, worldwide site that is a non-profit organization based in the UK. To pair like-minded hosts and travelers, Trustroot features "circles" for hitchhikers, buskers, vegans and vegetarians, cyclists, climbers, and more.
11. Women Welcome Women WorldWide
5W is an intimate organization for traveling women. About 2,500 women worldwide are members for $50/year (less for consecutive annual renewals). Hosts offer either full accommodations or "day hosting" — a lunch or meet-up for coffee or tour of her city. What sets this non-profit apart from the other hospitality exchange sites is that there are no online profiles. Instead, members are sent printed directories or CDs of other members' profiles and contact information.
While this organization is perfect for mature solo women travelers, partners and children may be able to be accommodated as well.
12. Lesbian And Gay Hospitality Exchange International
LGHEI (pronounced "elle-gay") is a small, non-profit hospitality exchange network specifically for the LGBTQ community. Members are expected to host as well as be hosted. The annual fee is $25 for one person and $30 for a couple.
Pros And Cons Of Hosting Travelers
Opening your home to a stranger is a daunting proposition, but with careful vetting, it could provide a fabulous travel memory — without even leaving your front porch!
The many benefits include learning about different cultures and showing off your town to a visitor. Personally, I rarely visit the things I love in my hometown until I have visitors to explore with!
The downside, of course, is the uncertainty that comes with hosting a stranger. Do your homework before agreeing to host. Check reviews, scour social media accounts, google. Ask for a video chat.
Pro Tips
Set clear ground rules and expectations. Will you be touring your guest around? Or merely offering guidance for them to do their own thing? Hosting them for breakfasts?
Lock away any sensitive information that contains account numbers. When I Couchsurfed, I was once accommodated on a daybed in the woman's home office where her account and computer passwords were taped to the wall over her desk!
Make space for your guests' belongings and let them know what areas of the house are available to them — and when. For example, is the bathroom off-limits while your kids are getting ready for school?
Pros And Cons Of Being A Guest
Likewise, staying in a stranger's home could be awkward — or, potentially, dangerous. Or it could provide a once-in-a-lifetime travel experience.
The benefits are numerous: Meeting new people, getting an inside look at local customs and foods, perhaps learning about off-the-beaten-path places or experiences, practicing a new language, and definitely accessing internet that is more secure than most hotels'.
The challenges are that living like a local also means living with a local! First and foremost, you are a guest in someone's home, which means abiding by their household rules, cleaning up after yourself, and keeping those noisy video chats to a minimum.
It also means you need to be personable and open to conversation. The exchange goes both ways. When I was driving across America Couchsurfing, I thoroughly enjoyed my hosts, but I found the "being on" requirement after a long driving day was especially tiring. I also found myself stressing a bit to arrive at a decent hour, so I didn't do as many little sightseeing stops along the way as I would have liked.
One of my favorite travel memories is staying with a lovely young family in Nagasaki during the 70th commemoration of the atomic bombing. My host arranged for me to visit the elementary school at Ground Zero to hear the schoolchildren singing peace songs. I'll never forget the laughs I shared with her toddler and pre-schooler as I "read" a Japanese book to them (in English, of course), making up the story from the pictures. I wonder what they'll remember about their foreign houseguest?
Finally, for more on finding free accommodations, see my 12 top tips for finding free lodging while traveling. If house sitting is more your speed, read up on the following: