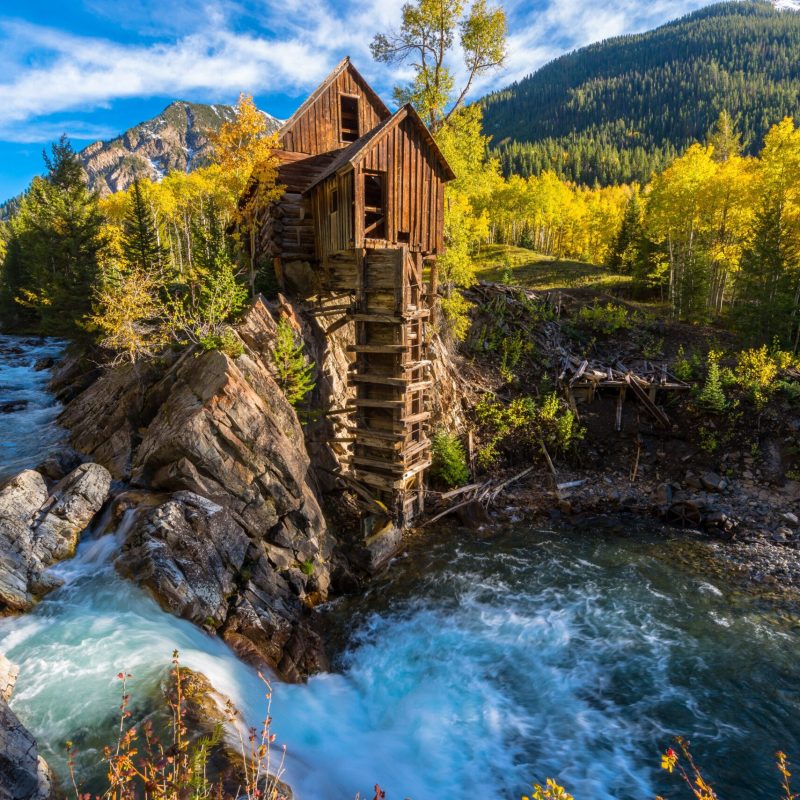 Beauty can be eerie. And that is why a former mill in Colorado is the state's most photographed landmark. The Crystal Mill is part ghost town, part Disney attraction; as it sits on its high perch, you can feel the history, while at the same time, it is so surreal that it almost feels like it should be an entrance to a roller coaster at Disney. Yes, it reminded me of the Seven Dwarfs Mine Train.
What Is The Crystal Mill?
Located just outside the small town of Marble, Colorado, and about a 90-minute drive from Aspen, Crystal Mill was never a working mill, it turns out, but rather a powerhouse. Built in 1892, the "Sheep Mountain Power House" contained a turbine that was driven by the powerful waters of the Crystal River below. It powered pneumatic tools and provided air ventilation to nearby mines. When the Sheep Mountain mine closed up in 1917, the mill was abandoned. Sixty-eight years later, Colorado decreed the mill a landmark, and it was placed on the National Register of Historic Places in 1985.
Today, the Crystal Mill is a major attraction sought out by hikers, tourists, and of course, photographers, all seeking to view the quiet serenity of the mill sitting high atop the rushing river, surrounded by lush, rich forest, with the near-perfect background of the surrounding mountains.
How To Visit Crystal Mill
The easiest way to access the Crystal Mill is to take a guided tour. You will find several options available in Marble. Marble is located about seven miles off Highway 133 on County Road 3. The town itself is a rustic throwback to the Old West. Here you'll find several outfits offering Jeep and Horseback tours to the mill, but you're also welcome to reach the mill by hiking or biking in.
The mill is located six miles east of Marble, just before the ghost town of Crystal. Being in Colorado, Crystal Mill is only accessible during non-snow months in the summer and fall.
Getting The Perfect Picture
When you arrive, you'll find that there are basically two main areas from which to see and photograph the mill. The most popular location is to the right of the mill. The cliffside vantage point is fairly small and can only fit three to four people at a time, so be ready to wait and move fairly quickly.
For more adventurous types, you can venture beyond the visible barriers. The owner of the land will allow photographers to purchase a pass and sign a waiver to access other prime locations for photos, according to GearJunkie.
Photography sites recommend you use a moderate- to ultra-wide lens to get the best perspective. A fisheye lens will allow you to capture "more of the peripheral scenes."
What Else Can Visitors Expect?
Experiencing Crystal Mill is just one of the wonders you'll find on a visit to this area of Colorado. Marble, small in size, is growing into an outdoor paradise, featuring multiple activity options for families, travelers, and RVs.
Camping opportunities are plentiful. RVs are welcome at the Bogan Flats Campground along County Road 3. Hiking, biking, and water sports abound in the summer, and, of course, there is good skiing and snowboarding within a 2-hour drive to Aspen.
Fishing is also becoming hugely popular at Beaver Lake, which is on the route to Crystal Mill.
You can find more information about all sorts of activities on the Marble tourism website.
Know Before You Go
If you do decide to hike or bike to Crystal Mill, make note of the distance. It is about 9.1 miles round trip, and you will gain over 1,000 feet of elevation. There are no amenities on the trail, so make sure you pack food and water accordingly. Also note that you will be sharing the road with bikers, horseback riders, and even vehicles. Don't be surprised to see some ATVs, as well, on your way.