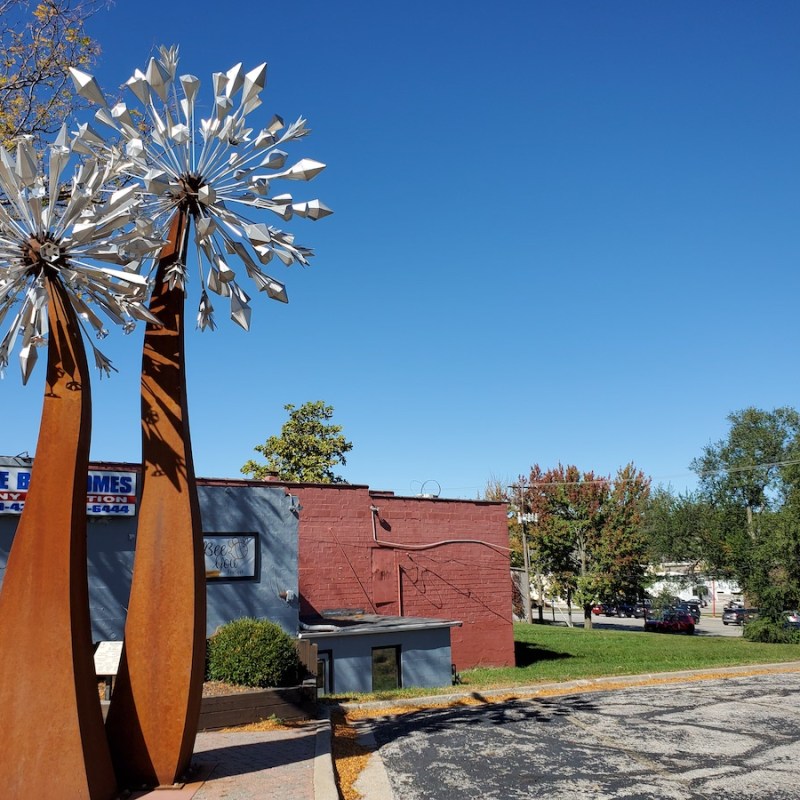 When is the last time you hopped in your car to explore art in the Midwest? I have found several places in the heart of America that are home to art that you should explore. From grain silos to sculpture walks, there's bound to be something that will interest you. I hope you will hop in your car and visit some of these places, as they each have something unique to offer. The secret is out: Public art is alive and well in the Midwest.
1. Guido Van Helten Silo Mural: Fort Dodge, Iowa
Australian artist Guido van Helten spent months in Fort Dodge painting a mural onto a silo in Fort Dodge, Iowa. This work of art towers 110 feet, and you will enjoy the beauty when you see the artwork up close. There is parking near the silo, which makes it easy to visit. The site is wheelchair accessible, and the walking surface is level. You can walk around the silo and look up to the skies to experience this one of a kind masterpiece in Iowa. If you visit during the warmer months of the year, pack a picnic lunch and enjoy the view.
Location: 727 Hawkeye Avenue, Fort Dodge, Iowa
2. Honeybees In The Heartland: Nemaha County, Nebraska
I was recently returning from Kansas through Nebraska, and as I entered Nemaha County, I noticed honeybee sculptures. They were part of the Honeybees in the Heartland tour. Of course, I had to stop the car to take a photo with one of them. Each honeybee has distinct features and is a reminder of how vital honeybees are in the food chain. Agriculture makes up a large part of our economy in the Midwest, and the honeybee is an excellent representation of that. Auburn, Nebraska, is home to more than 15 sculptures of honeybees. Each is unique and offers you an opportunity to explore art in Nebraska. With 26 honeybees to be found in all of Nemaha County, you can easily spend a day playing "find the honeybee." You do need a car to see all of the honeybees in the county — this is not a walking tour.
Location: Nemaha County, Nebraska. Maps are available at El Portal Restaurant and Cafe Metro in Auburn, Nebraska.
3. River City Sculptures On Parade: Mason City, Iowa
The River City Sculptures on Parade is in Mason City, Iowa. You can walk the 1.7-mile walking tour, which includes historic downtown Mason City. You can easily spend two to three hours exploring this route. Some of the sculptures are permanent, as people have purchased some of them and donated them to the city. Other sculptures are permanent because they have won the People's Choice Award, voted on each year by the public. This walk will take you by the Historic Park Inn Hotel, the last known hotel in the world designed by Frank Lloyd Wright. I would encourage you to take your time strolling through the grounds of the Mason City Public Library. This area is home to several of my favorite sculptures, including Today's Readers Are Tomorrow's Leaders, a memorial to former Mason City Councilman Alex Kuhn.
Location: Begin your tour at Central Park in Mason City, Iowa.
4. Black Squirrels On Parade: Marysville, Kansas
Black Squirrels on Parade can be experienced in Marysville, Kansas. If you want to get up close with Marysville's official mascot, this parade is for you. Marysville is home to 34 five-foot fiberglass black squirrels. They are all painted and designed by regional artists. As I drove into town, it did not take me long to spot one of these fun black squirrels. They seemed to be everywhere! You can make this a walking tour, but there's also an audio tour, which makes it fun by car. If you post photos on social media, use the fun hashtag #Nuts4Marysville. Enjoy this fun display at no cost.
Location: The first stop is at 4th And Center streets in Marysville, Kansas.
5. Public Art In Blue Springs, Missouri
Several sculptures and murals can be found outside of Kansas City in Blue Springs, Missouri. This charming town is home to the Historic Santa Fe Trail and art displays that will cause you to look twice. One of my favorite sculptures in town is the Dandeblome on Main Street. As you drive through the parks, streets, and historic sites, you will find art on many corners. Take the time to stop in several parks to see the outdoor sculptures that line the trails. There are no fees to explore outdoor art in Blue Springs.
Location: A good place to start is on Main Street in Blue Springs, Missouri.
6. Enchanted Highway: Gladstone To Regent, North Dakota
When traveling I-94 in North Dakota, you will come upon Exit 72, where the world-famous Enchanted Highway begins. This 32-mile stretch of highway is home to several stunning scrap metal sculptures that tower towards the skies. You will see the Geese in Flight as you start your trek on the Enchanted Highway, and many incredible sculptures await beyond. The Enchanted Castle will welcome you as you enter the town of Regent. There is no fee to drive this road.
On your return trip down the Enchanted Highway, the sun will be placed differently, and the sculptures may take on a new look of their own.
Location: Take Exit 72 on I-94 in North Dakota. The sculptures end in Regent.
7. Pyramid Hill Sculpture Park: Hamilton, Ohio
If you enjoy art, nature, and a fun experience, you will fall in love with this outdoor sculpture park. Pyramid Hill Sculpture Park in Hamilton, Ohio, is the only museum in the country where you can drive a golf cart to view sculptures. This museum is outdoors and offers art throughout the park as you drive your golf cart up and down the hills. The summer months are an ideal time to visit, as the grounds are lush with gardens in full bloom. Plan an entire morning to visit, and enjoy a picnic lunch after you have experienced the outdoor art. I would suggest visiting this park at different times throughout the year.
Several exhibits come and go, which gives you something different to experience on each visit. You can walk through this outdoor park. It is hilly, which makes renting a golf cart all the more enticing. There is a small fee to experience this park.
Location: 1763 Hamilton Cleves Rd, Hamilton, Ohio
8. John And Mary Pappajohn Sculpture Park: Des Moines, Iowa
Des Moines, Iowa, is home to the John and Mary Pappajohn Sculpture Park. There are 31 art sculptures in the 4.4-acre park. Visitors can stroll the grounds from sunrise to midnight. Guided tours are available from April 1 through October 31. Guided tours are very popular and need to be scheduled three weeks in advance. This park is level and is an easy walk for all visitors. There are no fees to visit this sculpture park.
Location: 1330 Grand Avenue, Des Moines, Iowa
9. Ice Cream Cone Sculptures In Le Mars, Iowa
Le Mars, Iowa, is known as the Ice Cream Capital of the World. There are 55 ice cream sculptures throughout the town of Le Mars. As you drive around town, it's not uncommon to view more than three or four at a time. These sculptures are five feet tall, and they each offer something different. This sculpture walk is free.
Before you begin the self-guided outdoor tour of the ice cream sculptures, indulge in an ice cream treat at the Wells Visitor Center and Ice Cream Parlor.
Location: 115 Central Avenue N.W., Le Mars, Iowa
Pro Tips
You should know the rules of the attractions before you venture out. Most outdoor sculpture parks do not allow climbing, sitting, or standing on the sculptures. As with most public outdoor spaces, smoking is not allowed in many of the outdoor parks.
If you plan on taking photos on your visit, make sure you understand where you can and cannot take pictures. If you take photos of these stunning outdoor sculptures, consider using the hashtag for the attraction and share your photos through social media.
Picnicking is allowed in many of the parks. If you see a picnic table, grab it and enjoy your picnic lunch.
Depending on the season, dress in layers and plan to have a fun day exploring art in the Midwest.
Further Midwest Reading: