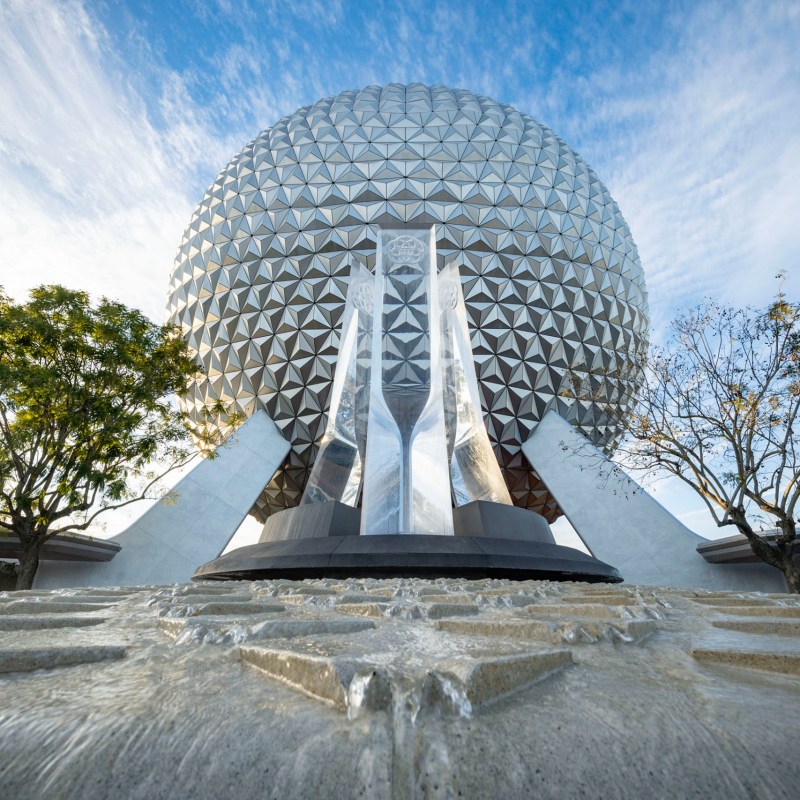 The entrance to Epcot theme park at the Walt Disney World Resort has always been a special place. Now it's even more special.
Epcot has been going through a "transformation," and earlier this week unveiled a new entrance.
"The past, present, and future of Epcot are all coming together in one special moment at the front of the park," Zach Riddley, Walt Disney World Site Portfolio Executive, Walt Disney Imagineering, wrote in a post on the official Disney Parks Blog. Visitors will now "see in real life what we at Walt Disney Imagineering have been dreaming up in our heads for many years. This park was built to inspire optimism, and we're infusing this transformation with the magic of possibility."
Last year, Walt Disney World Resort announced plans for a "historic" and massive Epcot transformation. However, Walt Disney World Resort's closure due to COVID-19 caused many construction projects within the overall transformation to be temporarily suspended.
Work on the entrance, however, continued. And now, workers have removed all the "progress walls" from the main entrance plaza, Riddley explains. This entrance features new planters, pathways, landscaping, and colors that will tie in with the World Celebration, World Discovery, World Nature, and World Showcase neighborhoods that are still underway.
"And there, in front of the iconic Spaceship Earth, you'll now see a reimagined fountain — standing in the footprint of the original that welcomed guests on the park's opening day in 1982," Riddley writes.
"Our design team took special interest in this water feature, as we looked back to the geometry of the original for inspiration while creating some new magic of our own," Riddley continues. "In the fountain's center is a brilliant light, a unique liquid-cooled fixture we've designed with new capabilities that complement the fountain's changing colors and will coordinate with new lighting coming to Spaceship Earth and the upcoming World Celebration beyond."
The entrance also features three acrylic pylons, each standing over 16 feet tall and featuring the park's logo.
"Their timeless design and vertical presence draw your eye upward toward the sky — perfectly framing views of Spaceship Earth," Riddley explains.
Riddley had previously shared on Instagram that the pylons, which each weigh more than 4,000 pounds, were modeled digitally, and then milled and polished to achieve the finish needed to be reflective.
Walt Disney World Resort theme parks are open. There are, however, restrictions in place based on guidance from health authorities, such as the Centers for Disease Control and Prevention (CDC) and appropriate government agencies.
Be sure to check with a Walt Disney World park before planning your trip.
You can read up on the latest travel news here.