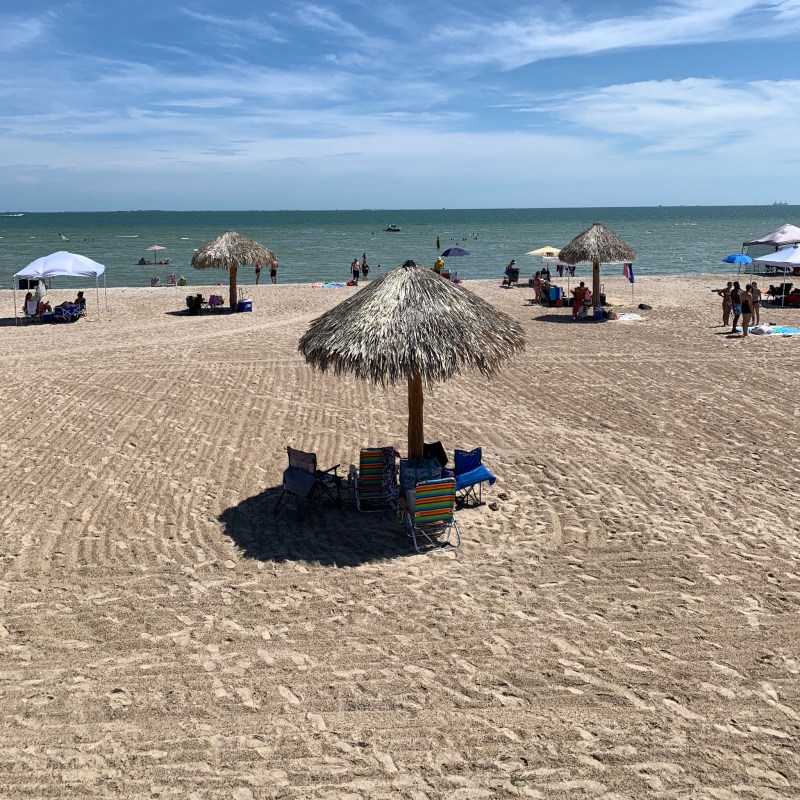 Snowbirds search for perfect winter weather. I found it in Rockport, Texas. About 3,000 to 5,000 Snowbirds come anytime after Thanksgiving and are gone by March before the Texas heat starts to build. During the winter, the combined population of nearly 15,000 people enjoys gentle gulf breezes and temperatures in the 60s and 70s for highs and 50s and 60s for lows. There can be a marine layer that blows in on some days and keeps things chilly, but you can expect mostly sunshine during your stay. Rockport has many sights and activities to enjoy while you experience a snow-free winter.
1. Enjoy The Beach And The Gulf Waters
Life in Rockport primarily ebbs and flows with the tides. Rockport Beach has beautiful sand and blue water. You don't often find this in Texas. You can either pay around $5 for a daily parking pass, around $20 for an annual pass, or snag one of the rare but free parking spots and walk onto the beach. A paid spot gives you access to your own picnic pavilion and barbecue grill along with access to the full beach. No dogs are allowed.
If you would rather be floating on the water, then bring or rent a boat or jet ski and enjoy the wide Aransas Bay. Fishing here is wildly popular in the winter. People fly fish from shore, drop a line off the pier, and fish from boats. They catch redfish, speckled trout, black drum, and mackerel off the piers, seawalls, and shoreline. Get on a fishing boat to cruise the Gulf of Mexico and catch red snapper, wahoo, and other big game fish. Texas requires a saltwater fishing license if you plan to fish on a boat (land or pier fishing does not require a license). There is another permit required to bring a fish back to shore, and there are regulations on redfish. There are dozens of charter boats, boat rental places, and anglers everywhere who will set you straight. Check FishingBooker for a good overview of places to fish and types of fish to catch.
2. Hiking, Biking, And Birding
There are many places to walk, ride your bicycle, and watch the wintering birds. Check out Rockport Memorial Park (PDF) for some easy and accessible walking trails and dog parks. There are two ponds at the park where you can observe waterfowl. You can take the Turtle Creek Hike and Bike Trail from the park and go just over a mile (one way) on a ten-foot-wide concrete path along Tule Creek. There are information signs along the way about plants and birds. It's a lovely escape to nature inside this little town.
Birding is as avid a pastime in Rockport as fishing. The area is home to hundreds of migratory birds including the elusive Whooping Crane. These cranes probably won't be seen inside the city, but you can drive north about an hour to the Aransas National Wildlife Refuge to see them. There are hiking trails as well as a marvelous driving loop around the sanctuary. Enjoy the accessible boardwalks to the water's edge as well as a boardwalk tower for a "birds-eye" view of the Gulf and the sanctuary.
A must-go place for birding in Rockport is the Bent Oaks Rookery Park. It faces the bay and is home to great blue herons and great egrets. These birds nest on top of the magnificent southern live oak trees that fill the park. You must stay in the parking area to observe the birds so as not to disturb them. Don't worry about seeing them. They are constantly flying (sometimes in formation) back and forth across the road to the bay. There are little spats between the birds for the best roosts on top of the trees. It is a never-ending show, and it's free to view. The great blue herons have distinctive U-shaped necks, and the great egrets are snowy white.
Across the road, you can pull off and watch birds on the various private piers on the bay waters. Most notable among these are white pelicans with black-tipped wings. You can see the brown pelicans everywhere (they're permanent residents), but these white pelicans are magnificent winter visitors. I also enjoyed seeing these same birds during the summer in North Dakota along the Sheyenne River.
Editor's Note: If the mention of North Dakota piqued your interest, here are some great reasons to make North Dakota your next family vacation spot.
3. Historical Sites And The Arts
Rockport was long known as an art town to complement the fishing community. Unfortunately, Hurricane Harvey in 2017 did a great deal of damage to the town, and much of the arts scene disappeared. Today, however, you will find great shops with seaside curios as well as local art for sale at galleries inside coffee houses and restaurants. These places are centered in downtown Rockport on a four-block promenade complete with old-time street lights and wrought iron benches. You can start at the Chamber of Commerce and end at the Rockport Pier. You'll pass by Winery on the Bay/Dog'gone Brewery, the Rockport Daily Grind coffee shop, and the Rockport Center for the Arts, which celebrates the creations of local artists.
Near the northern edge of downtown is the Texas Maritime Museum. Its exhibits cover a wide range of subjects, from boating and fishing to the petroleum industry and the range of historical settlements along the coast. Admission is under $10, and seniors receive a discount. Another interesting site is the 1877 Fulton Mansion. It's a designated Texas State Historic Site and on the National Register of Historic Places. Mr. Fulton was a cattle baron and made his fortune in meatpacking and cowhides. The neighboring town of Fulton is so named in his honor. The home gives a very detailed view of the life of the wealthy in the late 1800s. The home was severely damaged by Hurricane Harvey and the grounds were devastated as well. Today, however, you can tour the restored home and its artifacts. Like the Texas Maritime Museum, admission is under $10, and seniors receive a discount.
4. Enjoy Drinks And Seafood On The Bay
Though a small town, Rockport hosts a number of fine local establishments for dining and entertainment. Paradise Key Dockside Bar and Grill is south of downtown but right at the northern edge of the Aransas Bay channel. It hosts a daily routine of barge traffic and pleasure boats that make their way to and from Aransas Pass and the Gulf of Mexico at Port Aransas. Next to Paradise Key is a boat basin where charter boats and pleasure craft are docked. The dining room and bar sit above the water where you can get a good view of the boat traffic and get a constant breeze on the outdoor deck space. Fresh catches of the day, as well as shellfish, dominate the menu.
There are numerous other restaurants around town, but Rockport is small, so a good bit of the eating and drinking scene is small bars and take-out restaurants. You'll find a flourishing choice of Mexican restaurants. Los Comales has the most and highest rated reviews on Trip Advisor. Ask the locals for recommendations on which ones are currently the best.
5. Things To Do Outside Rockport
Rockport is well situated as a base to visit other sites on the southeastern Texas coast. Corpus Christi is 40 minutes to the south. Closer is Port Aransas, where you take a fun and free ferry ride to get to Mustang Island, part of the famous Padre Island area. There is no bridge to Mustang Island at Port Aransas, so either board the ferry or drive to Corpus Christi to take a bridge. There are plenty of great restaurants in Port Aransas on the beachside, along with fun bars and island culture. Roberts Point Park is great for picnicking and walking on the beachside of Aransas Pass. Watch the boats and enjoy the salty air.
North of Rockport, you can spend a morning or afternoon at Goose Island State Park on Copano Bay. The main park is a lovely setting for RV camping along the paved Lantana Loop. You can enjoy walking the loop as well. The native vegetation is lush. Cross over to a little island, and you'll find waterfront campsites and a bayfront drive. You can sit in the sand on the bay and catch the sunrise on one side and watch the sunset on the other. Everything has been restored since the 2016 hurricane, and new facilities have been added. There is a daily, per-person fee for park entrance unless you have a Texas State Park Pass. Camping fees are extra.
An interesting day trip (a little over an hour away) is the Goliad State Park and Historic Site in Goliad, Texas. Admission is around $5. There are two significant Spanish missions to visit, along with several other landmarks and a museum. You'll get a sense of what this frontier area was like in the 1800s for Mexicans, settlers, and the U.S. Army. The Fannin Battleground State Historic Site is in the area. Goliad is a very small town at the crossroads of two U.S. highways. Packing your own lunch may be wise. A pleasant picnic can be made at Branch River Park in Goliad.
Rockport has everything a snowbird needs, including great weather, a beach, fun things to do, and a full complement of retail and services within the city or within easy driving distance. I look forward to my next winter with salty air and fresh breezes.