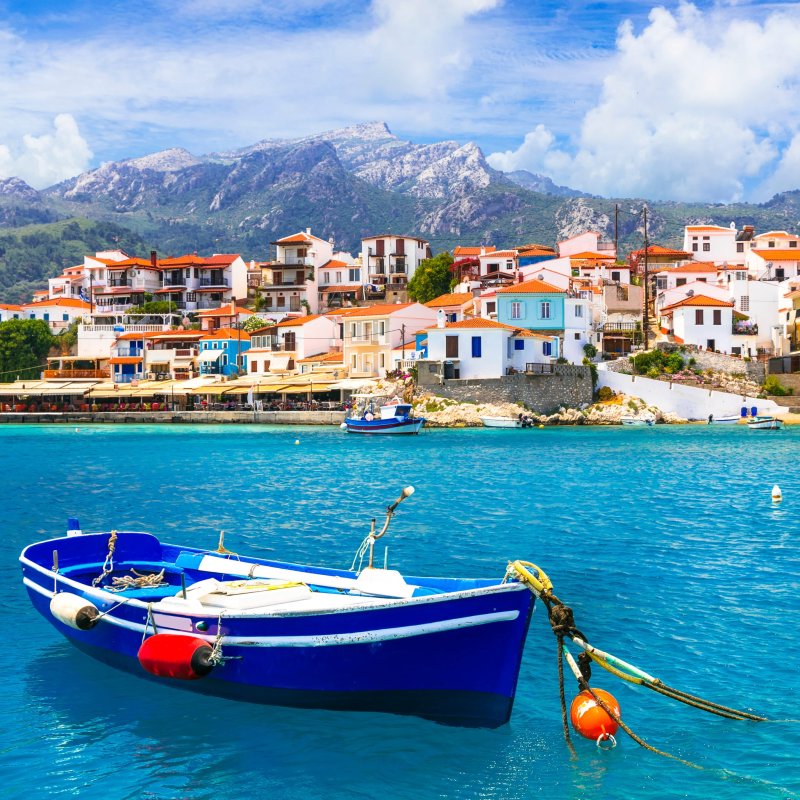 So many places, so little time. The world is filled with locations and attractions that will take your breath away. While everybody has their preferences for what a world-class travel adventure entails, here are nine places that will never disappoint.
Greek Islands
You get a little bit of everything when you visit Greece, which boasts 6,000 islands and islets, of which only 227 are inhabited. The beach and water are pristine, the climate ideal and the short distances between ports and coasts make it a must-visit destination. And you can't forget about the food, some of the finest in the world.
Great Barrier Reef, Australia
If you are into diving or snorkeling, the Great Barrier Reef should be at the top of your list for travel destinations. If you've never snorkeled, this should be your introduction. It is the largest living reef system and the largest living structure on earth, filled with abundant marine life. One visit will convince you why it is one of the seven wonders of the world.
Auckland, New Zealand
It may be New Zealand's largest city, but it has more beaches than most of the nation's coastal towns, and they are fantastic. You're also a short distance from botanical gardens, nature reserves, and dormant volcanoes. At the same time, you're in a big city filled with culture, great restaurants, and anything you would ever need to make a great vacation.
Cappadocia, Turkey
Cappadocia is one of the most underrated cities to visit. It features endless hiking opportunities, historic towns, a chance to stay in a cave, and one of the world's best locations for hot air balloons. The natural columns and peaks of the landscape are something to behold, from the ground or the air.
Cliffs Of Moher, Ireland
You'll never find anything else quite like the Cliffs of Moher, which stretch for about 5 miles along the coast. The rocky sea cliffs stand 700 feet above the ocean at some points. The drive to get to the cliffs is spectacular in itself, with the limestone hills of the Burren around you and the dozens of centuries-old towns and villages along the way.
The Maldives
The white sand beaches and the sunsets on the Indian Ocean are breathtaking in this area where you'll feel secluded and part of nature. The Maldives boast world-class diving and marine life, plenty of water sports for those looking for activity, including some great surfing, and plenty of fantastic fresh food taken from the waters daily.
The Beaches Of Italy
When people think of beaches, Italy doesn't always come to mind. But it should. There are 5,000 miles of coastline in Italy and every kind of beach you can imagine. There are pristine dunes virtually untouched near Tuscany and other rocky, picturesque areas more for looks than swimming. Sardinia has 500 beaches, some with clubs and restaurants and others just for a peaceful getaway.
Thingvellir National Park, Iceland
In many ways, Thingvellir is the birthplace of Iceland, founded in 930, about 50 years after the first settlers arrived. So there's lots of history. But there's also lots of beauty, from the rocky cliffs, the interesting waterways, Oxararfoss waterfall, views of the northern lights, and so much more. There are plenty of faults, including Flosagja, which divers explore to depths of 75 feet.
Denali National Park, Alaska
You'll see the tallest mountain in North America, but there's so much more to take in at Denali National Park. It covers a massive 6 million acres and is home to all kinds of flora and wildlife. You'll see a field of flowers that look like a painting, and in wanders a moose. There are bridges and zip lines to give you an overhead view of the magnificent forests below.
Related articles: