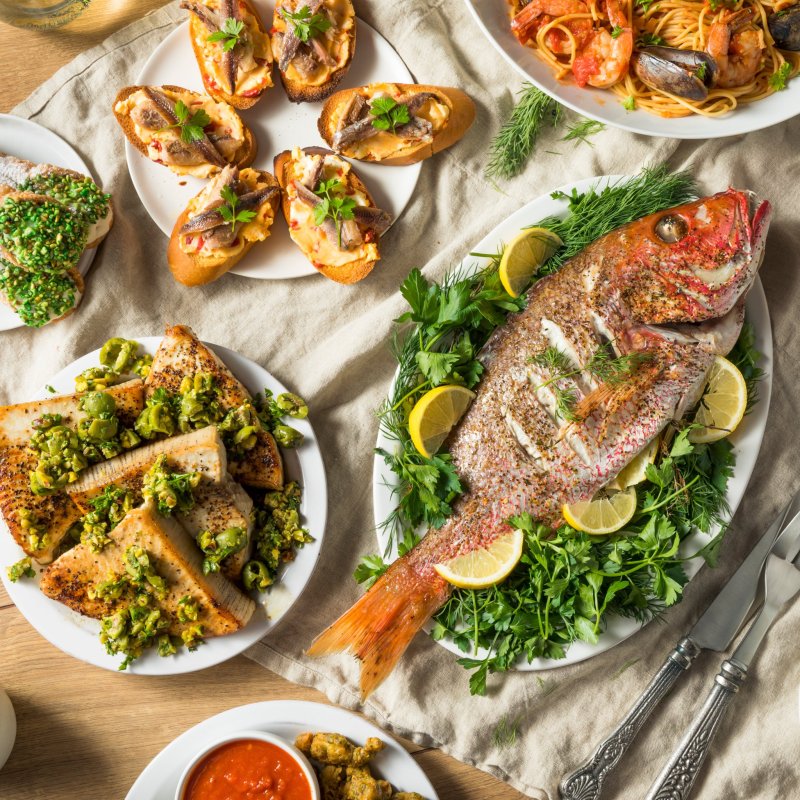 Christmas traditions look different throughout countries and cultures, and the way the holiday tastes always depends on who is celebrating it. One unique Christmas Eve tradition is the Feast of the Seven Fishes.
A tradition with Italian origins, the Feast of the Seven Fishes is celebrated on Christmas Eve with a large meal of various types of seafood. As the name implies, there are traditionally seven courses, but the menu for this event doesn't follow any kind of strict rules, and it looks different for every family. The meals include everything from anchovies to lobster to shrimp scampi. While some choose to cook a full seven courses, others elect to make an easy one- or two-course seafood dish.
This tradition can be traced back to the early 1900s during a large uptick in Italians immigrating to the United States. While the feast's roots are in Italy, it is almost exclusively an American tradition.
Before the Feast of the Seven Fishes became an established Italian-American tradition, Italians simply started adding seafood to their Christmas Eve dinners. The southern part of Italy is surrounded by coastline, making the diets of its inhabitants heavily reliant on seafood production for the past several hundred years.
In the late 19th century, a change in government resulted in the country's resources prioritizing the north. This left the southern part of Italy, already poorer, even worse off. As a result, millions of Italians left their home country and headed for America, bringing their love of seafood dinners with them. Once they had arrived in America, the Feast of the Seven Fishes became much more of an established tradition.
The feast also has roots in the Roman Catholicism that was practiced by so many of the Italian immigrants. The number seven is a common Catholic symbol — it is the number of sacraments, deadly sins, and days of Creation — which is why it is believed the number became associated with Christmas Eve dinner. It is also a result of the Roman Catholic tradition of eating fish, rather than regular meats, before important holy days. However, notably, the Feast of the Seven Fishes is not an official Roman Catholic Feast. It is, instead, just a reliable guide for how families shape the menu of their Christmas Eve dinners.
Since there is no set menu for the feast, all Italian Americans who celebrate have their own reliable interpretations. Like most Christmas traditions, it varies by household. Families come together and prepare their own favorite dishes, unique to each person. The only constant is the presence of seafood. Sometimes this means seven, ten, even twelve courses.
While the options are seemingly endless, certain meals are more common than others. Baccala, which is a dried and salted cod, makes an appearance in several different forms — fried, oven roasted, soda battered, tossed in a salad, or thrown in a pasta dish and coated in tomato sauce. For many families, Christmas isn't Christmas without marinated or fried eel. Other treasured meals include shrimp cocktails, oyster shooters, fried calamari, and linguine with clam sauce. In addition to the seafood, the menus often include pasta, vegetables, and wine.
For many families, the Feast of the Seven Fishes is an essential part of Christmas celebrations. Hundreds of years of seafood traditions and a burst of 20th-century immigration culminated in a Christmas Eve dinner filled with family, history, and lots of fish.