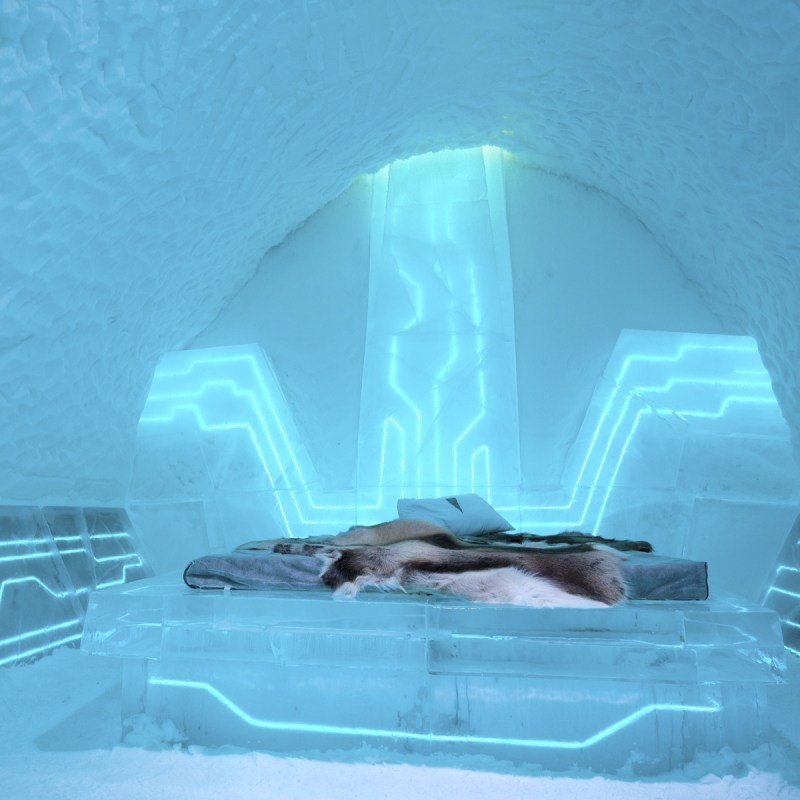 When you hear the words "ice hotel," do you think of an igloo or snow cave? If so, that's only because you haven't heard about Sweden's luxury Icehotel. Located 12 miles east of Kiruna, Sweden, and roughly 125 miles above the Arctic Circle, the Icehotel is in the village of Jukkasjarvi. It's not new, either. In fact, Icehotel has been drawing visitors from around the world for 30 years.
What Is The Icehotel?
There actually are two sections of Icehotel. First, there's a "warm" section — called Icehotel 365 — that's open all year. Then, there's the "cold" section, which is built with a new design each winter and then melts in the spring. This year, it's called Icehotel 31 because it's the 31st Icehotel.
Blocks of ice are first harvested from the Torne River in the spring, and the construction team then waits for sub-zero temperatures and autumn's first snow so they can begin building the winter hotel.
This year, 35 artists, led by the hotel's creative director, Luca Roncoroni, worked with Icehotel's building team, ice production, creative support, and lighting designers to create 12 unique art suites in Icehotel 31, the standard rooms in Icehotel 31, six new art suites in Icehotel 365, and a ceremony hall for weddings and other events. Icehotel 31 is now open, and more art suites will be added this month.
How A Stay Works
The temperature inside the hotel ranges from 17 degrees to 23 degrees Fahrenheit. Don't worry about being cold: Guests sleep on beds topped with reindeer skins and heavy sleeping bags.
The hotel explains that while guests aren't given access to their rooms until 6 p.m., they do have access to the heated service building, which is staffed and open 24 hours a day. That's also where they use the bathroom, shower, and sauna.
The Dining Experience
Eating at the Icehotel provides a welcome reprieve from the cold since it's in the heated part of the building. The hotel does, however, make use of ice and sources ingredients from the local rivers, mountains, marshes, and forests for meals.
For example, it's five course dinner includes Bleak roe (Swedish caviar), cured arctic char, reindeer tartar, moose filet, and finishes with arctic raspberry sorbet.
Alternatively, you can take a short walk to the rustic Old Homestead, a local restaurant, which was built in 1768, for burgers, rib-eye steaks, and salmon.
Day Trips
Icehotel recommends that guests plan one night in an ice room or art suite, followed by some nights in a heated room. That way, when you get back to the hotel after a long day outside, you can relax in a warm room at night.
But what do you do during the day? The answer: activities that are on many people's bucket lists. For instance, this is the perfect opportunity for a dogsled trip or to take an ice-sculpting class from a local expert.
inally, since the northern lights are best seen on a cold night, and the hotel is north of the Arctic Circle, there may be no better chance to see them than during a stay at the hotel.
To help you in this quest, Icehotel even offers a four-hour Northern Lights snowmobile safari.
How To Experience The Icehotel (Check In Or Go Virtual)
Determining when to visit the Icehotel can be tricky since there are advantages to each season. For example, the winter has extreme cold and short daylight hours while the summer enjoys 24 hours of daylight. And while the spring has sunny days and mild temperatures, the northern lights begin again in September as the days get shorter. Learn more about visiting the Icehotel at Discover The World.
Travel this year has been problematic for some due to the COVID-19 pandemic, and it appears that may be the case for some time. With this in mind, Icehotel has created a way to visit — even if you can't be there in person.
"We know how many people are longing to travel and we wanted to make the Icehotel experience accessible for those who may not be able to visit us right now," Malin Franck, CEO at Icehotel, says.
Through an Augmented Reality (AR) filter in Instagram, users can "step into the art suites and experience a world full of ice and snow art." Franck says.
To try the AR experience on Instagram, open the following links on your smartphone:
For more inspiration, consider