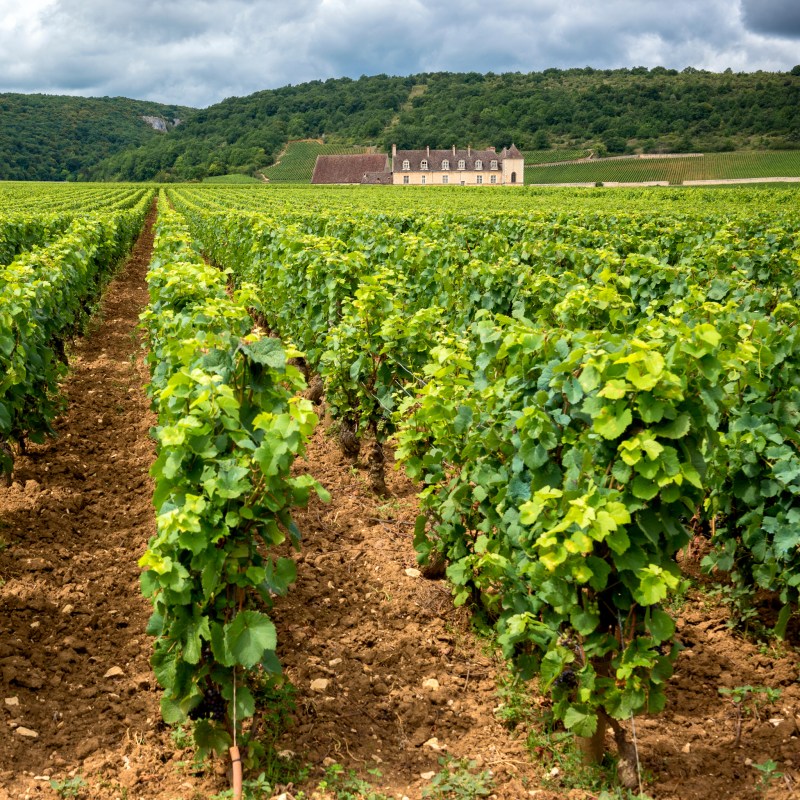 France is home to some of the world's best wines, and its vast wine regions produce between seven to eight billion bottles a year, accounting for close to 30 percent of the world's wine output. The rich soil, known as terroir in French, idyllic weather conditions, strict government standards, and centuries of perfecting growing, aging, and bottling techniques, is why French wine is so highly revered. Burgundy, Bordeaux, Provence, Champagne, and the Loire are the main wine regions of France and produce the best wines.
Wine aficionados usually have France on the top of their list for wine tours, and we have collected a list of the best wine tours in France for their pleasure.
Authentica
Burgundy
Based in Dijon, Authentica Wine Tours specializes in tours of the Burgundy region, where some of the most exclusive and expensive French wines come from. Authentica was created in 2008 by Nicolas Guidard, a Burgundy native whose father and grandfather worked the land. He wanted to share his love and knowledge of Burgundy and its fine wines and cuisine. Over the years, Guidard hired experts in wine, geology, culture, and history to round out the company and introduce innovative tours that weren't done before.
Authentica offers private and small group tours, with half-day, full-day, and multi-day excursions and prices ranging from 65 euros per person for the half-day group tour to a 2-day private tour for 1,180 euros for two people.
The most prestigious tour is the 1-day Grand Crus, The Best Of Burgundy, which includes the top Burgundy wines with an option to taste 6, 10, and the ultimate indulgence, 15, and a three-course lunch and cheese course, at the estate of an esteemed Burgundy wine vintner. Other tours on their list include the full-day Passion tour, which is a visit to the city and surrounding area of Beaune, with tastings of five to seven red and white wines, the full-day Burgundy Gourmet with a tasting of up to 14 wines, five culinary sites featuring cheese, chocolate, charcuteries, and pastries, and a Burgundy cuisine lunch either prepared by a private chef or at a Michelin star restaurant.
All tours use late-model luxury vans with air conditioning.
Airport transfers, a concierge, and wine shipping are some of the other services Authentica can provide.
Exploring Wine Regions
Bordeaux
Michael C. Higgins from Pasadena, California, has tirelessly pursued the best wine regions in France and worldwide for more than 20 years. His travel expeditions and adventures have made him a world-class wine expert. They have also spawned a series of magazine articles, travel guides, and coffee table books, including his latest one about Bordeaux he also photographed and wrote the text for.
Higgin's company, Exploring Wine Regions, includes a wine touring division which offers various wine touring options, such as custom-designed itineraries for one- and two-week wine trips, an extensive study abroad program for full college credit, and private, small group tours with Michael.
The Exploring Wine Regions website also lists a free eBook with insider wine secrets.
Bordeaux Wine Trails
Bordeaux
The highly-rated Bordeaux Wine Trails (they won the 2020 Travelers Choice badge on TripAdvisor) provides wine and gourmet experiences of the well-renowned Bordeaux region. The morning and afternoon half-day group tours (5 hours) include a brief tour of the village of Saint Emilion, a visit to a Grand Cru or Grand Cru Classe winery, and either a special wine and dark chocolate tasting pairing or a tasting of local delicacies. From April to September, a half-day Medoc wine tour is available for Cabernet fans, which includes a tour of a Margaux or St Julien winery and a Cru Bourgeois wine tasting accompanied with locally grown produce. The cost of the half-day group tours is 72 to 85 euros per person.
Bordeaux Wine Trails can also plan full-day, private tours to explore either the Saint Emilion or Medoc regions. The Saint Emilion tour consists of pick-up and return to your hotel or location, a visit to a Saint Emilion Grand Cru Classe estate for a tour and tasting, lunch at an authentic brasserie, a walk through the village of Saint Emilion, a tasting at Grand Cru winery, followed by a visit to a Pomerol wine estate. The Medoc tour includes visits to wineries in either the Saint Julien or Saint Estephe region, Pauillac, and the Margaux area with lunch at either a restaurant or a picnic on a wine estate grounds. Custom itineraries are also offered at Bordeaux Wine Trails.
O'Chateau
Champagne
Learn how Champagne's mysterious bubbles came about along with lots of other fascinating history and facts about the iconic beverage with a Champagne tour with O'Chateau. Based in Paris, O'Chateau is a wine bar and wine tasting company that also arranges day trips to the Champagne region.
The O'Chateau full-day (8 a.m. to 6 p.m.) small group Champagne tour includes transportation to and from Paris in a late model, air-conditioned van with an expert and personable sommelier leading the tour. The experience consists of three guided visits to various Champagne houses and their cellars and facilities. The first visit is to a major Champagne house, where you go underground to the deep chalk caves and learn about the process of making Champagne from grape to glass. The second visit is to a private Champagne house where you also have a lunch feast in their dining room. The last visit is to a smaller Champagne house. The tour also includes three Champagne tastings at each location and coffee and croissants in the van for breakfast. Tours can also be privatized.
While in Paris, enjoy wine tastings and classes at the handsome wine bar and private rooms at O'Chateau, conveniently located near the Louvre.
VinoLoire
Loire Valley
Vincent Delaby worked in the tourism sector for 15 years before embarking on a new career inspired by his family heritage, wine tours. He first developed his wine expertise and craft by working in wine cellars and vineyards, followed by wine tourism training and receiving a Wine and Spirit Education Trust (WSET) certificate.
Delaby's company, VinoLoire, provides various half-day and full-day Loire wine tours for small groups and private tours. The half-day excursions go to either the Vouvray and Montlouis regions in the morning or the Chinon and Azay Touraine in the afternoon. Visits include tastings of red, white, and rose wines, paired with local cheeses and charcuterie, an explanation of the winemaking process, and a walk through the vineyards. Full-day tours go to the same locations as the half-day tours and then extend to the Sancerre and Pouilly regions. Full-day tours can be arranged from Paris.
VinoLoire offers other fun activities in the Loire in addition to the wine tours, including cooking lessons, cheese and wine pairings, food and market visits, a chateau tour with a certified historian, and a wine tasting cruise on an authentic wood boat.
Kanpai Tourisme
Various Areas
Specializing in tours of Lyon and regions nearby, Kanpai Tourisme has an impressive list of small group and private wine tours. The Macon and Beaujolais areas produce some of the best Chardonnay and Gamay wines, including Macon Villages, Pouilly Fuisse, St Veran, Fleurie, Brouilly, and Moulin-a-Vent. On the full-day Macon and Beaujolais tour, from 9 a.m. to 5:15 p.m., you are first driven through the Macon Route des Vins road with magnificent scenery and Solutre Roch, a 1,600-foot-tall natural boulder made of limestone. The tastings begin with a selection of white wines from a family estate in the Pouilly Fuisse village, while you learn about the wine-making and barrel-aging process of Chardonnay. After the tasting, lunch is at a bistro with Beaujolais cuisine (lunch is not included in the tour price). In the afternoon, you will experience another scenic ride through the Beaujolais wine roads. You will then visit another family-owned winery producing Beaujolais wine, which uses Gamay grapes, followed by tastings of "crus" red wines.
The Northern Cote du Rhone wine region is the source of the much-beloved Shiraz and Syrah wines such as Cote Rotie, Condrieu, and Saint-Joseph. Kanpai Tourisme offers a half-day Shiraz and Syrah tour consisting of visits to two wineries and five to six tastings at each.
Chateauneuf Du Pape Wine Tour
Provence
The much-celebrated Chateauneuf du Pape wine is one of the oldest wines in the world, dating back from the Gallo-Roman period from the first century to the fifth century. The private Chateauneuf du Pape Tour from Planet Provence provides a historic look at the region with a highly trained wine guide plus tastings. The guide will pick you up and return you to your location within a 6-mile radius of Aix en Provence.
Owner Brice de Monplanet and his wife have made Provence their home since 1997, and Brice had an impressive career for 15 years working for international wine companies. Then he switched gears, training in oenology at the prestigious Montpellier Ludivinum School. Continuing with his passion for wine, he started Planet Provence.
A Scenic Road
Xavier Cabanne grew up in Paris then moved to the Chicago area as an adult. A few years ago, Cabanne reconnected with his love of France and started A Scenic Road, a company that plans private, customized tours of France for small groups. In 1898, Cabanne's great-great-grandmother started a small winery in the Burgundy region, and it's still in operation today. With his vast insider knowledge of wine, Cabanne can design a perfect wine tour of Burgundy, Champagne, and Bordeaux with tastings at smaller and less known wine producers. In addition, A Scenic Road can also organize fun activities such as countryside bike rides, mustard factory tours, wine museum visits, and dinners at a Michelin star restaurant.
Pro Tip: Wearing flat, covered shoes or sneakers is highly recommended, and also bring a jacket or sweater even in summer because the wine cellars are cold and damp.
Related articles: