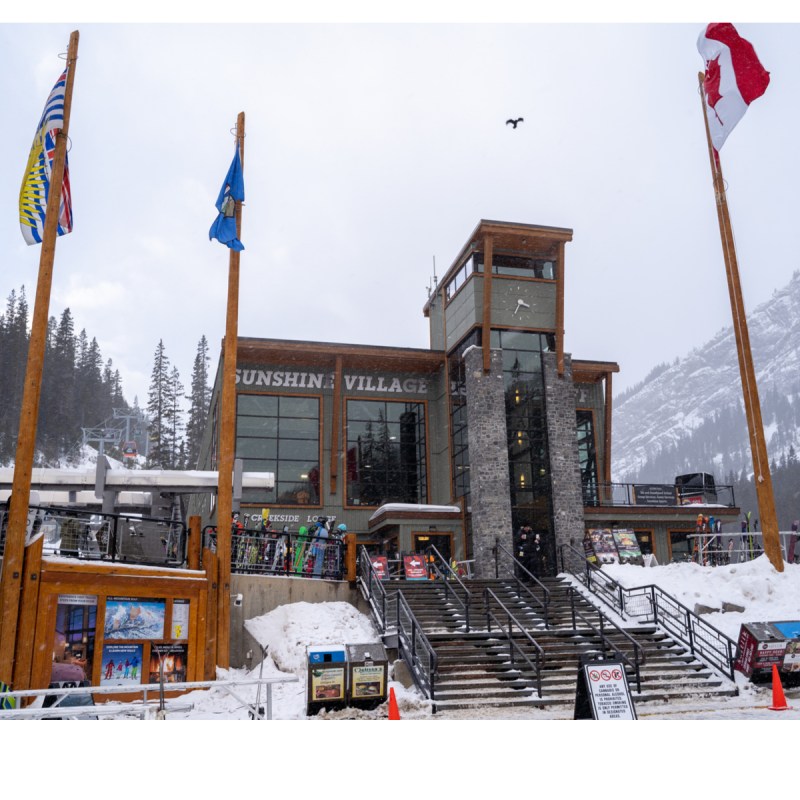 Recognized as one of the top skiing destinations in Canada and indeed globally, the three Alberta ski resorts of Banff Sunshine, Lake Louise Ski Resort, and Mt. Norquay Ski Resort together form an area known as the Big3. With runs for every level of skier, jaw-dropping views of snow-capped mountains, glaciers, lakes, forests, and abundant wildlife, this is a destination for an incredible winter or spring vacation. All are located within Banff National Park and are within approximately 45 miles of each other.
Banff National Park encompasses 2564 miles of mountain beauty. Calgary International Airport is the nearest airport, approximately 90 miles away from the town of Banff. Rental cars are available, and there are frequent shuttles from Calgary to Banff.
Alberta is called Canada's "Sunshine Province" and you can expect incredible hours of sunshine.
I lived in Alberta for my first 40 years and skiing was a passion. Here are my three favorite ski resorts in Alberta, Canada.
1. Banff Sunshine Village
Only 15 minutes from the town of Banff and nestled high on the Continental Divide, Banff Sunshine Village is like being on top of the world. Ski Canada Magazine awarded Banff Sunshine Best View From Best Off-Piste Run. The area has also been named one of the ten best off-piste destinations in the world. On the ski lift, you look out over three snow-capped mountains, glaciers, and bright sunshine.
The village has a seven-month ski season from early November to late May — the longest non-glacial ski season in Canada. At a base altitude of 7,200 feet, the snow is light and dry. To get to Sunshine Village, take a shuttle from town or drive to the gondola lift and parking lot. The gondola runs from 8 a.m. to 5:30 p.m.
There are 3,300 acres of skiable terrain with both alpine skiing and off-piste skiing. There are 12 lifts and 137 runs. From Strawberry Hill to Delirium Drive, the ski runs range from beginner to expert. TeePee Town LX is the only heated chairlift in Canada. To keep you warm and cozy, it also has a cover!
The ski school offers lessons for all ages and levels of skiing and snowboarding. Consider a private lesson to enhance your technique and skills.
Rocky Mountain Adaptive, part of the ski school, offers free-of-charge one- and two-day U CAN Try It Camps for participants new to adaptive skiing or snowboarding. Lessons are customized to the mobility and strengths of each participant.
Lodging
The world-famous luxury Fairmont Banff Springs Hotel has been acclaimed as Canada's Castle in the Rockies and is a landmark of Banff.
With 757 guest rooms, there is a range from small cozy rooms to suites with incredible views of the Rocky Mountains. Handicapped accessible rooms are available.
The Willow Stream Spa will rejuvenate you after a day on the slopes. There are other hotel activities, including geocaching, creativity evenings, music trivia contests, castle treasure hunts, a golf course, and an outside skating rink.
Picture yourself in the morning. After a hearty breakfast, walk out the front door of the lodge and step into your skis. What a delight! Sunshine Mountain Lodge is the only such ski-in, ski-out accommodation in Banff. The boutique hotel is decorated in a rustic mountain theme and most rooms have gas-burning fireplaces. The lodge has a large outdoor hot tub and a cedar-lined dry spa.
Both the Fairmont Banff Springs Hotel and Sunshine Mountain Lodge are excellent accommodations and I have stayed in each several times. As an avid skier, until I win the lottery, I often reserve more modest accommodations in Banff's town. Look into Banff Aspen Lodge, Banff Park Lodge, Rundlestone Lodge, or Banff Caribou Lodge for other choices.
Best Experiences
Take time for a scenic drive to view some of the most scenic vistas in the world! Wildlife is abundant, so watch for mountain goats, moose, and bears.
Be sure to pack your swimsuit and visit Banff Upper Hot Springs to enjoy the outside hot springs and the mountain scenery. It is located at the top of Sulphur Mountain, less than two miles from Banff town.
Pro Tip: I suggest you take a taxi or shuttle from town as there is limited parking at the hot springs.
Visit the Cave and Basin National Historic Site, located 1.2 miles from the town center to learn about the area's history. There are four hiking trails ranging in length from a quarter-mile to 2.3 miles. Guided tours are available. Stop also at the Story Hall for a four-screen movie about Canada's national parks.
Over 1,000 miles of hiking trails weave throughout the park. Some are open only in summer. Check this site for more information.
Dining
Be sure to try Alberta beef. Alberta is renowned for its grass-fed, age-dried beef. What better place to try this than Chuck's Steakhouse, also known as Steak Heaven? The meat is grilled over hardwood and mesquite, then finished in a 1,800-degree broiler.
A second favorite is the 1888 Chop House inside the Fairmont Banff Springs Hotel. The authentic chophouse also features sustainably sourced wild game and serves only Ocean Wise Seafood.
A third favorite is the Park Distillery Restaurant and Bar, the world's only distillery in a national park. Not only are the spirits delicious (home-distilled spirits enhanced by pure, glacial waters), but the menu and atmosphere are equally delightful. The open-concept kitchen showcases a crackling wood-fired grill. The Canadian atmosphere is enhanced with antler chandeliers and large fireplaces. Take time to book the distillery tour.
Sunshine Mountain offers dining both at the lodge and around the lifts. Located inside the lodge, check out Eagle's Nest Canadian Bistro, Mad Trapper's Steakhouse, or The Chimney Corner. You might enjoy Goat's Eye Grill, Alpine Grill, or the Sunshine Burger Company on the premises.
2. Lake Louise Ski Resort
Located just 40 miles west of Banff, Lake Louise Ski Resort sits on the banks of Lake Louise, one of the most beautiful lakes in the park. You will marvel at the crystal blue water surrounded by snow-capped mountains and glaciers. The color of the water is from the melting glacier deposits of fine rock particles. In the springtime, listen for the glaciers calving icebergs. A large boom sounds when chunks of ice break off the glacier into the lake.
Lake Louise boasts several awards. At the 2019 Ski Awards, it was voted the number one ski resort in Canada and "one of the three best freestyle resorts in the world." In 2018 Ski and Snowboard With Kids awarded Lake Louise the title "World's Best Family Ski Resort."
Lake Louise covers over 4,200 acres where you can choose from 145 runs and nine lifts. From every chairlift, you have a choice of beginner, intermediate, and expert runs. The resort spans over four mountains with chutes, glades, gullies, smooth slopes, and remote bowls. The longest run is almost five miles in length. The base elevation is 5,400 feet with a top height of 8,650 feet.
Pro Tip: There are airport shuttles from Calgary International Airport or you can choose to rent a car.
Lodging
Lake Louise's premiere accommodation is the Fairmont Chateau Lake Louise, a luxury hotel nestled in the mountains and overlooking the lake. With 539 rooms, it is a large complex offering a variety of accommodations from single rooms to suites. As well, there is an indoor aquatic pool and a comprehensive spa.
Alternatively, many folks stay in the town of Banff — see above for accommodation there.
Best Experiences
Besides the incredible ski slopes, Lake Louise Resort offers snowshoeing, guided snowshoeing, ice skating, and wildlife interpretation sessions.
Check out the Terrain Parks with various jumps, rails, and boxes for all levels. Each January, watch for the Gram Rail Jam and marvel as participants demonstrate their airborne skills.
Each March, Lake Louise holds the Junior Big Mountain Challenge, part of the North American Freeride Junior Tour.
Dining
Dining choices at the slopes of Lake Louise will amaze you — you will find a restaurant to suit every taste.
From Whiskey Jack Cafe to Powder Keg Lounge to Kuma Yama (a touch of Japan) to Bier Stube to Kokanee Kabin, everyone will have something.
Check out also the dining choices at Fairmont Chateau Lake Louise. At Walliser Stube, sample the cheese fondue claimed to be the best fondue outside Switzerland. Or, for dessert, order a delicious chocolate fondue. The Powder Keg Lounge and Fairview Bar and Restaurants have varied menus of traditional favorites.
3. Mt. Norquay Ski Resort
Mt. Norquay, located just 4 miles from Banff's town, bills itself as "a great family mountain." Mt. Norquay has training runs for Olympic and World Class skiers and snowboarders, yet has excellent runs for beginners. It offers the only night-time skiing in the Banff area plus tubing lanes — eight lanes of sheer fun.
A bonus is that Mt. Norquay often has the earliest opening in Canada. The season runs from late-October to mid-April.
Mt. Norquay is the smallest of the Big3 resorts and is often less crowded than the other two. What is also fun is that they encourage mountain tail-gating: refreshments and homemade grub from the trunk of your car.
There are five lifts and 60 runs with an average snowfall of about 10 feet. Mt. Norquay also has snow-making machines that are used as needed.
Lodging
Thereis no lodging at Mt. Norquay. Stay in Banff and drive out daily.
Best Experiences
There are breath-taking views of the town of Banff below. Bring your bathing suit to enjoy the largest outdoor hot tub. The tube park offers the longest tube lanes in Alberta. Terrain Park calls all shredding enthusiasts to enjoy jump lines for all abilities and 15 boxes and rails. Terrain Park is open nights on the weekends.
Dining
The Cascade Lounge offers sandwiches, salads, burgers, nachos, and other lunchtime favorites. The Cliff House Bistro, styled like a European chalet, provides some of the best views of the town of Banff.
After skiing, stop in at the Lone Pine Pub for socializing, great refreshments, and an assortment of pub grub.
Pro Tips
Upon entering Banff National Park, vehicles need a park pass. Check here to purchase.
Specials are offered for packages with lift tickets for all three resorts.
Remember safety around wild animals — both yours and theirs. Do not leave the security of your vehicle in areas that aren't meant for human recreation. Do not feed the wild animals. Take only pictures and leave only memories. Also consider our tips for safely viewing wildlife in national parks — they apply in and around these beautiful resorts, too.
Dress in layers. Although temperatures may be below zero, it is a dry cold with very low humidity. I am often colder in the Pacific Northwest where I live (with its high humidity) than I was skiing in Alberta.
The Big3 Ski Resorts of Banff Sunshine, Lake Louise, and Mt. Norquay in Alberta's Rocky Mountains offer world-renowned skiing for all levels. Top this with scenic drives, wild animal viewing, hot springs, outdoor hot tubs, dry saunas, skating, snowshoeing, and great dining, and you have a fabulous winter or spring vacation. Be sure to check them out.