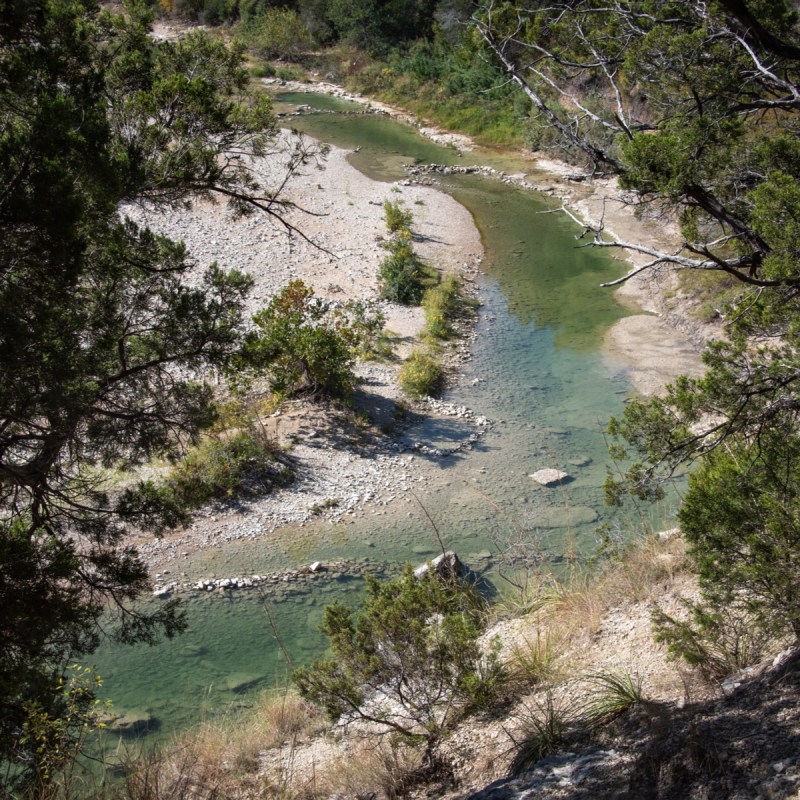 One of the best perks of having Texas sunshine nearly all year long is that you get to explore the beautiful state parks in the Prairies and Lakes region of Texas. With 89 state parks in Texas and most being in this region alone, there's no doubt why many visitors travel here to enjoy Texas' fresh outdoors. This area is well-known for many freshwater lakes, forests, and great fishing, to name a few. The region begins at the border of Oklahoma in north-central Texas and goes into central Texas, almost to Houston. This area alone offers twenty-six fabulous state parks to visit.
Being a native Texan and living here my entire life, I've had many enjoyable days and weekends at these state parks. I hope you enjoy these fabulous state parks in the Texas Prairies and Lakes region, as each has its own uniqueness and is worth checking out.
1. Cedar Hill State Park
Just ten miles southwest of Dallas is stunning Cedar Hill State Park, known for its beauty. The nature trails alone are worth a visit. For campers who like to boat, there's a public boat ramp for easy access into Joe Pool Lake, as well as a public picnic area and gender-neutral restrooms. With the rolling hills all around, it's the perfect setting to escape the hustle and bustle of Dallas. And if you're a birder, you'll enjoy looking for over two hundred bird species here.
2. Eisenhower State Park
At the top of the region just northwest of Denison, Texas, almost into Oklahoma is where Eisenhower State Park sits, overlooking popular Lake Texoma. A huge playground for swimming, boating, fishing for bass and catfish, hiking, and biking on the lake's shores. You'll find lots of shaded campsites for RVs and tents and many screened shelters available if you want to keep the bugs out. It's a great park for picnics and walking around in nature. Restrooms are available throughout the park.
3. Ray Roberts Lake State Park
This is one of the most popular parks in this area. People come from all over for the great fishing to be had in its lakes. Ray Roberts Lake State Park is tucked away in Pilot Point, Texas, and is your go-to state park for fishing, camping, and swimming. It has a full-service marina for boat storage, repair, and rental. You can also grab a bite to eat, and if you're fishing from your boat, you can purchase a fishing license there, too.
Not a tent camper? No problem — stay in one of the twenty-eight rustic lodges at Lone Star Lodge and Marina, complete with amenities.
4. Lake Mineral Wells State Park
The adventurer in you might want to visit Lake Mineral Wells State Park and Trailway for a little bit of rock climbing. Just an hour west outside of Fort Worth, you can enjoy other outdoor activities, too, such as fishing, swimming, hiking, biking, picnicking, and camping. Enjoy the Trailway, a twenty-mile, reclaimed-railway trail that runs northeast of Weatherford to Minerals Wells, where you can ride your bike or hike it.
My girlfriends and I actually had a slumber party/bachelorette party out here. How cool is that? We talked, laughed, cooked on an open fire, camped in tents and RVs, and just had a good ole time.
5. Dinosaur Valley State Park
I recommend taking the kids and grandkids of all ages to Dinosaur Valley State Park, especially if they love dinosaurs and dinosaur tracks! Located in Glen Rose, Texas, where dinosaurs once roamed, you can find fantastic experiences at Dinosaur Valley State Park for the whole family, including geocaching.
When we were there not too long ago, we enjoyed hiking, exploring and some of us (not me) walked across rocks in the water to get a glimpse at a massive dinosaur track. This is a state park you'll definitely want to go back to again and again, if only for the day.
If you're an adventurous hiker or camper, you'll want to check out the walk-in tent campsites, which are the only way to get there! Invest in a good pair of hiking boots and great camping gear, and you'll be all set for the hike.
6. Lake Whitney State Park
Lake Whitney was a place where, in my younger years, I spent many weekends with friends. Mostly partying, but hey, they are fun memories I'll never forget. Not too far from the Dallas/Fort Worth area or Waco, Lake Whitney State Park is packed full of things to do for the whole family. Not only can you camp and hike, but you can also scuba dive here. Of course, family fun includes swimming, boating, fishing, water skiing, and sailing — also a great lake to catch catfish, largemouth and smallmouth bass, and striper.
7. Washington-On-The-Brazos State Historic Site
My grandson and I took a road trip to East Texas to hang out in a tiny cabin in the woods and do some sightseeing in Washington and Brenham. We found all kinds of things to do, including visiting the Washington-on-the-Brazos State Historic Site. The state historic site is located on the beautiful Brazos River and is home to where the Texas Declaration of Independence was signed many years ago. We got a dose of history, and my grandson remembers learning some of what we heard at school this year. It was definitely a memorable moment for this grandma. If you choose to visit this park, and if time allows, visiting the charming town of Brenham will not disappoint and is only a couple of miles down the road.
8. Cooper Lake State Park
Bring your fishing pole to this state park. You can fish for striped bass, crappie, largemouth bass, and catfish from your boat or several fishing piers in the park. There are fish cleaning stations to use. Don't fish? No problem. You can hike, ride your horse, have a picnic, water ski, bird watch, swim, geocache, and camp. Anything you can think of to do at a state park, you can do at Cooper Lake State Park. Located 90 minutes northeast of Dallas in Sulphur Springs.
9. Possum Kingdom State Park
Another state park to visit if you like activities on the water — clear blue water at that. Fishing, swimming, scuba diving, and snorkeling are just a few of what to experience here. Just a couple of hours from Fort Worth, Possum Kingdom State Park, located on Possum Kingdom Lake, will be fun in the sun for the entire family. When you're all done in the water, you can go nature walking and geocaching. Go for the day or stay a weekend at one of their air-conditioned cabins, or perhaps pitch a tent at the many campsites offered throughout the park. The grandkids will not get bored here.
10. Cleburne State Park
If visiting Fort Worth, you may want to head southeast for about 45 minutes to start your day with a hike around Cleburne State Park. Then catch a swim in the spring-fed lake or kayak for the day before returning to Fort Worth. If you wanted to make a weekend out of it, there are plenty of places to put up a tent or stay in a cabin with air conditioning. There are restrooms and showers to use as well. Got a family reunion to plan? No worries — the park has plenty of room for that at several group facilities.
11. Purtis Creek State Park
Hey, campers and fishers, get ready to enjoy 1,582 acres of heavily wooded and well-shaded campsites and massive bass to catch here. Or if you want more of an outdoor workout, you can rent a kayak or paddleboat to get your body pumping. Purtis Creek State Park is located about an hour southeast of Dallas and is your destination year-round for outdoor fun.
Pro Tip
Most state parks in Texas charge an admission fee, it's not much, but if you're planning to visit several parks in Texas within one year, you may want to consider buying a state park pass. Passes include free admission for a full carload to all 89 state parks. Plus, other discounts are available with the pass, like camping fees and merchandise. If you're planning on fishing, a fishing license is not required to fish from shore in a Texas State Park, but a fishing license is required if fishing from a boat in the water. Check out Texas Parks and Wildlife for information on passes.