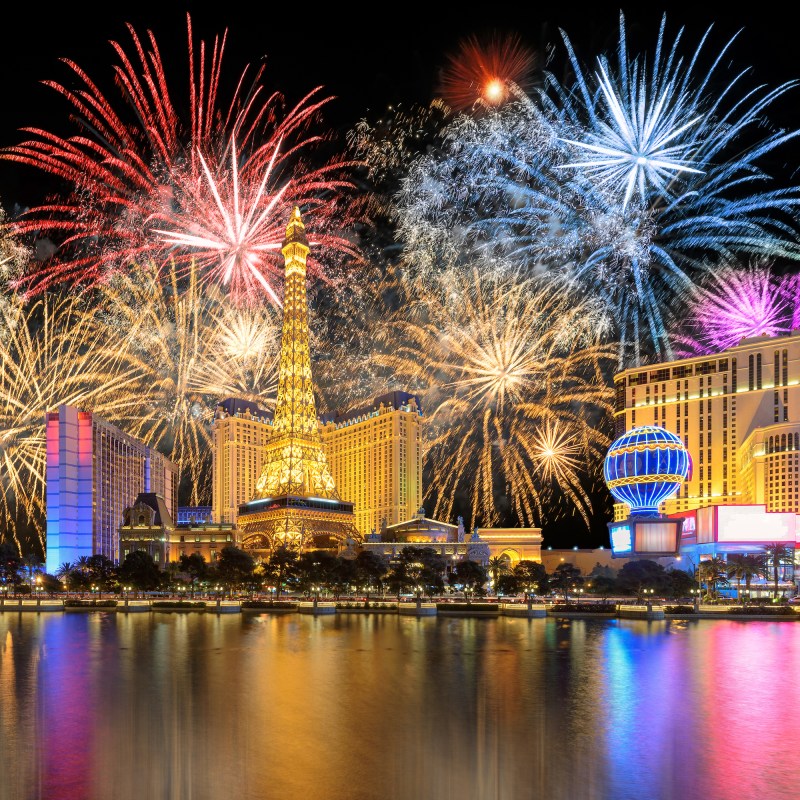 What happens in Vegas stays in Vegas. But this year, what happens in Vegas on New Year's Eve will be broadcast to the world.
The Las Vegas Strip fireworks show on New Year's Eve is traditionally second only to New York's Times Square in terms of crowd size. But because of the coronavirus pandemic, the fireworks show from the roofs on multiple hotels won't be taking place.
Crowding tens of thousands of people together on the Strip to watch the show is a really bad idea, so city and state officials killed that plan in October.
In its place will be an event the Las Vegas Convention and Visitors Authority is calling a Kiss Off to 2020.
Officials will host a livestream countdown to midnight at an undisclosed location with a DJ and celebratory music. When the time arrives, a massive 2020 sign will be lit up and blown away, and a 2021 sign revealed during a 15-minute pyrotechnic display.
"We know that celebrating New Year's Eve in Las Vegas is a bucket-list item and a long-held tradition," Steve Hill, president and CEO of the LVCVA, said in a statement. "Although many visitors from around the country and the world will not be able to join us in person to turn the calendar, this virtual event will allow us to share our enthusiasm and excitement with Vegas fans near and far as we look forward to a brighter 2021."
The Kiss Off to 2020 will be online at visitlasvegas.com.
There will be one smaller fireworks show taking place at midnight. The Plaza Hotel and Casino will go ahead with its annual show (PDF) from the roof of the downtown hotel.
"Hosting an amazing fireworks show that lights up the downtown sky on New Year's Eve is a tradition for the Plaza," Jonathan Jossel, CEO of the Plaza, said in a statement."We can't wait to ring in the new year in classic Vegas style."
New Year's Eve usually draws hundreds of thousands of people to the city. Crowds on the Strip, which is closed to vehicle traffic for the evening, were estimated at more than 300,000 last year. Most of the hotels sell out months in advance of the night, and some of music's biggest stars headline shows up and down the Strip.
But not this year. While a few venues are open with audiences limited to 50 people, the showrooms are closed, and restaurants and casinos are limited to 25 percent capacity.
On Monday, Governor Steve Sisolak extended the current pause for another month, keeping the tight restrictions in place as coronavirus numbers rise in the state.
As of Monday, there have been just under 190,000 cases in Nevada and 2,559 deaths, with more than 2,000 of those in Clark County, home to Las Vegas.
"I know the mitigation restrictions in place under the current pause are devastating to many Nevadans who just want to go back to normal," Sisolak said. "But as I've said for nine months now — we must do what we can to protect the health and safety of the public. That remains more important than ever as we experience these record numbers." See all our Vegas content here, plus the latest in travel news here.