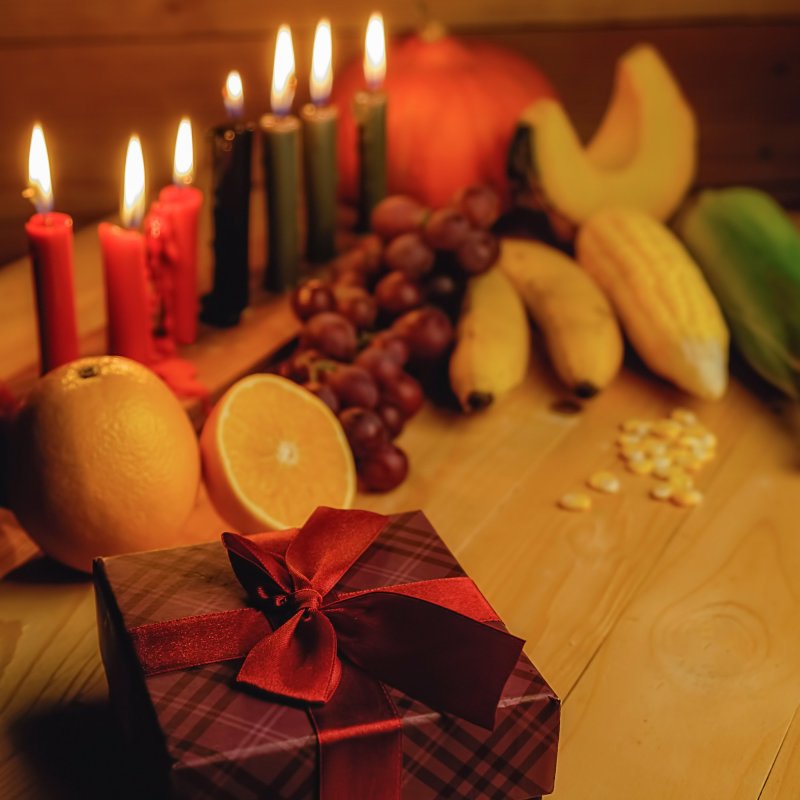 Kwanzaa honors family, community, and culture. It is based on the traditional African first harvest celebrations based on gathering of people, reverence for the creator and creation, remembering of the past, commitment to high cultural values, and celebrating the good.
What Is Kwanzaa?
Kwanzaa is a week-long celebration that begins annually on December 26 and continues through New Years Day. The celebration culminates with a communal feast, Karamu. Drawing from kwanza, the Swahili for "first," Kwanzaa honors African and African American culture and was created by Maulana Karenga in 1966.
On his website, Dr. Karenga, who is the professor and chair of the Department of Africana Studies at the University of California Long Beach, explains that he created the holiday as an act of cultural discovery and reconstruction. It is structured around specific African values, known as The Seven Principles.
Umoja (Unity): Unity of the family, community, nation, and race
Kujichagulia (Self-determination): Being responsible for your own conduct and behaviour
Ujima (Collective work and responsibility): Working to help each other and in the community
Ujamaa (Cooperative economics): Working to build shops and businesses
Nia (Purpose): Remembering and restoring African and African American cultures, customs, and history
Kuumba (Creativity): Using your imagination to make communities better
Imani (Faith): Believing in people, families, leaders, teachers, and the righteousness of the African American struggle
"Kawaida, the philosophy out of which Kwanzaa is created, teaches that all we think and do should be based on tradition and reason which are in turn rooted in practice," writes Karenga. "Tradition is our grounding, our cultural anchor and therefore, our starting point. It is also cultural authority for any claims to cultural authenticity for anything we do and think as an African people.
Where Is Kwanzaa Celebrated?
Kwanzaa was created in the U.S. and is primarily celebrated by Black Americans. It is also celebrated in Canada and the Caribbean. No matter the country, the celebrations are fairly universal.
How Is Kwanzaa Celebrated?
On each of the seven nights of Kwanzaa, one of the Seven Principles is the focus of celebration, and is marked by lighting a candle on the holder, which is called a kinara. The kinara holds seven candles, three red candles on the left and three green candles on the right. On each night, families light the center black candle first and then use it to light the outer candles. They alternate nightly between lighting red or green candles, starting from the outside in.
There are traditional guidelines, core values, and practices set to observe and celebrate Kwanzaa. According to the official Kwanzaa website, the first is having a "profound respect for the values, symbols and practices and do nothing to violate its integrity, beauty and expansive meaning."
Secondly, observers are not to "mix the Kwanzaa holiday or its symbols, values and practice with any other culture. This would violate the principles of Kujichagulia (Self-Determination) and thus violate the integrity of the holiday."
Finally, they must "choose the best and most beautiful items to celebrate Kwanzaa. This means taking time to plan and select the most beautiful objects of art, colorful African cloth, fresh fruits and vegetables, etc. so that every object used represents African culture and your commitment to the holiday in the best of ways."
Because Kwanzaa is not associated with religion, people from many faiths recognize the tenets of Kwanzaa and openly welcome others to participate in Kwanzaa celebrations. During such celebrations, the focus is on the similarities between Christmas, Hanukkah, and Kwanzaa rather than the differences.
Want to learn about Hanukkah? Here's our Hanukkah crash course.