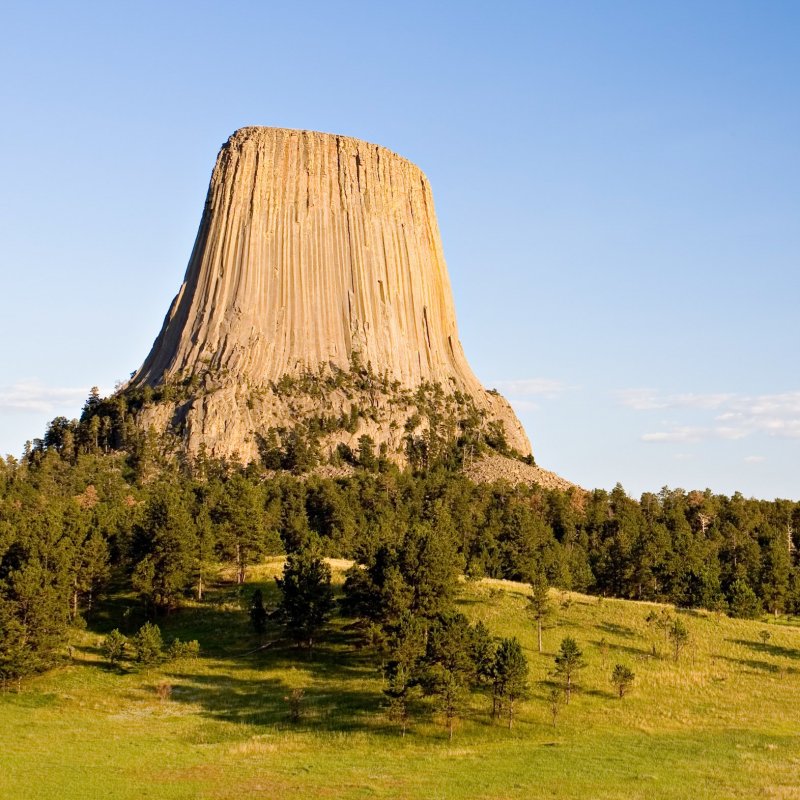 Long before Hollywood aliens visited, Devils Tower stood as both a beautiful and cultural icon in eastern Wyoming. Named the nation's first national monument by President Theodore Roosevelt in 1906, Devils Tower National Monument has been around for thousands of years. Native Americans such as the Lakota (Sioux) once regarded it as a religious and cultural symbol. As Americans made their way westward in 1875, an interpreter for a military expedition misunderstood the Native American name and referred to the landmark as "Devils Tower."
Standing nearly 900 feet tall from base to summit, Devils Tower — called Mato Tipila ("Bear Lodge") by the Lakota — is a popular tourist destination as well as a major climbing attraction.
As you walk to the monument or enjoy a hike, you'll find several types of geologic formations — from gypsum to shale — created over nearly 140 million years from the Jurassic Period to the Paleocene Epoch. You'll also find unique rocks in the prairie grass, hinting at the area's past as a prehistoric sea.
Here are seven interesting facts about Devils Tower National Monument.
1. Native Americans Call It By Different Names
Dozens of Native American tribes continue to maintain a sacred connection with Devils Tower, which is located on the western edge of the Black Hills mountain range. Most of their oral histories (Native Americans prefer oral histories to written accounts) of the monument focus on bears. These origin stories often feature a girl turning into a bear or being chased by a bear. Known as Mato Tipila to the Lakota, the tower also goes by Bear's Tipi (Arapahoe), Bear's House (Crow), and Tree Rock (Kiowa — they believed the sides of the tower were scratches left by a bear's claws).
Devils Tower is the site of several indigenous ceremonies during the month of June. Native Americans have unsuccessfully requested that the site be renamed to honor its indigenous history.
2. It's Home To A Variety Of Wildlife
President Theodore Roosevelt was known for his love of nature and sought to set aside parts of the United States for conservation purposes. He selected Devils Tower as the nation's first national monument based on its cultural and historical significance.
As you explore Devils Tower, you'll have an opportunity for impressive wildlife viewing, with animals such as pronghorn, white-tailed, and mule deer; bison; and bighorn sheep roaming the area. You can also see prairie dog towns and several types of birds, including bald eagles, hawks, falcons, vultures, and waterfowl such as geese and ducks. It's a bird-watcher's delight!
Devils Tower National Monument is also home to reptiles, including lizards and snakes. While there are venomous rattlesnakes in the area, the most common snake visitors encounter is the non-venomous bull snake. Known to grow up to 7 feet long, the bull snake may be found on the butte itself, since it's an excellent climber. Mountain lions, foxes, bobcats, and coyotes also live in the area, but you probably won't run into them, since they prefer to remain far from humans.
3. Pioneers Once Called The Area Home
When pioneers seeking a new life in the West traveled by wagon train along the Oregon, California, and Mormon Trails, many settled in the Devils Tower area, seeing that there was plenty of land for cattle ranching and farming. These pioneers are known as the Old Settlers, and their descendants gather at the monument each summer for the Old Settlers' Picnic, which honors locals for their contributions to the community.
4. There's A Trail For Every Traveler
Nature enthusiasts love Devils Tower National Monument, and there are trails available for all types of hikers. Some trails only take an hour, or you could spend up to a full day exploring the national monument.
The shortest trail — the Amphitheater Circuit — is a 1.5-mile loop covering the tower's south side, including a steep area to hike. The trail offers an excellent view of the prairie dog town.
Hiking aficionados often enjoy spending the day exploring two trails — the South Side to Red Beds Trail and the Red Beds to Joyner Ridge Trail. The 4-mile South Side to Red Beds Trail starts at the amphitheater and includes amazing views of the Belle Fourche River Valley and the area's geologic formations, as well as Devils Tower. The 5-mile Red Beds to Joyner Ridge Trail offers breathtaking views of the river, the tower, and the local landscapes, including the prairie, forests, and red rocks.
Less-traveled trails include shorter socially distanced walks that offer views of Devils Tower and the surrounding area.
Pro Tip: The National Park Service urges travelers to bring 10 essential items on their hikes. These include a cloth face mask, hand sanitizer, a first-aid kit, a compass, clothing for the weather, matches or a lighter, a flashlight or a lamp, a repair kit, food, and water.
5. You Can Pitch A Tent Or Park An RV Nearby
Camping near Devils Tower offers views of the national monument plus an opportunity to escape your daily routine. The area is home to a few campgrounds only minutes from the tower.
The Belle Fourche River Campground offers views of Devils Tower. Located about 5 minutes from the monument, the campground features 43 RV sites and three tent-only areas and is a first-come, first-served property. The RV sites accommodate vehicles up to 35 feet long. While they don't have electrical hookups, fires are allowed in designated areas.
About a 5-minute drive from the national monument, Devils Tower KOA offers cabins and campsites. The deluxe cabins sleep up to six people and include living areas, kitchens, and bathrooms. Smaller parties can reserve a one-room cabin, which includes a queen bed and a bunk bed. Each cabin features a porch and swing, as well as a fire ring and picnic table. Modern restrooms are located nearby. The KOA also has several RV sites with hookups and a 30-acre tent site.
Located about 30 minutes from Devils Tower, the Bearlodge Campground has eight RV sites. The park has a 14-day stay limit.
6. You Can Climb To The Top Of Devils Tower
Since the mid-1890s, Devils Tower has been one of the most popular rock-climbing spots in the country. The monument's naturally created cracks range in size from a finger's width to large enough for a human to stand in, and the largest crack extends about 400 feet.
Devils Tower's climbing routes rank between intermediate and difficult, and the older routes are considered among the most challenging of all. Only a few of the routes are bolted, so climbers must use temporary anchors. Prior to beginning their ascent, climbers must get a permit from the National Park Service and follow its requirements.
Climbers need to be aware that they may encounter snakes, birds, and rodents during their climb. These animals live at the monument and must be treated with respect.
Each June, Native Americans conduct religious ceremonies at Devils Tower, so climbers are asked to refrain from climbing during that month.
7. Hollywood Had A 'Close Encounter' With The Monument
Hollywood came calling in the 1970s, when Steven Spielberg filmed Close Encounters of the Third Kind. Devils Tower was the natural landscape star of the hit science fiction film. In the film, the characters find themselves creating drawings and sculptures of Devils Tower — including in mashed potatoes — and eventually travel to the national monument, where a giant alien ship hovers above the butte.
John Williams composed the famous musical score that played during the encounter between the aliens and the military and scientists on the ground. The movie starred Richard Dreyfuss, who went on to win an Academy Award for his portrayal of a struggling actor in The Goodbye Girl. Spielberg has since produced and directed several hit movies, including Raiders of the Lost Ark, E.T. the Extra-Terrestrial, Schindler's List, and Saving Private Ryan.
The 2011 comedy Paul, starring Simon Pegg, Nick Frost, and Seth Rogen, featured Devils Tower as a tribute to Close Encounters.
How To Get To Devils Tower
Devils Tower is about a 30-minute drive off Interstate 90. You'll want to exit the interstate at Sundance, Wyoming, and follow Highway 14, eventually merging onto Highway 24, which leads to the national monument. The drive offers impressive views of the tower, and if you want to take pictures along the way, find a pull-off along the road for safety.