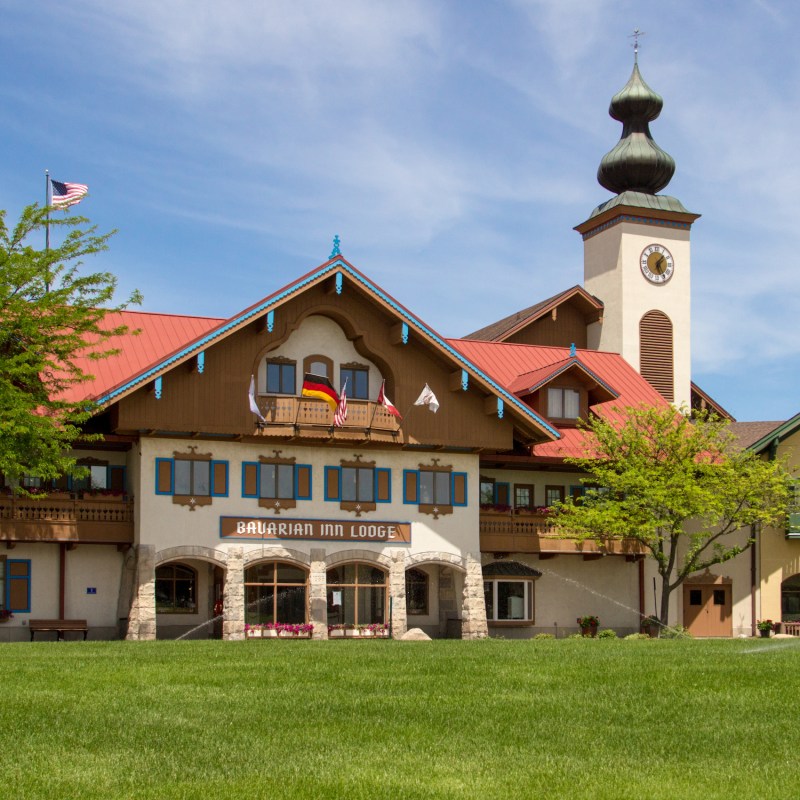 Frankenmuth is about 90 miles from my hometown of Lansing, making it the perfect destination for a day trip. Because Frankenmuth is close, I frequently visit throughout the year. In addition to my German heritage, another aspect that keeps me going back is the festivals.
Every season, Frankenmuth celebrates a variety of German traditions, such as Oktoberfest and Osterbrunnen. They also have new events that are more U.S.-centric, like the Frankenmuth Dog Bowl. But whether you're of German heritage or not, you're sure to enjoy Frankenmuth no matter the season.
Winter In Frankenmuth
Michigan's winters are usually cold. So unless you enjoy the snow and winter's outdoor chill, you might opt for more indoor activities like preparing for the holidays at Bronner's CHRISTmas Wonderland or getting ready to play Santa by shopping at some of the charming shops for Christmas presents. In January, you'll want to bundle up and take in Zehnder's SnowFest.
Shop Bronner's CHRISTmas Wonderland
Bronner's CHRISTmas Wonderland, the world's largest Christmas store, celebrates the spirit of Christmas all year long. We bought some German-themed ornaments to add to our tree, but you'll find thousands of decorations to decorate your tree, no matter the theme.
While you're at Bronner's, be sure to visit the Silent Night Chapel located in the southern part of their 27-acre property. They first sang "Silent Night" in 1818 in a chapel in Oberndorf bei Salzburg, Austria, on Christmas Eve. Bronner's Silent Night Memorial Chapel is a 56-foot-tall replica of the Oberndorf chapel. Visit The Silent Night Chapel during the Bronner's store hours. Admission is free.
Chill Out At Zehnder's Snowfest
Usually a weeklong snow and ice sculpting event, Zehnder's Snowfest is one of North America's top snow sculpting events. The ice blocks evolve into intricate ice carvings, or snow becomes life-size sculptures. In 2021, Zehnder's Snowfest will be a limited event, without the usual warming tent, fireworks, and entertainment. Walk around downtown, Zehnder's, and the Bavarian Inn to enjoy the ice carvings and snow sculptures.
Play In The Indoor Water Parks
Zehnder's Splash Village Hotel and Waterpark have a 50,000-square-feet indoor space that includes two water parks, the Atrium and Splash, each with a retractable roof.
The Bavarian Inn Lodge has a 35,000-square-feet Family Fun Center. They offer three pools, two hot tubs, and two water slides. The indoor Bavarian-themed 18-hole mini-golf course is a perfect activity for the frosty Michigan winter days.
Pro Tip: You can visit Splash Village for the day as they offer day passes to the water parks. When you stay overnight at Splash Village, they include the water park passes in your room rate. Even though check-ins at 4:00 p.m., you can start splashing at noon. On departure day, check-out by 11 a.m. and continue having fun in the water park until 4:00 p.m.
Spring In Frankenmuth
Frankenmuth's spring flowers start to bloom in April and May, and the weather in Michigan warms up. It's a more pleasant time to be outdoors.
Celebrate Osterbrunnen
The German tradition of Osterbrunnen, German for "Easter fountain" or "Easter well," is relatively new. More than 100 years ago, German villages started decorating their wells in the spring to celebrate water's essential role in life and Easter, a celebration of life's renewal. Germans used brightly colored eggs, paper ribbons, and garlands to decorate their fountains and wells. Eventually, the festival became a friendly competition amongst villages. By the 1980s, almost 200 towns had adopted this tradition as a way to welcome spring.
Frankenmuth's Bavarian Easter Celebration is a continuation of Osterbrunnen. This German tradition has spread to Frankenmuth as a way to shrug off the winter chill and enjoy the warmer weather. You'll find pastel-colored eggs and ribbons decorating the town. While you're in Frankenmuth, stop by Zehnder's for one of their family-style chicken dinners. Zehnder's won a James Beard award in 2020 in the category of America's Classics. We have found this a delicious way to enjoy Easter dinner.
Take Your Dog To The Frankenmuth Dog Bowl
If you love dogs, the Frankenmuth Dog Bowl over Memorial Day weekend is a fun day for you and your pet. The Dog Bowl is a high-energy festival where dogs have a chance to show off their skills. Fido can use running, jumping, retrieving, or diving skills while participating in the 25 activities. The event is the world's largest Olympic-style event for dogs and their owners, attracting more than 100,000 people and thousands of canines for a wide range of activities, including a Pet Parade with a Best Costume Contest. In addition to the Pet Parade, you'll find over 25 competitions for your dog and you. Rover will enjoy the Disc Dog competitions, Wiener Dog Races, and Dog Breeds of the World show. The Pet Marketplace featuring 45 vendors is a pet parent's paradise.
Watch Balloons Fly Over Frankenmuth
In addition to the Frankenmuth Dog Bowl, Memorial Day weekend also has the Balloons Over Bavarian Inn, which is fun to watch. They feature early morning and evening balloon flights and a nightly Hot Air Balloon Glow Village. This event is a competition for the hot air balloons and generally features about two dozen balloons. We never seem to make the early morning flight, but we particularly enjoy the colors and sounds of the evening Glow Village at River Place Shops Field.
Pro Tip: In spring, temperatures fluctuate significantly. Have a jacket for early morning and evenings, and remove it later so you won't be too hot in the afternoon. Check the weather, as it's been known to snow in April.
Summer In Frankenmuth
Summer, my favorite time of year in Frankenmuth, allows you to be outside and enjoy many events that involve live music and dancing.
Attend The Bavarian Festival
The Frankenmuth Bavarian Festival is Michigan's largest celebration of Bavarian heritage, with authentically dressed German bands playing Bavarian music. The local schuhplattler dancers Da Frankenmuda Fratz'n are part of the entertainment. The dance music offers you a chance to join in the festivities and try your dance moves with a polka or waltz. You'll want to dance to burn off some of those extra calories from enjoying the German food on offer, including those delicious German desserts, like apple strudel.
Ride The Bavarian Belle Riverboat
The Bavarian Belle Riverboat is a stern-driven paddlewheel riverboat that provides 1-hour cruises on the Cass River. The boat leaves every 90 minutes from the Frankenmuth River Place Shops. If you're adhering to a specific schedule, be sure to get there early to have the best views from the open-top second tier. This top tier fills up quickly.
While you wait to take your riverboat cruise, stop for the perfect photo opportunity of the entire Holz-Brucke Wooden Bridge. The Bavarian Belle operates seasonally, from early May until mid-October.
Play The Fortress Golf Course
Located a few hundred yards from Zehnder's Restaurant's front porch, The Fortress Golf Course is one of Michigan's top courses. The Fortress gives a feeling of golf's Scottish origins, with fescue-covered mounds and sectioned greens. You'll find bent-grass tees, with 75 bunkers surrounding the greens and fairways. It's an 18-hole par-72 course that even the most accomplished golfers will find challenging.
Pro Tip: Summer in Frankenmuth is the best time to enjoy outdoor activities. In the Bavarian Inn's Biergarten, on the Fischer Platz, you'll often find live German music, dancing, and a party atmosphere.
Fall In Frankenmuth
Autumn days in Michigan bring cooler weather and crisp fresh air. It's the perfect time to enjoy the fall colors, celebrate the harvest, and enjoy Oktoberfest.
Have A Beer At Frankenmuth's Oktoberfest
Frankenmuth's Oktoberfest is the only German government sanctioned Oktoberfest outside of Germany. The German Parliament and Munich's Lord Mayor Christian Ude made an official proclamation in 1996 to bless Frankenmuth's Oktoberfest. It was first outside of Germany, approved in Munich. The event was also the first time Munich's famous Hofbrauhaus brewery exported its beer to the United States. In 1997, Hofbrauhaus became the official beer sponsor of Frankenmuth's Oktoberfest.
With Frankenmuth's German heritage and culture, when you're at the Frankenmuth Oktoberfest, you'll feel like you might have flown across the pond to the Munich Oktoberfest. The experience offers authentic entertainment, dancing, and authentic Hofbrauhaus Oktoberfest beer. And as always in Frankenmuth, you can find authentic German food.
Take A Colorful Leaf Peeping Tour
We especially enjoy the look of the leaves' color against the Holz-Brucke, which is a covered bridge crossing the Cass River. The setting makes a pretty photo opportunity.
You can view the fall colors through the treetops on a zipline and rope course at Frankenmuth's Aerial Park if you're more adventurous. If you want a milder activity, the Bavarian Belle Riverboat offers foliage tours down the Cass River. Another way to get out on the water and enjoy the autumn colors is through Frankenmuth FunShips Tasting and Tours. Our favorite is the wine and chocolate pairing, a pleasant environment to enjoy the autumn colors.
Celebrate The Harvest
Grandpa Tiny's Farm offers fun for the grandkids with their petting zoo and fall pumpkin harvest. Floral enthusiasts will enjoy the U-pick sunflower field.
Pro Tip: The rural area and country roads surrounding Frankenmuth are great places to go for a drive and do some leaf-peeping.
Related articles: