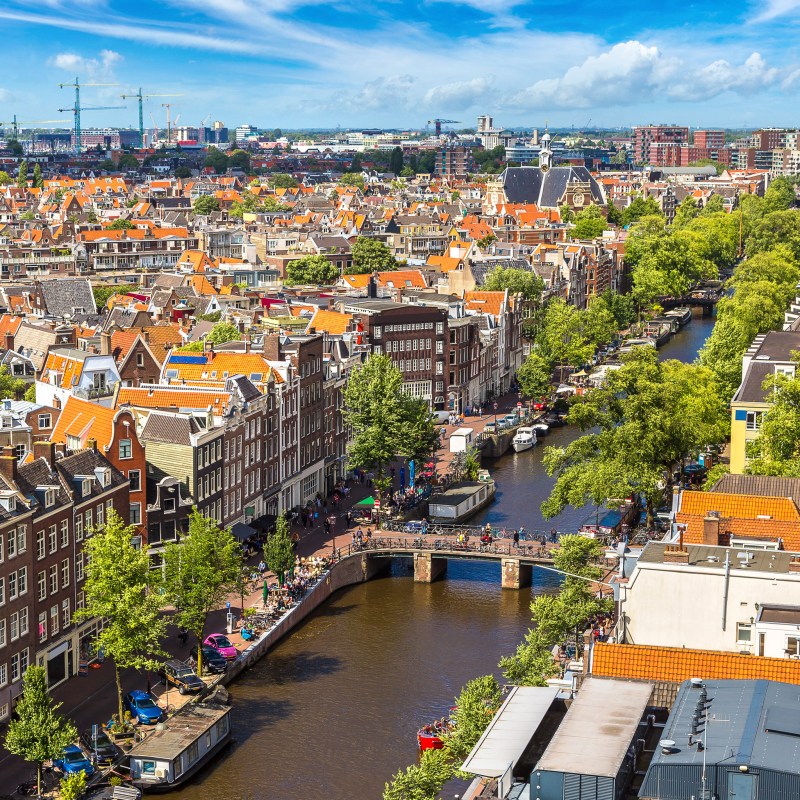 You now can travel from the U.S. to Amsterdam and not have to quarantine upon arrival, thanks to a new partnership between Delta, KLM, and the Dutch government.
Travelers from Hartsfield-Jackson Atlanta International Airport can fly to Amsterdam and become exempt from that nation's 10-day quarantine restriction after receiving a negative PCR test five days prior to traveling and self-isolating until departure. In essence, you complete the quarantine before you arrive. Passengers will also be required to take a rapid antigen test in Atlanta and another PCR test in Amsterdam. If all results are negative, no quarantine is required.
The new protocols are limited to anyone traveling to the Netherlands for essential reasons, such as work, health, and education. Passengers looking to travel beyond Amsterdam to other cities will not be exempt from those countries' rules and restrictions.
"This is a very important and great step forward until an approved working vaccine is available worldwide," said Pieter Elbers, president and CEO of KLM Royal Dutch Airlines. "This testing program represents the first step towards the international travel industry's recovery."
Four weekly COVID-tested flights are planned, beginning December 15, and will run for three weeks. If the flights prove successful, look for the airlines to open up more COVID-free travel corridors to other cities. Fliers can choose the COVID-free/tested-passengers-only options upon purchase, but are not limited to these flights. Delta and KLM will continue to offer departures that are not included in the trial program.
"Creating COVID-free travel corridors, in addition to the multiple layers of safety and hygiene measures we have implemented, will provide customers and authorities a greater confidence that they can stay healthy when flying," said Delta President Steve Sear.
Last week, Delta also announced a similar partnership with the Aeroporti di Roma to enable quarantine-free entry into Italy. These flights begin on December 19.
American and United Airlines have also begun similar trial programs for flights to London.
The Minneapolis Star reports American Airlines and British Airways are testing new protocols for flights to London from Dallas, New York, and Los Angeles. Passengers are given the option of testing three days ahead of flight, at the airport, and three days after landing in London. If all tests are negative, no quarantine is required.
Destinations Mentioned In This Article:
Editor's Note: Additional sources for this report are available here and here.