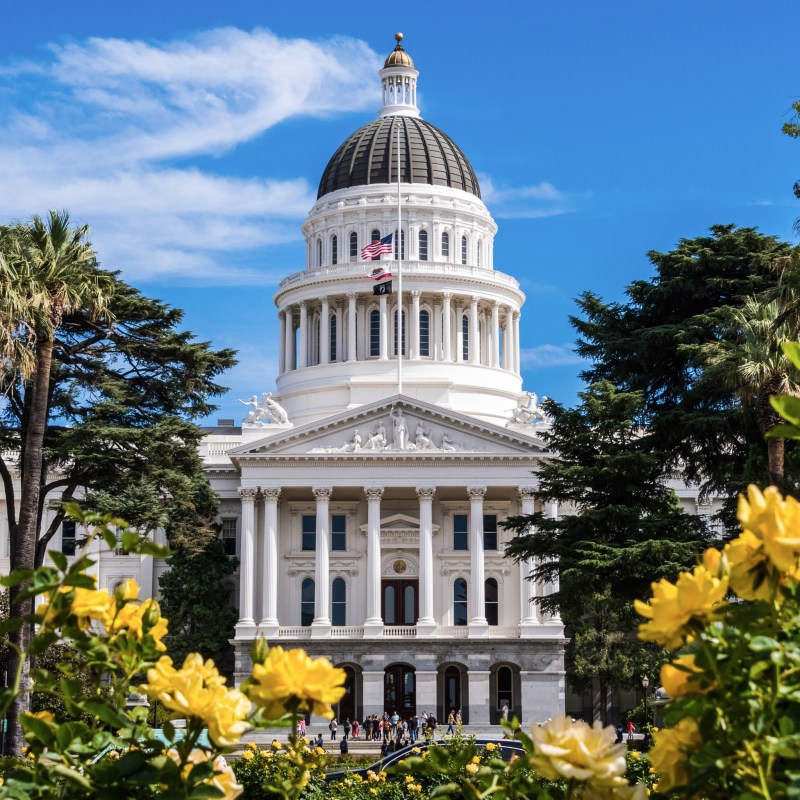 Sacramento, California, appears to have it all. Not only will you find diversity, culture, history, and a mild climate in California's capital city, it's also conveniently located to San Francisco's coastal and city life and the natural beauty of Lake Tahoe and Lodi Wine Country.
With family living in Sacramento, I have fond memories of hiking, visiting Old Sacramento Waterfront and its unique attractions and museums, plus always stops at See's Candies for special treats. The city feels like home to many who visit, and I invite you to discover its historic charm.
Things To Do In Sacramento
This historic city is filled with museums and outdoor activities including parks, trails, and the waterfront area.
Visit A Multitude Of Museums
History buffs will enjoy the multitude of museums in Sacramento. With 28 in all, you'll find everything from railroad museums to the history of the Gold Rush and venues for fine art.
A railroad buff myself, I especially enjoyed the California State Railroad Museum, where the history of the transcontinental railroad is viewed through a variety of exhibits. Although the museum is currently closed due to COVID-19, you can view two exhibits virtually. The exhibit "Crossing Lines: The Women of the American Railroad" is particularly interesting as it tells the story of women's work in the industry. Located in the 28-acre Old Sacramento State Historic Park, in addition to the railroad museum, you'll find Eagle Theater and the Old Sacramento Schoolhouse Museum.
Another of the 50 historic buildings located in Old Sacramento State Historic Park is the Sacramento History Museum. Exhibits tell the stories of the people of Sacramento. Thanks to the museum's efforts, historic cookbook enthusiasts can read several cookbooks, including The Century Cook Book 1894, digitally and try some period cooking at home.
At the Crocker Art Museum, art enthusiasts enjoy one of the foremost displays of California art. Tour the exhibitions, attend one of the events such as a film, class, or concert, or just sit for a while and ponder the expansiveness of art.
There are so many museums to choose from it's tough to decide which to visit unless you're staying in Sacramento for a while. A few personal favorites include the Aerospace Museum of California, State Indian Museum, and Sutter's Fort.
Pro Tip: Due to COVID-19 restrictions changing, check with each museum to see if it's open before visiting.
Take In A Historical Treasure At The Sacramento Zoo
Since 1927, locals, school groups, and tourists alike have enjoyed seeing the animals at the Sacramento Zoo. For an even more immersive experience, schedule a Behind-The-Scenes Tour to interact with the animals. You'll get up close to the animals and enjoy a behind-the-scenes look at areas not accessible to the public on this guided walking tour.
Spend A Day At Discovery Park
This 302-acre park is located where the Sacramento River and the American River converge. Discovery Park offers plenty to do for a day. Rent a bicycle and travel the Jedediah Smith Memorial Trail, launch a boat onto the American River, spend the day fishing, or try your hand at archery. The Jedediah Smith Memorial Trail is a 32-mile paved path that follows along the American River to Folsom. Walk for a portion of the trail or take a bicycle to travel through natural areas and parks as you follow the river.
Stop To Smell The Flowers At An Urban Park
Capitol Park is another ideal way to spend a day in Sacramento. The 40-acre park is located in the downtown area by the State Capitol. The World Peace Rose Garden is filled with more than 150 varieties of rose bushes amongst other flowers and trees. Be sure and visit the Camellia Grove, dedicated to camellia flowers, where special events are held each spring when the flowers are at their peak.
See History In The Making At The Capitol Building
While you're at Capitol Park, a visit to the Capitol Building is a must to see a living museum. You'll see the government workings and can tour the historic West Wing. When the building was restored in 1976 it was recorded as the largest restoration project in U.S. history (at the time) and the magnificent architecture and artwork are worth a visit. If you want a peek before you visit, take one of several virtual tours of the gardens, the West Wing, the artwork, and more.
Step Back In Time At Old Sacramento Waterfront
Sacramento was Gold Rush Country, and Old Sacramento takes you back to the era with wooden sidewalks and cobblestone streets, shopping, historical buildings, and dining on the waterfront. It's a national historic landmark with museums, train rides, and riverboat rides. There's plenty of shopping options with boutiques, galleries, and gift shops to peruse throughout the day. In addition to lots of options for food and drink, there are several saloons where you can sip a brew in an old-time setting. The River City Saloon sits in a historic building where they serve food and drinks in Sacramento's last Old West saloon. Try the Old West Sarsaparilla that's brewed for them by River City Brewing Company, also located in Old Sacramento.
Take A Mural Walking Tour
Hundreds of murals decorate the alleys and buildings throughout Sacramento. Wide Open Walls offers self-guided walking mural tours. Start by visiting their virtual map, where you can view the mural placements and create your own walking tour. The Kachet Life blog suggests her picks for murals not to miss (including some of my favorites such as The Wishing Wall and art by Bryan Valenzuela) plus suggestions for what to do nearby. It's worth the time to plan your route in advance because these pieces aren't simply graffiti on a wall — they're world-class public arts that deserve to be savored.
Best Restaurants In Sacramento
The food scene in Sacramento is about as California cuisine as you can get. Fresh, seasonal, locally-sourced, and chef-inspired menus make it a tasty foodie destination.
The Firehouse Restaurant
Located in Old Sacramento, The Firehouse Restaurant is a multi-award-winning restaurant with a lot to brag about. For 18 consecutive years, they've won both "Best Romantic Restaurant" and "Best Wine List" by Best of Sacramento, plus numerous other accolades. The intimate setting is elegant without being pretentious. The locally sourced menu includes delights such as the current (options may change) Chef's Three Course that includes a choice of Caesar Salad or Crab Bisque, the Chateaubriand, an 8-ounce marinated filet mignon served with garlic mashed potatoes, seasonal vegetables, and a Bearnaise sauce, followed by a choice of Creme Brulee or Chocolate Pave Gateau (brownie cake, chocolate mousse, puffed rice crunch, and raspberries) for dessert.
Paragary's
Visit Paragary's, a midtown bistro that serves farm-to-table seasonal cuisine. You may want to dine outdoors in the garden patio with waterfalls, plants, and even olive trees. Or dine indoors in the bright dining room with long booths and natural lighting. Start with the smoked trout served with grapefruit, avocado, pine nuts, creme fraiche, watercress, and red onion. For the main course, try the Butternut Squash and Maitake Mushroom Pizza. It's pure decadence made with fontina cheese, garlic, thyme, parmesan, and Fresno chile.
Allora
Allora is an Italian word meaning a moment between moments. That's just the mood they've created at Allora, an Italian seafood restaurant utilizing local ingredients and handmade pasta. The decor inside is crisp and bright, and the menu items have a similar brightness and appeal. Located in East Sacramento, you'll choose from either a three-, four-, or five-course prix fixe menu. Items you might want to choose from the list include the Gnocchetti Sardi made with house-made lamb sausage, olive tapenade, ricotta salata, and eggplant; and the 72 Hour Short Ribs served with potato gratin, natural jus, and balsamic radicchio.
Best Hotels In Sacramento
Amber House Inn Of Midtown
The Amber House is conveniently located in the heart of Midtown, utilizing two historic homes as lodging. There is an 1895 Colonial Revival and a 1905 Craftsman, both decorated with marble-tiled baths and historic furniture. Some of the rooms host Jacuzzi bathtubs for two; others have antique claw-foot tubs. It's the special touches that make Amber House comfortable and inviting. There's even a gourmet breakfast served in your choice of your room, the dining room, or the garden.
Kimpton Sawyer Hotel
If you prefer urban chic, the Kimpton Sawyer Hotel boasts a rooftop pool at its downtown location. There's plenty going on at the pool deck where you can enjoy a cocktail while lounging in the pool or on the private shaded daybed. Revival at the Sawyer, the poolside bar, has an inventive menu of cocktails. There's also poolside yoga, live music, and other entertainment. The decor throughout is elegant simplicity utilizing California oak woodwork and earthy colors. Basketball fans will appreciate the proximity — a one-minute walk across the street — to Golden 1 Center, home to the Sacramento Kings, for NCAA Championships as well as live entertainment. Also within walking distance are restaurants, museums, and additional downtown activities.
For additional inspiration, see all our San Francisco content here and our Lake Tahoe content here.