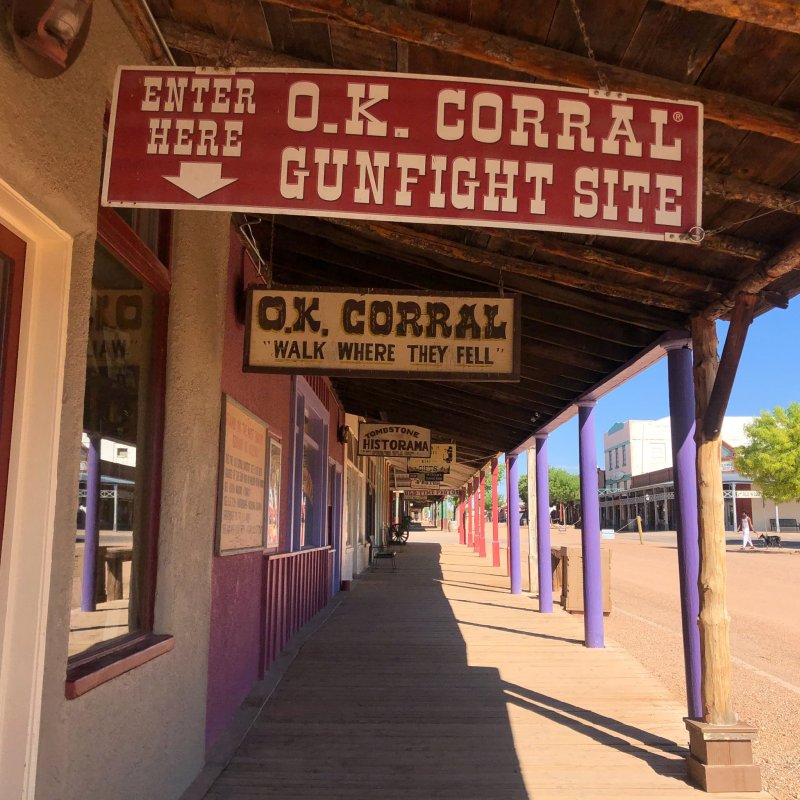 The most notorious gunfight of the Wild West is said to have lasted just 30 seconds. Still, the brief and bloody shootout at the O.K. Corral in Tombstone, Arizona, has lived on in Western lore for more than a century.
Over the years, the infamous 1881 gunfight has spawned multiple star-studded movies, such as 1993's Tombstone with Kurt Russell and Val Kilmer, 1994's Wyatt Earp with Kevin Costner, 1946's My Darling Clementine with Henry Fonda, and 1957's Gunfight at the O.K. Corral with Kirk Douglas and Burt Lancaster.
All of that cinematic attention has earned Tombstone a prominent spot in popular culture. Today, visitors flock to the little southern Arizona town to soak up the Western drama.
While the shootout history is undoubtedly the main attraction in Tombstone, the community has plenty of attractions that go beyond its legendary gun battle. Think hauntingly beautiful desert terrain, hearty cowboy cuisine, and fascinating mining history.
Here are some of the best things to do in Tombstone.
Walk Where They Fell At The O.K. Corral
No visit to Tombstone would be complete without a stop at the corral where it all began. A sign at the site notes that the O.K. Corral Livery & Feed was one of several stables that served Tombstone in the 1880s. The Allen Street business offered wagon sheds, stables, and stalls for rent.
On October 26, 1881, an alley near the corral was the scene of the gunfight that pitted a team of lawmen made up of town marshal Virgil Earp, his brothers Morgan and Wyatt Earp, and deputized policeman Doc Holliday against a band of outlaws made up of Billy Claiborne, Ike and Billy Clanton, and Tom and Frank McLaury.
As the story goes, Virgil Earp's group took the fateful walk down dusty Allen Street on a mission to disarm the outlaws. The gunfight that ensued left three men dead and three wounded.
A visit to today's O.K. Corral includes a chance to take in daily reenactments of the gunfight, stand beside life-size figures of the gunmen, tour the C.S. Fly's Photo Gallery, and walk through the stables as they appeared in the 1880s.
Saunter Down Allen Street
Central to the popular culture surrounding the gunfight is the iconic image of the three Earps and Holliday, clad in long back coats, striding purposefully down Allen Street toward the corral.
It is not difficult to imagine that scene along the present-day Allen Street, which is bordered by wood-plank sidewalks and vintage storefronts. A walk down the pedestrian-only dirt lane makes for a cool photo opportunity a la Kurt Russell and Val Kilmer.
Allen Street is also the center for Tombstone's selection of rustic restaurants, raucous saloons, and Western shops. For an entertaining afternoon, consider hopping from shop to cafe to saloon, all while taking in the Wild West atmosphere beneath the blue Arizona sky.
Step Back In Time At The Tombstone Courthouse State Historic Park
With its red brick walls, cupola-style observation tower, and lacy gingerbread cresting, the handsome exterior of the old Cochise County Courthouse strikes a sharp contrast with Tombstone's rough-and-tumble Allen Street.
But venture inside the Tombstone Courthouse State Historic Park, and you will find plenty of evidence of the town's colorful past in its artist drawings of the gunfight at the O.K. Corral, artifacts from Tombstone's mining past, saloon and gaming room, and even replica gallows in the courtyard.
After the Cochise County Seat was moved to nearby Bisbee in 1931, the courthouse building changed hands several times. Considered an excellent example of territorial architecture, the 1882 courthouse first served as a city building and was then converted into a museum in the mid-1950s. Ultimately, it was transferred to the state and became Arizona's first operational state park in 1959.
Pay Your Respects At The Boothill Graveyard
Owing to the large number of men who are said to have "died with their boots on," cemeteries called Boothill were common throughout the Wild West. Tombstone's is among the most famous of the lot and one of the town's best-known tourist attractions.
Sitting on a hill surrounded by cacti and sagebrush, the Boothill Graveyard contains the graves of the three O.K. Corral shootout victims — Billy Clanton, Frank McLaury, and Tom McLaury — along with about 250 other early Tombstone residents.
Shop For Western Souvenirs
If you're in the market for a silver bracelet, a Victorian-style accessory, or an Earp T-shirt, Tombstone is the place to find them all.
Tapping into the town's silver-mining past, the Silver Hills Trading Co. offers semi-precious stones set in silver or gold, along with an assortment of T-shirts, hats, Southwestern decorative accessories, and a variety of books on everything from cooking to Wyatt Earp to Doc Holliday.
Or, for a bit of Western wear, a selection of 1880s pieces, or ladies' footwear, check out the Shady Lady's Closet, a longtime fashion mainstay on Tombstone's Allen Street.
For a complete listing of places to shop, go to the Tombstone Chamber of Commerce's website.
Tap Your Toes At Big Nose Kate's Saloon
"Toe-tapping and hand-slapping" is how Big Nose Kate's Saloon describes the atmosphere in the establishment that is named after Mary Katherine Horony-Cummings — better known as Big Nose Kate, the sometime-prostitute and longtime companion and common-law wife of gunfighter Doc Holliday.
Once the site of the elegant 1880s Grand Hotel, Big Nose Kate's Saloon evolved over the years. Much of the hotel burned in Tombstone's devastating fire of 1882. Big Nose Kate's Saloon still uses the Grand Hotel's original long bar, which survived the fire.
Along with its saloon offerings, Big Nose Kate's also features live music and a dining menu with Western classics such as cowboy cheesesteak — a shaved rib-eye steak, sauteed onions, peppers, and pepper Jack cheese served on a hoagie roll — and the Boothill burger, served with grilled onions, green chile, and cheese.
Dine At The Crystal Palace Saloon
Located at the corner of Allen Street and Fifth Street, the Crystal Palace Saloon has been a Tombstone fixture since 1879. "Step into the Crystal Palace Saloon and you are stepping into history," says the saloon's website.
Featuring rooftop and outdoor seating and a full bar, the Crystal Palace specializes in Western fare such as burgers topped with everything from sauteed onions to jalapeno peppers to bacon and barbecue sauce, served alongside beer-battered onion rings and Wild West wings.
A complete list of places to dine and drink in Tombstone is available on the Chamber of Commerce's website.
Tour The Goodenough Mine
Before Tombstone was famous for its gunfight, it was known as a place to make a mint in mining. In fact, it was Tombstone's reputation as a silver-mining town that attracted the Earps to the area in the first place.
To experience what it was like for those early miners, check out the tours at the Goodenough Silver Mine, one of a series of Tombstone mines with quirky names: Toughnut, Contention, Grand Central, Lucky Cuss, and Silver Tread. The mines are said to have produced millions of dollars' worth of silver throughout the 1880s.
The Goodenough offers walking tours through the underground mine, as well as trolley tours through Tombstone and after-dark ghost tours.
Experience The Cowboy Life At A Guest Ranch
Although mining was the main occupation, early Tombstone was also a center for ranching. The Tombstone Monument Ranch, which was founded in 1880, is located just 2.5 miles from the center of Tombstone. Today, it offers a luxurious taste of the ranching life.
The ranch lies in the midst of the rugged Tombstone Hills of Cochise County and is surrounded by historic mines, hand-dug wells, old railroad trestles, and Native American petroglyphs. A stay at the guest ranch comes with the opportunity to partake of such cowboy classics as bursting through the swinging doors of the Old Trappman Saloon, learning to play five-card draw or Texas hold 'em, and dancing to live music two to three nights a week.
A ranch stay also comes with outdoor activities such as horseback riding or hiking along scenic routes, team cattle penning, and archery lessons. Tours of nearby wineries and the Kartchner Caverns State Park are also available.
Take A Day Trip To Bisbee
For an even deeper dive into Arizona's mining past, consider making the half-hour drive south to the charming town of Bisbee. There, you'll find multicolored buildings tucked into the rugged hillsides, fronted by narrow winding streets and a series of historic staircases.
Mining tours are available at the underground Queen Mine, where you will be fitted with headlamps and yellow slickers and taken 1,500 feet into the depths of the mine.
Bisbee is known for its lively bar and restaurant scene and is a not-to-be-missed destination in southern Arizona. To learn more about the picturesque town, check out this article. A road-trip itinerary from Tucson to Bisbee, including a stop in Tombstone, is available here.
What To Know Before You Go
Tombstone is billed as a year-round destination because of its fairly mild temperatures all year long. Still, the summer months tend to be hot, with average high temperatures well into the 90-degree range throughout June, July, and August. The best times to visit are March, April, and May, when average highs are in the 70s and 80s, and October and November, when average highs are in the 70s. The winter months, with average highs in the 60s, are also comfortable times to visit.