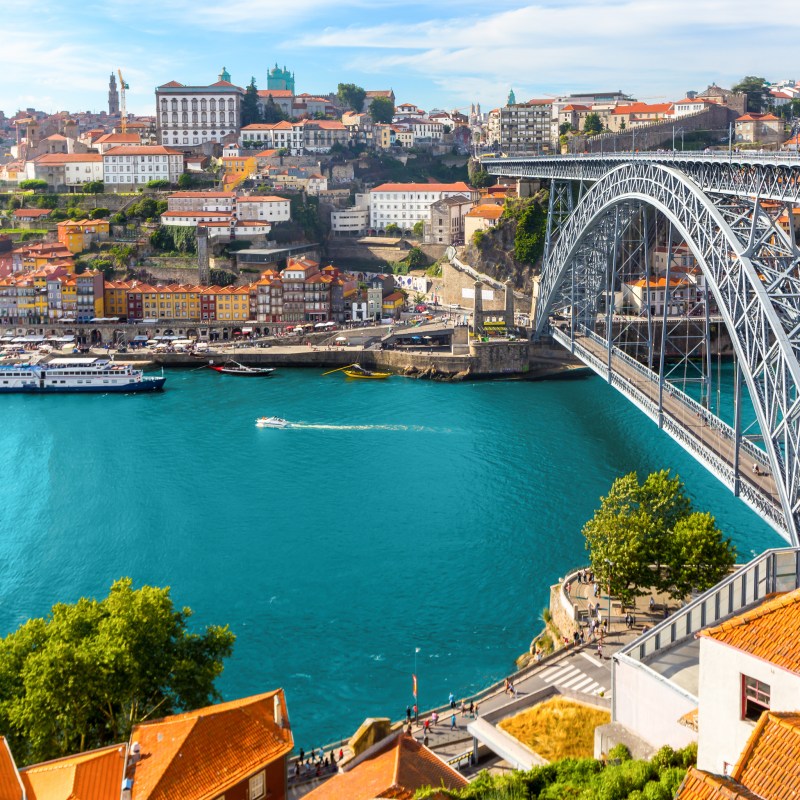 Portugal is a small country about the size of the U.S. state of Indiana. Yet it has a rich and interesting history, beautiful architecture, incomparable cuisine, and some of the warmest, friendliest, most welcoming people in the world. Then there are the phenomenal beaches, top-tier golf courses, and gorgeous islands that are an integral part of Portugal's charm. It's easy to get seduced by this gem of a country. And here is the story of how Portugal stole our hearts.
Note: Some of our Portugal explorations were hosted by Discover Madeira, Center of Portugal, and TAP Air Portugal. All opinions are strictly our own based on our experiences.
How We Got To Portugal, And What We Liked About It
Sue was the first to visit Portugal, filling in for a fellow journalist unable to make the journey. She spent her time in the Center of Portugal, an area known for its historical towns like the colorful Sintra, enchanting Obidos, and sacred Fatima. When she returned with stories about Portugal's scenery, seafood, and natural beauty, we knew another more extensive visit was in order.
That visit came when both of us went first to the island of Madeira, then on a top-to-bottom self-styled whirlwind driving tour of this European jewel. What started as a hot date quickly turned into a deep romance. We fell in love with the people we met, the cultural and architectural richness we explored, and the diverse landscape we encountered all along the way.
Madeira Island Has More Than Great Wine
Most people know Madeira Island for its delicious fortified wines. We can vouch for the fact that Madeira wine is something special. But the whole island is special too. We had the opportunity to see some spectacular sites that gave us a sense of awe and wonder in this amazing place. One memorable experience was when we got up while it was still dark, hopped into a jeep, and rode up to Pico do Arieiro, a mountain peak that's over 6,000 feet high. Bundled in warm blankets, with breakfast and hot beverages in hand, we watched silently as the sun rose before our eyes along the distant horizon. It felt like witnessing a true miracle of nature. We rode in a funicular, dined at a seaside cafe, took in one stunning view after another, and dined in a chic restaurant tucked away inside a renowned designer's showroom and museum center. There are so many incredible things to see and do on Madeira that we longed to spend more time there.
The Magic Of The Mainland
Flying back from Madeira to Lisbon takes only about two hours. Exploring the mainland was next on our agenda, and we had an ambitious schedule. While it takes only about three hours to drive from Lisbon up north to Porto non-stop, there would obviously be plenty of stopping for us. We wanted to understand the cultural, climatological, and other differences between the northern part of the country, the center region, and the south.
The Bustling South
What we discovered was that every part of Portugal is wonderful in its own way. It just depends on what you prefer. Southern Portugal, such as the Algarve and Lisbon regions, tend to be warmer. Lisbon is a world-class city full of art, architecture, culture, and commerce. It is where we first discovered the irresistible pasteis de nata, Portuguese custard tarts that we crave whenever we even read the words again. A little west of Lisbon we explored Cascais, with its posh and cosmopolitan seaside community.
The Magical Center
Heading up to the Center of Portugal, we discovered the fairytale-like city of Sintra, with colorful castles. Nearby Obidos is a Medieval walled city filled with bright flowers and whitewashed houses. It also holds acclaimed international festivals for two of our favorite things — literature and chocolate. Significant for religious miracles, Fatima is also in central Portugal.
Along the western shoreline, the Silver Coast includes favorite beach towns such as Peniche and Nazare, known to have some of the best and largest waves in the world. Seafood lovers will be thrilled by the many exceptional restaurants serving fresh catches from the sea only steps away.
The Cool North
Northern Portugal is anchored by Porto, a fun, hilly town buzzing with creativity and excitement. Many interesting shops, restaurants, and plazas make it easy to explore but hard to rush through. The Douro region, which includes World Heritage status, is a wine lover's dream. Of course, Porto is also known for its incomparable fortified wines. A must-see spot for us was the Livraria Lello, one of the most beautiful bookstores in the world. Also thought to be the inspiration for Hogwarts school in the Harry Potter books, the store has detailed carvings, an impressive wooden staircase, and stained glass features that are worth waiting in line to see.
Challenges For Us
We had two major challenges during our exploration of Portugal. First, while it is a small country physically, it is incredibly dense as far as things to see and do. We literally woke up before sunrise and went to bed in the wee hours, yet still barely scratched the surface of this amazing place. We quickly passed through important towns such as Braga, filled with historical treasures, and Coimbra, home to one of the oldest major universities in the world. We skipped Fado music and other performances. And our beach tours of the Silver Coast and Lisbon Coast were done at lightning speed.
The second challenge is related to geography. Portugal is a hilly country. Many of the roads in the most charming places are made of cobblestones or decorative tiles. And the weather in the north is cooler than in the south. That means you have to pack comfortable and sturdy shoes, even if you like to dress up. You will need to consider where in the country you plan to be in order to or pack the proper attire. Even so, you will need a range of items as temperatures even in the south can drop quite a bit at night.
If You Would Like To Visit Portugal
If Portugal is not yet on your must-see list of places, we highly recommend you add it. When making plans, do some homework to decide where you would like to explore and give yourself ample time there. Also be sure to try the local cuisine. Each area offers its own unique dishes and beverages. Cherry liqueur in Obidos is as memorable as Madeira wine or Porto port. And if you can visit some smaller spots, you'll be rewarded for your effort. One of our most memorable meals was in a small city called Mealhada that is deservedly famous for its roasted pork.
How Portugal Changed Us As Travelers
Though we typically like to cover a lot of territory as travelers, Portugal made us want to slow down and savor every moment. We didn't have to search for beauty — Portugal has beauty everywhere. We found ourselves enjoying the action of larger cities just as much as peaceful reflection in the forests, mountains, and beaches. Every discovery felt fresh and new, and was something we couldn't wait to share with others.
Our Romance With Portugal Is Just Beginning
Our experience of Portugal has been like having the best date ever. We feel the excitement, romance, and desire to learn more about this magnificent country. And just like reading a page-turning romance, we can't wait for the next chapter to begin.
Related Reading:
A Visit To The Fairy-Tale Town Of Obidos, Portugal
Why Madeira Is Portugal's Best-Kept Secret
The Best Things To Do In Lisbon, Portugal
How To Spend A Perfect Weekend In Cascais, Portugal
Wine Tasting In Porto: 11 Things To Know Before You Go