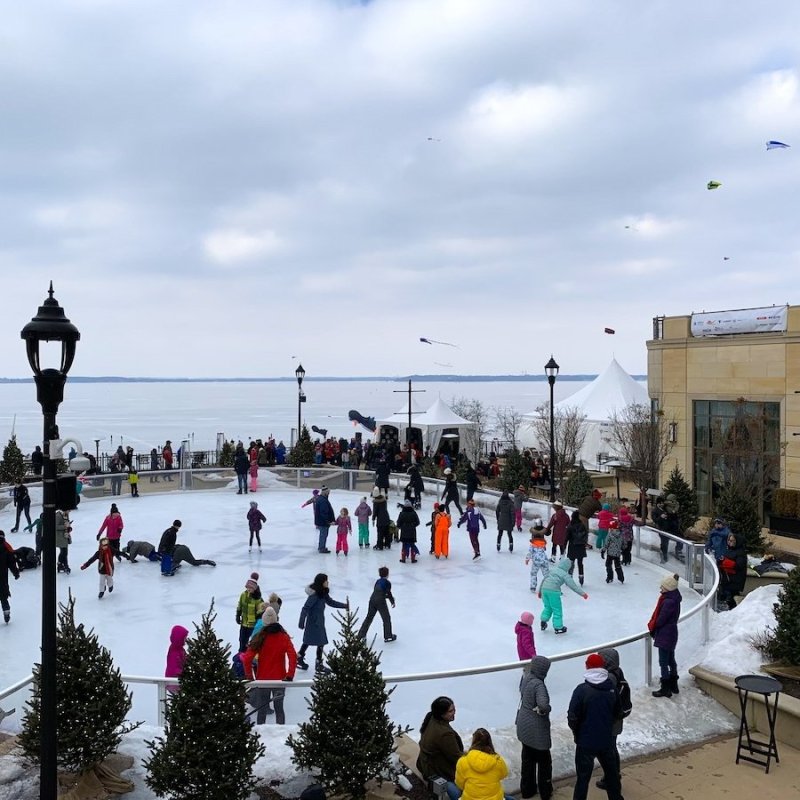 The Midwest offers a wide variety of outdoor activities in the winter. The terrain offers options for gentle and easy activities as well as challenging and adventurous ones. Some activities require nothing more than a desire to get out there and enjoy, while others need a bit of planning or equipment. One thing common about Midwesterners is their love of the outdoors during all seasons. You'll rarely hear one of us complain that it's too cold or too snowy or too anything to go outside and enjoy the fresh air, beautiful scenery, and wonderful feeling of being right in the middle of nature. So here are just a few of our ideas for the best outdoor winter activities in the Midwest.
1. Hiking
One of the great things about hiking in the Midwest is that you have many options. You can go for a long amble in gorgeous surroundings or a challenging ascent with rock scrambles and steep climbs. But we especially love to hike in the winter when trails often include snow-covered views and fresh, clean air. For bird lovers, Iowa offers many opportunities to watch Bald Eagles soar nearby. Winter hiking in the Midwest also provides a chance to see some of the most interesting geography in a different light. Starved Rock in Illinois is a great example.
2. Cross-Country Skiing
For those who want a little hearty exercise combined with their scenic views, cross-country skiing is a perfect fit. Some of the most beautiful cross-country skiing options anywhere are on trails in states like Minnesota, Michigan, Wisconsin, and Illinois. Whether you're an expert skier or looking for a new, fun way to move around in the winter, cross-country skiing is a great way to take in some incredible terrain while on the move. Because cross-country skiing is so popular in the Midwest, there are also plenty of organized events too.
3. Snowshoeing
We are a little biased when it comes to outdoor activities since we fell in love with snowshoeing. It's one of those winter activities that you think is more exhausting than exhilarating, but we discovered it to be just the opposite. Snowshoeing is really as easy as walking since the equipment has become so simple to use and quite inexpensive. We love snowshoeing near our home in Wisconsin, where there are plenty of trails and organized events. One of the most fun ways to snowshoe is at a candlelight or moonlight event where the glow along the trail illuminates the landscape so beautifully that it's easy to feel you've escaped all the worries of the world.
If you're curious about snowshoeing and want to learn more, read our list of reasons why you need to try snowshoeing this winter.
4. Ice Caving
Ice caves are beautiful and fascinating. The wonder of nature is on display through a stunning variety of intricate formations. The ice caves at the Apostle Islands National Lakeshore are a favorite winter spot in northern Wisconsin. The caves result from a combination of wind, water, and the action of the waves.
Michigan's Eben Ice Caves tell a different story. They form when slowly melting snow dripping over cliff edges meets with icy temperatures. Be prepared with warm coverings all over, including a hat or muff for your ears and good gloves. (Here's our list of glove recommendations if you're in the market for a new set!) These unique caves are so interesting you'll want to spend time enjoying them, so be sure you're comfy as you do.
5. Sledding And Snow Tubing
Some of the best outdoor winter activities in the Midwest bring out the youngster in all of us. Sliding down a snowy hill is one of those activities. Midwesterners consider any open area with a hill covered in white stuff fair game as a snow play area. But there are plenty of spots that groom their facilities to perfection, ensuring that every ride on a sled, toboggan, snow tube, or other sliding surface is safe and fun. Minnesota has several groomed trails, as do Iowa, Michigan, and more. Some places like Mount Hoy in Illinois and Buck Hill in Minnesota provide the tubes for visitors, so there's nothing to do but have fun. Options range from hills in a local park to serious courses with large vertical drops. Some have snowmaking capabilities for uncooperative weather. Be sure to check the rules and offerings before you prepare to head on out.
6. Snowmobiling
Snowmobiling is a great outdoor winter activity for those who love the thrill of driving. It's easy to zoom along fun Midwest snowmobile trails while still being out in the beauty of nature. Michigan offers more than 6,500 groomed snowmobiling trails. Minnesota offers snowmobiling trails around the beautiful Brainerd Lakes area, with some even going over lakes when frozen. The Cable Area in Wisconsin offers 1,200 miles of interconnecting snowmobile trail systems prime for extensive fun, and you can check out our article on the best snowmobile trails to experience in Wisconsin for more inspiration. If you have your own snowmobile, you can simply check to see current conditions, fees, and any limitations on where you want to ride. Otherwise, you'll want to check out local snowmobile rental options, which have different requirements and vary by vicinity.
7. Horseback Riding And Sleigh Rides
If you love equestrian sports, horseback riding in the snow is a great outdoor activity to add to your list. Being in the open air on the back of a horse with a view of wintry beauty around you is a real treat. In Illinois, White Pines Ranch offers snowy horseback riding with scenery that looks like something out of a fairytale. Kurtz Corral in Wisconsin and Boyne Mountain in Michigan also offer winter horseback riding. If you love the horses but would rather enjoy them from inside a warm and cozy sleigh, the Midwest has choices for magical horse-drawn sleigh rides as well. Check out Michigan's Fantail Farms or Minnesota's Grand View Lodge for some ideas. Most providers will require reservations and perhaps a deposit, so be sure to make your plans carefully.
8. Downhill Skiing And Snowboarding
While the Midwest is not known for towering mountains, there are great ski areas that provide downhill runs. In addition to being great exercise, downhill skiing is another way to enjoy nature in the Midwest winter. Skiing and snowboarding can often be done on the same hills. Best of all, prices tend to be affordable, so you can try different places during the season. South Dakota, Indiana, Michigan, Wisconsin, North Dakota, Minnesota, Missouri, Ohio, Iowa, and Illinois all have skiable areas. Compare the size and vertical descents of several ski resorts to see what they have to offer. One of our favorite spots is Chestnut Mountain in Illinois. It's a fun place to ski and snowboard. When you're done, you can head into the charming town of Galena for a bite, window shopping, and strolling around for more fun.
9. Ice Fishing
Ice fishing is one of those outdoor winter activities in the Midwest that you have to see to believe. Ice fishers range from folks sitting on overturned plastic tubs with a six-pack of beer to those with elaborate shelters, provisions, and gear. Either way, the idea is to go out on the thick ice over a deep, fish-filled lake, make a hole, drop a line, and wait for the fish to bite. When the weather is cold but sunny, the lakes in Madison, Wisconsin, fill with colorful huts and loads of people hoping to hook a big one. And as with all types of fishing, there are helpful tipsters to guide you to Midwestern ice-fishing hotspots.
10. Ice Skating
We love walking in Midwestern state and local parks, many of which maintain fun activity areas. Ice skating is popular with locals and visitors alike, and it's easy to see why. Whether you own or rent skates, there's little else you need to do. Just show up and take a spin. Michigan, Illinois, Minnesota, and other Midwestern states have several choices for outdoor skating. Near our Wisconsin neighborhood, Elver Park offers ice skating and ice hockey too. Parks frequently have rental programs for equipment. Others flood and freeze their own rinks regardless of what the weather brings. It's a good idea to check to see what's available before you go.
11. Dog Sledding
We're finishing off with what we consider to be the ultimate outdoor winter activity in the Midwest — dog sledding. Contrary to our thoughts that the dogs must hate mushing through the snow, they literally jump in the air hoping to get picked for a team because they love it so much. You may be able to steer the sled yourself, or you'll have a capable musher handle the duties. Wear warm clothing, cover your face to protect from the wind, hop into the sled, and prepare for the ride of a lifetime. A stop midway may give you the chance to enjoy the beautiful surroundings with a cup of hot cider or cocoa while the dogs get a rest. But it won't be long before the dogs start barking and jumping to let everyone know they want to get back to running again. Minnesota, Michigan, and Wisconsin have several dog-sledding outfitters to check out.
One TravelAwaits writer experienced the legendary UP200 in Marquette, Michigan. You can read his fascinating story — and learn about his recommendations in the area — here!
There's so much to do during winter, even when it's cold. We hope you look into some of our ideas for the best outdoor winter activities in the Midwest.