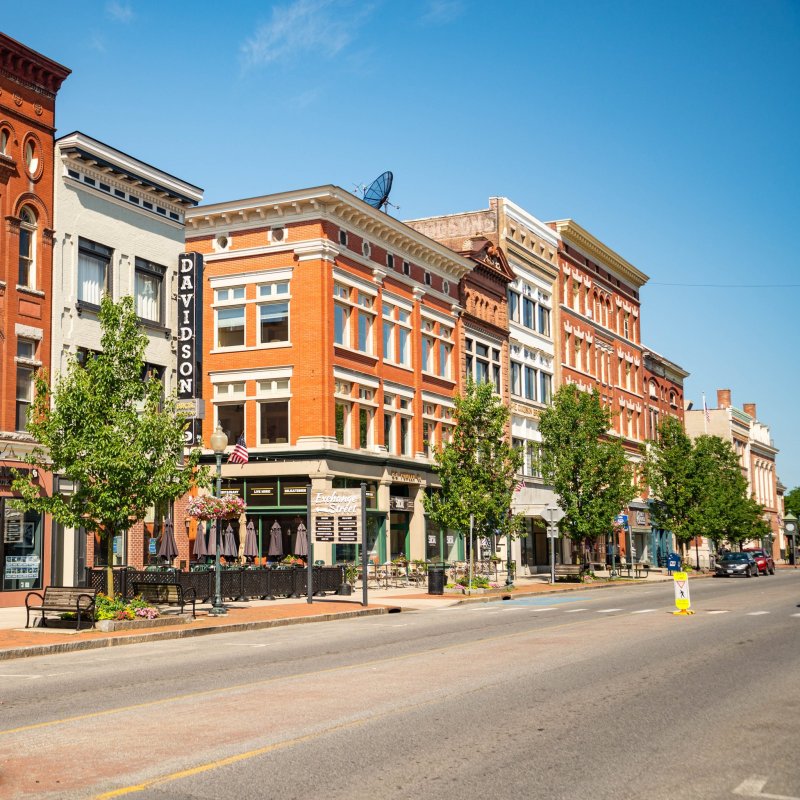 Are you yearning for quaint and charming towns with rolling hills or mountain views, historic sites, and small art galleries? There are still some pretty wonderful destinations out there, especially if you take advantage of the beautiful outdoors. Here are five of my favorite escapes from NYC.
1. Woodstock, New York
Although the Woodstock Festival of 1969 took place in Bethel, New York, about 65 miles away, the artsy Woodstock here in Ulster county still embodies the '60s spirit. Its main drag, Tinker Street, is filled with Indian clothes and candle shops, bookstores, great restaurants, and outdoor and indoor art. Although the population in Woodstock has been rising steadily during the pandemic, you can still escape the crowds (NB: For more sparsely populated streets, come during the week. Just call to make sure that your destinations are open).
Best Things To Do In Woodstock
You can find peace while navigating the trails of Overlook Mountain, a 2.5-mile moderate hike uphill with fantastic views of the Hudson Valley and the Catskills (plus a glimpse at the temporarily-closed Karma Triyana Dharmachakra, a Tibetan Buddhist monastery).
The Ashokan Rail Trail (ART) is easy to traverse — its 11.5-mile trail was built on the remains of the Ulster and Delaware Railroad and is therefore flat. Opened in the fall of 2019, the trail runs along the northern edge of the Ashokan Reservoir, which provides much of New York City's drinking water.
You'll need advanced timed tickets for the Woodstock Artists Association and Museum (WAAM) in the center of town, which means there will be crowd control. Many artists have called Woodstock home, and you can find the best of their works represented in the museum's collections, exhibits (including a youth exhibit space), and talks/events.
Outdoor art sites include the Woodstock Byrdcliffe Guild and Opus 40, a sculpture park in nearby Saugerties.
Best Places To Shop In Woodstock
Pegasus Footwear is a great store (hiking, comfort, casual) for shoe freaks like me. I am still wearing shoes that I bought at Pegasus 15 years ago.
The Woodstock Music Shop carries merchandise of the late Woodstock resident and The Band drummer Levon Helm, as well as instruments, electronics, vinyl records, percussion, and music accessories.
Best Places To Eat In Woodstock
I've been frequenting Joshua's Cafe for many years. My favorites at this casual restaurant on Tinker Street are the Middle Eastern breakfasts and brunches.
Silvia is family-run and owned by Brooklyn-born Korean sisters Doris and Betty Choi. Vegan kimchi and miso fish (and virtually everything else) is made in-house, with locally sourced foods from over 20 local farms.
Best Places To Stay In The Woodstock Area
Hotel Dylan is located about an 8-minute drive outside of town, and each room is named after a Woodstock musical icon. Stay in the Jimi, the Janice, or the Van. Their Santa Fe Woodstock restaurant is also recommended.
Kate's Lazy Meadow Motel is in Mt. Tremper, about 12 miles outside Woodstock. It is run by Kate Pierson of the B-52s and her partner, and their '50s-style cabins are filled with retro vintage furniture and appliances. The motel is wheelchair accessible and pet-friendly.
Woodstock Pro Tip
Stop off in Phoenicia if you're traveling west for a visit to the popular Phoenicia Diner, which serves breakfasts all day. A great place to stay halfway between Woodstock and Margaretville is at one of the properties at Catskill Getaways. Studios and cottages are all renovated with charm (and good Wi-Fi) and run by helpful hosts Alma and James.
2. Margaretville, New York
You'll find the quintessentially charming town of Margaretville at the base of Pakatakan Mountain, about 35 miles west of Woodstock. One of several small towns on Route 28, Margaretville has become an arts mecca for the area and has had a healthy influx of visitors frequenting the shops, restaurants, and art galleries.
Best Things To Do In And Around Margaretville
Kelly Hollow Loop offers a short and easy hike on one of the most beautiful trails in the Catskills.
Longyear Gallery on Main Street is an artist-run cooperative venture featuring the work of a growing group of regional artists. Much of the moderately price and high-quality art in the galleries is for sale, and, as artist and gallery member Gail Freund told me, many pieces are ending up in the homes of the growing number of new settlers in the area.
Best Places To Shop In Margaretville
Home Goods of Margaretville is a kitchen and home accessories store with cookbooks, home decor, and food staples.
Best Restaurants Near Margaretville
Arkville Bread and Breakfast features the "British Brekkie," a selection of cholesterol-filled English breakfast items. It is located in an old caboose, right alongside the historic Delaware-Ulster Railroad tracks, where you can wave at the antique trains on the weekends.
Peekamoose Restaurant and Tap Room has tasty food (from vegan cassoulet to roast porchetta) and an extensive (and largely locally sourced) liquor list, including beer from Catskill Brewing, among others.
Best Places To Stay In And Around Margaretville
Numerous inns and bed and breakfasts are available in the area. One of the closest to the Belleayre ski area (currently closed) is the Catskills Red Barn in nearby Highmount (available for booking on Airbnb), which features some 50 board games and a lovely walking trail nearby.
Margaretville Pro Tip
The Roxbury Contemporary Catskill Lodging is an over-the-top experience just a few minutes up the road. Check out the themed guest rooms (I stayed in The Wizard's Emeralds room with the Wicked Witch's legs sticking out from under the bed). There is a sister hotel, The Roxbury at Stratton Falls, too.
3. Saratoga Springs, New York
Saratoga Springs is a four-season destination with a plethora of things to do: glorious foliage in the autumn, cross-country and downhill skiing in the winter, biking and jogging through Saratoga Spa State Park in the spring, and racing and outdoor arts festivals in the summer.
Best Things To Do In Saratoga Springs
Saratoga Spa State Park is a National Historic Landmark located at the southern edge of Saratoga Springs. The park includes numerous trails, including a 2-mile paved walkway (Avenue of the Pines Loop) that can easily be navigated by strollers and wheelchairs. Also within the park (some temporarily closed) are:
Congress Park is along Broadway, just a short walk south from Saratoga Springs' shops and restaurants. The park is a great place to stroll, there is a casino that was built in 1870, statues (among them is The Spirit of Life, by Daniel Chester French, 1914), a carousel, and several springs and fountains.
Best Places To Eat And Drink In Saratoga Springs
Triangle Diner is a friendly and well-run place for breakfasts, sandwiches, and, yes, other diner food.
15 Church has both a restaurant and a patio just next door. They are known for New England-inspired food with a raw bar.
The newly revitalized Beekman Arts District is lined with restaurants, pubs, and food trucks.
Best Places To Stay In Saratoga Springs
Saratoga Arms is housed in a Second Empire-style brick mansion. Family owned and operated, this bed and breakfast offers 31 elegantly appointed guest rooms, all of which are decorated with 19th century-style furnishings
Chain hotels in town include the Saratoga Hilton, Embassy Suites, Homewood Suites by Hilton, and Best Western Plus.
Saratoga Springs Pro Tip
My favorite store in Ballston Spa (just south of Saratoga Springs) is Double M Western Store, the largest retailer of Western boots in all of Upstate New York. From Tony Lama boots to full-on Stetson hats, you'll feel as though you are far, far from upstate New York.
4. Litchfield, Connecticut
Litchfield, about two hours (100 miles) from New York City by car, is in the northwest corner of the state in an area filled with colonial history. There's a charming town green (established in 1720), where you'll see the white spires of the First Congregational Church — one of the most photographed churches in New England.
Best Things To Do In Litchfield Area
White Memorial Conservation Center is the largest wildlife refuge in Connecticut. The center offers a variety of diverse habitats and a 40-mile network of walking, hiking, and biking trails; trails range from the easy interpretive nature trail (.5 miles) to the moderate Five Ponds orienteering course.
Wisdom House is an interfaith retreat and conference center housed in a former college and convent for the Catholic Sisters. The 70-acre site has an outdoor labyrinth and reflection areas. The center offers programs (many free of charge) on art, ecology, health, and spirituality.
Best Places To Shop In Litchfield Area
Jeffrey Tillou Antiques carries old weather vanes, carved painted eagles, old barbershop poles, and more, all displayed over three floors.
Guy Wolff Pottery in Bantam sells the well-known potter's works, seen everywhere from Oprah's table to the Isabella Stewart Gardner Museum in Boston.
Best Places To Eat Near Litchfield
In the mid-'90s, George Malkemus and Anthony Yurgaitis (of Manolo Blahnik shoe fame) revived an old dairy farm in Litchfield and named it Arethusa Dairy Farm, then began to remodel old industrial buildings in nearby Bantam into restaurants and a cafe. Now the popular Arethusa empire includes an ice-cream shop that also offers cheese, butter, yogurt, and more, Arethusa Al Tavolo with "inspired American cuisine," and Arethusa A Mano coffee shop with salads and sandwiches.
Best Places To Stay Near Litchfield
Mayflower Inn and Spa in Washington is a grand, 30-bedroom hotel with a swimming pool and tennis courts set in 58 acres of landscaped gardens and woodland.
Winvian Farm in nearby Morris is a country retreat with 18 quirky cottages and a 19th-century clapboard house on 100 wooded acres. Check out the restaurant here for farm-to-table dishes, such as delicious pork with foraged ramps and currants.
Litchfield Pro Tip
See two historic covered bridges that cross the Housatonic River: the West Cornwall Bridge, built in 1841 and the longest covered bridge in Connecticut, and Bulls Covered Bridge Road Bridge, built in 1842, in nearby Gaylordsville.
5. Montclair, New Jersey
Montclair is home to talk-show host Stephen Colbert and to numerous other creative folks. One reason for its popularity is that it is relatively close to New York City (20 miles, about 40 minutes by NJ Transit or car). Residents and visitors also love its walkable streets, small stores, great restaurants, vintage houses, museums, and space to move in nearby parks.
Best Things To Do In Montclair
Brookdale Park was the first county park in the United States (established in 1895). Spanning Bloomfield (78 acres) and Montclair (43 acres), the park has tennis courts, gardens, a soccer field, a stadium, and a playground, and is the best place to hang out with your doggie friends.
For even more acreage, try Eagle Rock Reservation, a 400-acre park along the Watchung Mountains ridge between West Orange, Montclair, and Verona. Trails range from easy (the 3.4-mile Eagle Rock Red Tail Loop) to moderate (the 1.3-mile Eagle Rock Yellow Loop).
The Montclair Art Museum (MAM) has more than 12,000 objects: paintings, prints, original works on paper, photographs, and sculpture, with an especially splendid Native American art collection. Visit their website for more information on reservations.
Best Places To Shop In Montclair
The Montclair Antique Center is a group shop of over 50 dealers located at 34 Church Street, the heart of Montclair's shopping, entertainment, and dining district.
Watchung Booksellers is a community book store for a strong and enthusiastic literary community, including over 60 published local authors, and "uncountable publishing and media professionals."
Best Places To Eat In Montclair
Mishmish Cafe: Israeli chef Meny Veknin, a winner of Food Network's Chopped, offers his take on Mediterranean food at this comfortable cafe.
SLA Thai Restaurant: SLA stands for "Simple, Love, Authentic," and that describes the aura of this Northern Thai food eatery.
Best Places To Stay In Montclair
The George is a charming 32-room boutique hotel owned by makeup mogul Bobbi Brown, originally built as a private home in 1902. Dogs are welcome (at $75 per pooch per night, which gets Fido his own doggie bed).
The stylish MC Hotel is called "part gallery, part gathering place." Reservations for the MC's Allegory restaurant are encouraged.
For more inspiration, consider