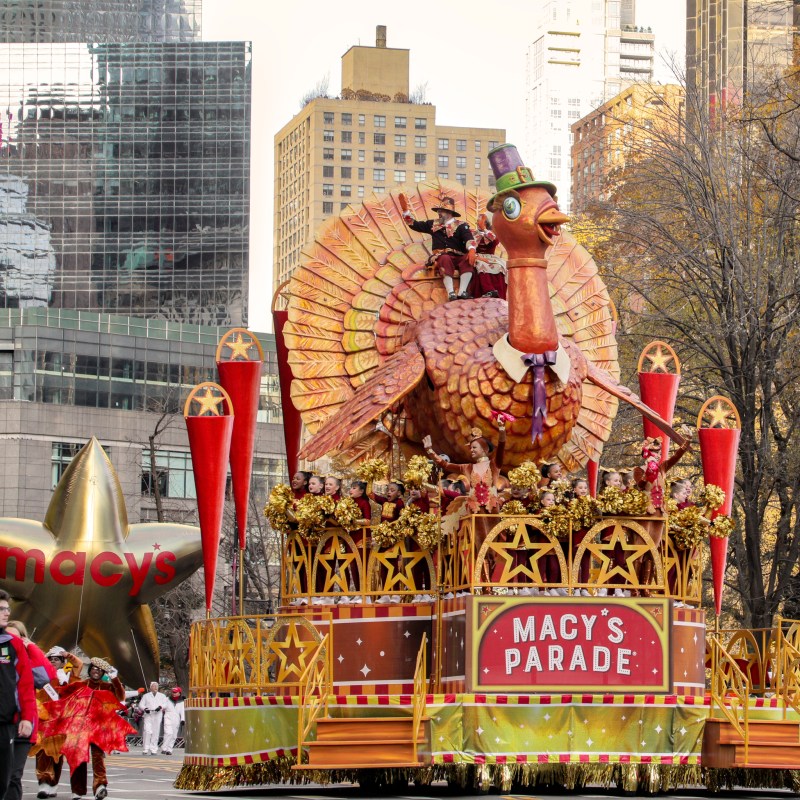 However uncertain 2020 has been, it will not stop the 94th Macy's Thanksgiving Day Parade. The parade has been a holiday tradition for millions since 1924 and is unlike any other, with its giant balloons, its colorful floats, and its A-list entertainers. It has become a staple of Americana on Thanksgiving morning. The challenge of the coronavirus pandemic forced organizers to stretch their imaginations in order to transform a traditional parade into a show for the times. Here is what is changing this year.
The Route
In recent years, the parade traveled down a 2.5-mile route, from 77th Street and Central Park West until it reached 34th Street at Herald Square — and the iconic Macy's flagship store. Millions of spectators lined the street from beginning to end. This year's Macy's Thanksgiving Day Parade will be a much smaller production, designed for TV cameras and taking place on that one block of iconic 34th Street right in front of the store.
The Balloons
The centerpiece of the Macy's parade is of course its signature giant character balloons. These behemoths rise as high as 50 feet and are about as long. The traditional teams of up to 100 people, who have famously guided the giant balloons, will be replaced by "an innovative, specially rigged anchor vehicle framework of five specialty vehicles," according to the Macy's website.
But the line up of balloons remains impressive, including the Red Titan from Ryan's World, Boss Baby, Astronaut Snoopy, and of course, Ronald McDonald. Here's a complete list of all that will appear.
The Floats
You simply cannot have a parade without floats, and even without a route to travel, floats will very much be a part of this parade. In fact, 25 floats are expected to take center stage during the festivities, including several making their Macy's Thanksgiving Day Parade debuts. Keep your eyes open for the "Jenny O Big Turkey Spectacular." Each of the performers on the float will be carrying feathered fans to bring the turkey's tail to life.
Also, making its first appearance in the parade is Lifetime Network's "Christmas in Town Square," a depiction of Christmas in small-town America, which is a theme of many of the movies seen on the network.
Editor's Note: Love holiday movies? Do not miss our guide to the 10 Pennsylvania towns that feel like you're in a Hallmark Christmas movie.
People On The Ground
With safety being paramount, organizers put together a plan to keep everyone safe while still putting on a show that all of America can be proud of. They reduced the number of necessary people on the ground by 75 percent and everyone will be socially distanced and masked.
The Bands
Sadly, the popular performances of high school and college marching bands had to be canceled, but those acts have been replaced by New York City area bands and performance groups, including The Coney Island USA's Mermaid Parade, The Big Apple Circus, and the West Point Band. All missed their chance to perform in other parades canceled in New York City throughout the year due to COVID-19 and will have their chance on Thanksgiving.
The Entertainment
There will be no shortage of entertainment in this year's parade. NBC News's Joe Fryer reported on the Today Show that the popular Broadway cast performances will return, albeit in pre-recorded performances. Notably the cast of the Broadway show Hamilton was recently seen pre-taping a street performance. Other Broadway hits including Ain't Too Proud, Mean Girls, and Jagged Little Pill, are contributing pre-taped numbers.
The list of musical stars is also impressive. Be on the lookout for performances from Dolly Parton, Pattie Labelle, Leslie Odom, CNCO, and Jordin Sparks. And, of course, the anchor of the show, Santa Clause is expected to appear.
How To See The Parade
NBC and Telemundo will televise the 2020 Macy's Thanksgiving Day Parade on Thanksgiving morning starting at 9 a.m. EST. Hosts Savannah Guthrie, Hoda Kotb, and Al Roker will also be joined by Jimmy Fallon and The Roots for a special performance.