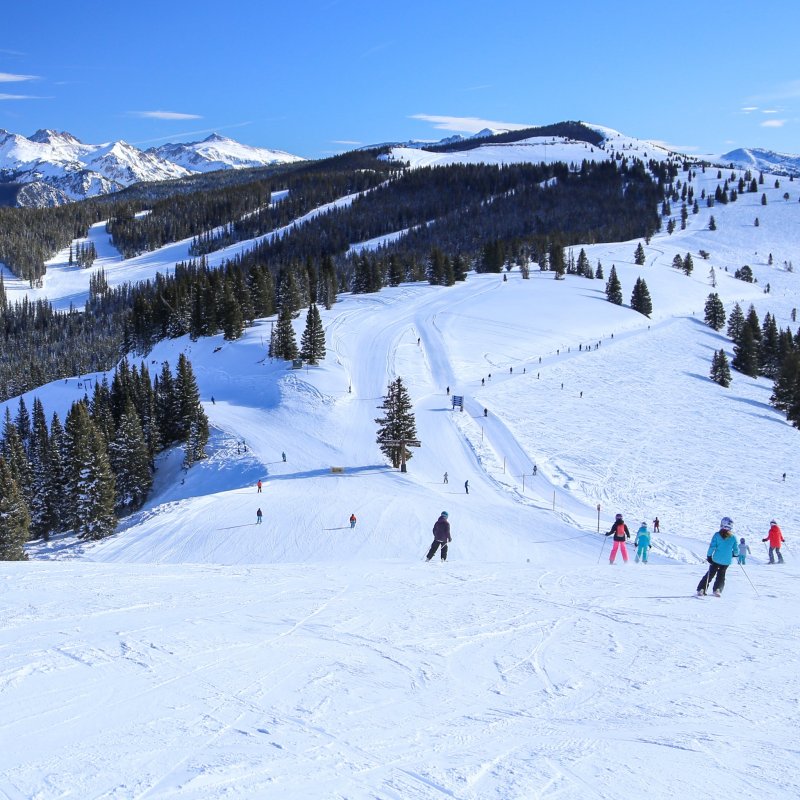 Shining blue cloudless skies and sparkling new white snow beckon skiers from across the globe to relish a Colorado bluebird day. The Colorado Rocky Mountains are synonymous with amazing skiing. You will find some of the best resorts in the world just a short driving distance from Denver.
Colorado ski resorts offer exceptional skiing and snowboarding opportunities for the expert skier. However, there is no need to be intimidated by the Rocky Mountains — these resorts also offer lessons, ski rentals, and bunny slopes for the new-to-skiing crowd. Of course, the apres-ski scene is the perfect way to end a day after soaking up the crisp mountain air while sailing down fresh powder.
The top six resorts are easy to identify, and every skier and snowboarder wants to check out their runs. There is a lot of discussion regarding the next best resorts in the state, with so many fantastic choices it is difficult to choose. If you ask a Denver local, they will tell you two of their favorite local resorts are Arapahoe Basin and Winter Park.
Many ski resorts in Colorado are on either the Epic or Ikon Pass. The Epic Pass gives you access to top-rated ski areas across the United States, Canada, Japan, and Australia, and has partnerships with some European resorts. The Ikon Pass covers many of the same resorts and offers different features.
Whether you are a newbie, intermediate, advanced, or extreme skier or snowboarder, one or all of these Colorado ski resorts should be your next winter vacation getaway.
1. Vail Ski Resort
Vail is the crowning jewel of Colorado's ski towns. A mecca for global ski enthusiasts, Vail offers 5,317 acres of skiable terrain including 3,017 acres of back bowls, supported by 31 lifts. With extreme acreage comes extreme opportunities, and Vail's epic back bowls bring tears of joy to those who experience the vast, powdered fields of snow. The bowls are legendary and every strong, experienced snowboarder and skier's deep-powder dream. If endless miles of wide-open terrain and secret stashes are your heart's desire, Vail's back bowls must be on your bucket list.
Grab an Adirondack chair by the fire pit and relive your best runs of the day. Enjoy an expertly crafted brew from the Vail Brewing Company and a bite from one of the local restaurants for your apres ski revelry.
For luxurious stays, Vail offers resorts like The Arrabelle at Vail Square where you can walk home after a glorious day on the slopes and an entertaining evening in Vail Village.
Closing weekend at Vail is a crazy, non-stop extravaganza. Costumed skiers, concerts, parties, and merriment close out the season. Closing weekends are announced on the website toward the end of the season. Closing is traditionally around the end of April.
Pro Tip: When you need a break from the slopes, here's a list of other options: 10 Wonderful Things To Do In Vail Besides Skiing.
2. Aspen Snowmass
Aspen Snowmass is located a short distance from downtown Aspen. Snowmass offers 3,339 acres of skiable terrain and the second biggest vertical drop in the United States, at 4,406 feet. Imagine the excitement of traversing that downhill run.
Check out Snowmass' First Tracks. Skiers and snowboarders with solid skills can join the staff in experiencing the first run of the day. Play at being an Aspen insider and be the first of the day to cut tracks in the freshly groomed snow or fluffy, new powder.
If you love dive bars, you will love the Red Onion in downtown Aspen. Servicing patrons since 1892, the Onion is a hang out for Aspen's in-the-know crowd. You never know who you will run into; business insiders, celebrities, and athletes frequent this local hub. Grab a seat at the bar for some friendly conversation, a drink, and a nosh.
Pro Tip: Ski like a local and take an afternoon run downtown at Snowmass' Aspen Mountain. Referred to as Ajax by locals, Aspen Mountain is a ski resort skirting the edge of downtown Aspen. Now a full-fledged resort, Ajax's first run was built for the local business crowd to enjoy at lunch or after work.
3. Breckenridge Ski Resort
Breckenridge Ski Resort, or Breck to her fans, is simply massive. Offering 34 lifts to support 187 trails, Breck is a local's top choice. Its four terrain parks include massive jumps, rails, boxes, jibs, and the Freeway Park which is home to an 18-foot halfpipe. If you have the need for speed and catching big-time air, you will have plenty of opportunities here.
Head to the top of peak seven for spectacular views and intermediate runs. Looking for something a little more challenging, peak six will be the ticket. The high alpine terrain and views that go on forever will make up for having to navigate a tricky T-Bar lift to get to the summit.
The town of Breckenridge is exactly what you would expect from a ski town. Rustic and quaint. You will be charmed by her main village thoroughfare. Restaurants and inns welcome you with Rocky Mountain country charm lit by strands of lights creating a warm, glowing effect and giving everything a soft, wintery sparkle.
If you're looking for some ski-in, ski-out luxury lodging, One Ski Hill Place, located at the base of Peak 8, will fit the bill. The convenience of being on the slopes and immersed in the laid back ski town vibe will make your getaway unforgettable.
Pro Tip: Stroll downtown Breck and check out the variety of dining options. Many of the restaurants are unpretentious and casual but offer locally sourced, expertly crafted cuisine.
4. Steamboat
Steamboat welcomes you like a long lost family member who has returned home. They offer 2,965 skiable acres supporting 169 trails reached by 18 lifts. This family-centric resort is a wonderful spot for a reunion. Couples will also enjoy the convivial vibe and friendly atmosphere.
Steamboat's glades ride between perfectly placed fir trees and aspens with ungroomed trails covered in glorious, powdery snow. The most popular glades, Shadows and Closets, will transport you to skier's nirvana. If you desire something a little less black diamond, Morningside Park offers a wide bowl with groomed trails and intermediate friendly glades.
Pro Tip: Pack your swimsuit — the Steamboat area is known for their hot springs. Find your own soaking space and let the aches and pains of the day just melt away.
5. Beaver Creek Resort
Beaver Creek Resort offers a more intimate mountain experience. The 1,832 skiable acres sport 150 trails serviced by 23 lifts. Known for gifting free chocolate chip cookies all day long, you should never experience the hangries at Beaver Creek. Not to worry — you can burn those calories off in a run or two.
The quaint and charming Beaver Creek Village has everything you need for your ski getaway. You will find a good selection of eateries, plenty of shopping, and a range of lodging options.
Pro Tip: Beaver Creek is 13 miles west of Vail, making it a little longer drive from Denver. The advantage of driving the few extra miles is Beaver Creek's smaller crowds. If you desire a more peaceful getaway, Beaver Creek is the place for you and worth the drive.
6. Telluride Ski Resort
Located in the near southwest corner of Colorado is Telluride Ski Resort. Boasting the biggest vertical drop in the United States, and third in North America, Telluride checks in at 4,425 feet.
Telluride is legendary for its Gold Hill Chutes. These expert-only areas are designed to challenge even the most seasoned skier. The extreme terrain requires a lift ride and then a hike to reach the top, before a heart-pumping, plummeting run down the snow-covered rock face. These challenging chutes and bowls require top-notch, expert skiing and snowboarding skills.
Not to worry — Telluride offers gentler slopes and glades for beginner and intermediate skiers and snowboarders.
Pro Tip: Celebrity sightings at Telluride are common — if you can see behind the goggles. L.A. celebrities love the convenience of Telluride paired with the beauty of the mountains, and many own ski houses in the area or visit for getaways.
7. Arapahoe Basin Ski Area
Arapahoe Basin, or A-Basin to those in the know, is located in Dillon. On the smallish side with 1,400 skiable acres, 147 trails, and nine lifts, A-Basin is where you will find Colorado locals enjoying their beautiful Rocky Mountains.
Head to The Beach, a stretch of parking along the base of the mountain where tailgating parties run all day long. Everyone is welcome, everyone is friendly, and everyone loves Colorado in the winter.
Pro Tip: At the top of your apres ski list should be a stop at the 6th Alley Bar and Grill for one of their legendary Bacon Bloody Marys. Libation lovers will enjoy the double shot of Bakon Vodka and proprietary Bloody Mary mix served with a crispy slice of bacon. Add a Coors Light Side Car to round out the experience.
8. Winter Park Resort
Winter Park Resort has a sizable 3,081 skiable acreage with 166 trails supported by 23 lifts. The legendary Mary Jane slopes will satisfy your free skiing dreams. With moguls, ungroomed trails, and plenty of powder, you can carve your own path down the mountain.
Pro Tip: Winter Park is just under 70 miles from Denver, making it a doable day trip from the Mile High City.
Don't forget to pack the skiing essentials! Check out our top picks below:
The Best Gloves For Skiing
The Top Compression Socks For Men And Women
The Best Ski Boots Review
The Best Ski Jackets Of 2020