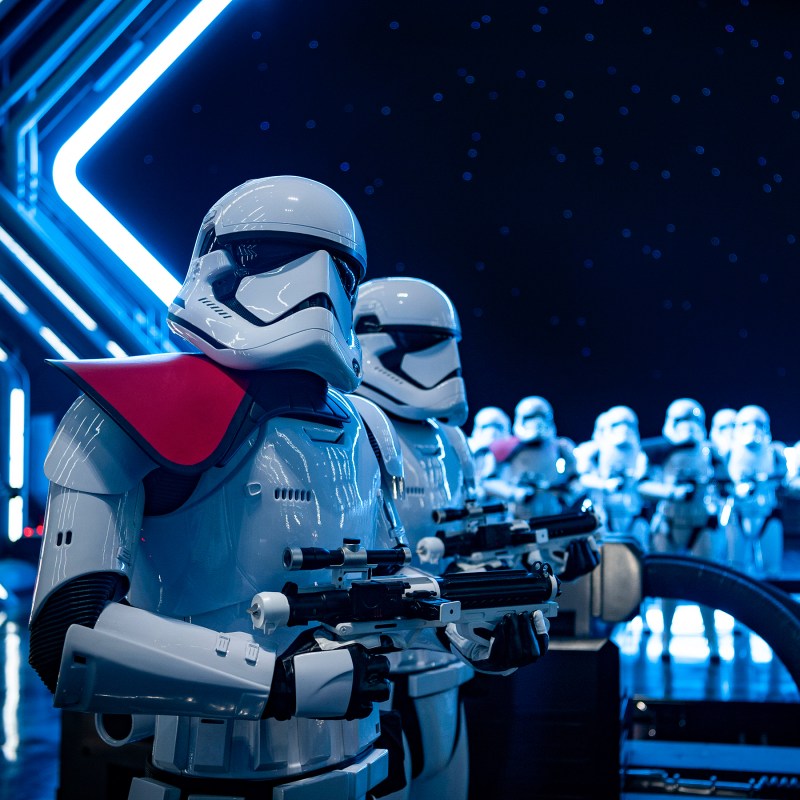 Cinematically speaking, there is nothing more menacing than the sight of an Imperial Galactic Starcruiser chasing after your tiny-by-comparison Rebel cruiser in the opening scene of the first Star Wars. Galactic Starcruisers would only continue to be a symbol of evil in that galaxy far, far away.
Star Wars is now a part of the Disney family, and that is amazing news for super-fans and theme park lovers, because Disney has been working for years to bring the worlds of Star Wars to life — and today, the reality is even closer.
Disney has given us our first glimpses into what some of the rooms will look like in the upcoming Star Wars: Galactic Starcruiser hotel in Orlando. The images were released on Disney's official Disney Parks blog on Monday.
According to the company, guests will live aboard the starship for a 2-day, 2-night experience where they become the heroes of their own Star Wars story.
"Guests will cruise the galaxy in style aboard the Halcyon, known for its impeccable service and exotic destinations. Onboard, you'll stay in well-appointed cabins, experience onboard dining, make a planet-side excursion to Black Spire Outpost on Batuu and much more," writes Disney on its online blog.
The images depict plush yet compact living quarters (probably reserved for the Imperial officers) with a queen-sized bed and two bunk pods, fitted nicely into a wall. Just as you might expect to find on a Starcruiser.
Guests onboard the Halcyon will be treated to a view of the changing galaxy right from their rooms. According to WDW News Today, a leading Disney blog, "a screen mounted to the wall of the cabin shows the ship's current trajectory and may well double as a TV."
Travelers will have two room options: a regular sized cabin or a larger "Captain's Quarters" cabin. Each floor is expected to feature 32 regular rooms and two first-class rooms. Pricing has not officially been announced, but WDW reports "expected pricing for 2-night/3-day stay starts at $3,300 for one person, or just over $1,000 per person, per day."
Pre-COVID, Disney planned to open this hotel in 2021. No new time table has been offered. Last week, Disney did announce it was increasing it's Orlando park's capacity from 25 to 35 percent in compliance with current CDC regulations and restrictions.
Still On Hold In California
While more Disney fans can enjoy the fun in Florida, the story is not the same in California. Last week The Orange County Register reported that Disneyland Resort's three hotels will remain closed indefinitely as the state-mandated closure of nearby Disney parks nears eight months.
If you're curious about what it's actually like to visit Disney right now, here's what you need to know.