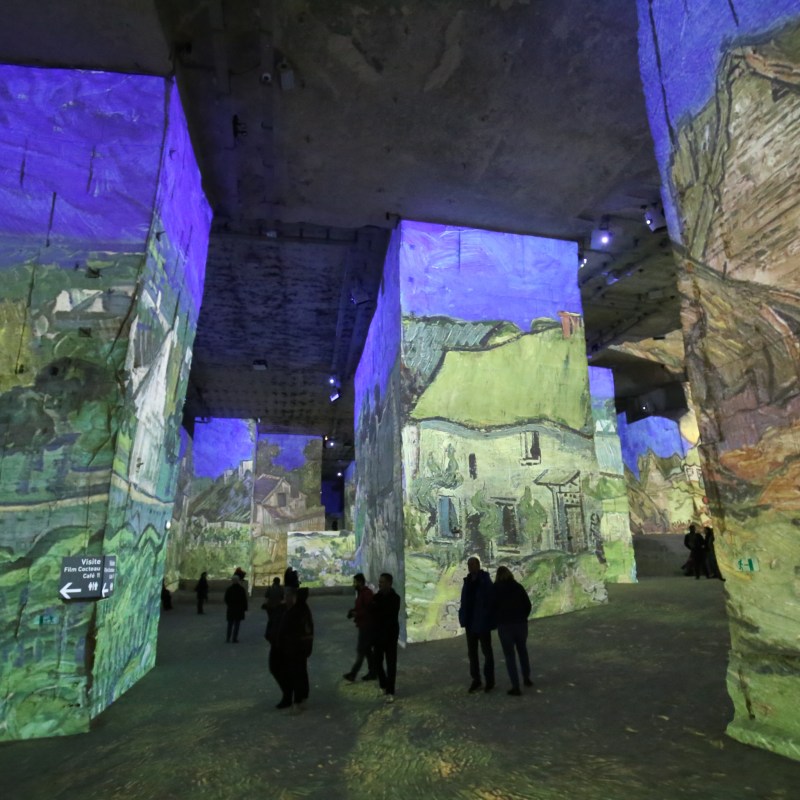 Famous for oil-on-canvas paintings such as Starry Night and Sunflowers, Vincent van Gogh (1853-1890) is one of the world's most well-known artists. The Dutch post-impressionist painter — who was notably played by actor Kirk Douglas in the celebrated movie Lust for Life — used bold colors, thick brushstrokes, and liberal amounts of paint to create landscapes, still lifes, portraits, and self-portraits.
Van Gogh's work is stunning when seen in person, but taking art appreciation to a new level, Grande Experiences has created an exhibit that truly is an immersive experience.
Now, after years of impressing art lovers across Europe, Asia, and Australia, the Van Gogh Alive exhibit has finally made its way to North America.
Making its debut on Saturday, November 21 at The Dali Museum in St. Petersburg, Florida, the exhibit creates what can only be called a full sensory experience. Of course, paintings such as Starry Night and Sunflowers will be on display, as will more than 3,000 other works.
What sets this exhibit apart from others is that it displays the artwork at enormous scale, using high-definition projectors on both the walls and floor. The paintings are also accompanied by a synchronized, classical music soundtrack played with cinema-quality surround sound, intended to draw visitors into Van Gogh's artwork. The experience is powered by SENSORY4, a system developed by Grande Experiences of Melbourne, Australia.
"Dali seems to intersect in his interests and life with nearly every significant cultural movement, event, or person of our era — Van Gogh is no exception," said Dr. Hank Hine, executive director of The Dalí Museum. "Van Gogh and Dali shared a passion for landscape and the portal it provides to a hidden world. A glimpse of Van Gogh's world will be transformed onto the walls and floors of our gallery, providing a dramatic and awe-inspired experience for our audience."
The Van Gogh exhibit runs from November 21 to April 11, 2021. Advanced timed tickets are required for all visitors, including members, for this exhibit. This exhibit is included in the price of museum admission.
Editor's Note: In March 2021, The Dali Museum announced Van Gogh Alive would be extended to June 13, 2021.
Tickets are currently available for entry from November 21 to January 3, 2021. Additional tickets for the remaining exhibit window will be released in December.
As is expected during the COVID-19 pandemic, The Dali Museum is operating at reduced capacity via timed ticketing and has reinforced physical distancing reminders throughout the museum. All staff and visitors are required to wear masks and have a thermal temperature check upon entering the building.
Finally, don't worry if you aren't near Florida and/or travel to St. Petersburg isn't possible for you right now. The exhibit will also travel to the Newfields Museum in Indianapolis next June.
Want more on museums? See all our museum content here, plus our virtual tour recommendations if you're looking to experience art and more from home.