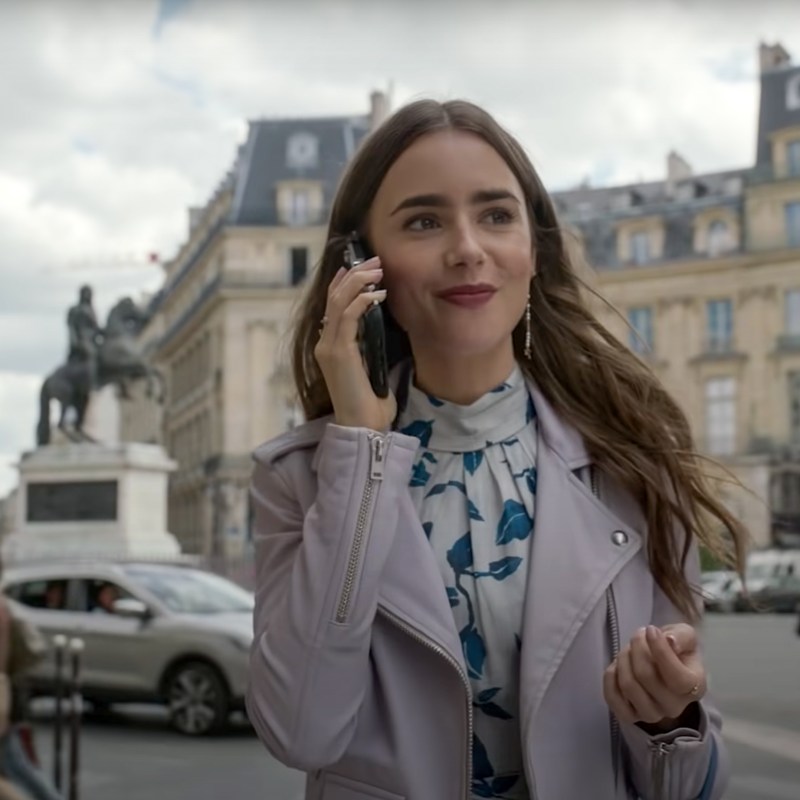 The new hit TV show on Netflix, Emily in Paris has been a worldwide sensation and was the number one show on the platform in many countries when it premiered in early October.
The plot of the show revolves around the young, smart, and pretty Emily Cooper, played by the charismatic actress Lily Collins, who works at a marketing company in Chicago. Emily is sent to Paris at a moment's notice for a new job with an affiliate of the Chicago office. Speaking not a word of French besides croissant, and knowing almost nothing about Paris, she is thrust into a brave new world. Naively thinking her positive, can-do American attitude will be all she needs to conquer the city, she stumbles literally and figuratively at first, but later picks up the pieces and begins to succeed. The show captures the thrill and adventure of Emily making her way in the City of Light with her new job (and her thorny female boss who constantly outmaneuvers her), her love life and dating French men, and learning the ins and outs of French culture and daily life, sometimes the hard way.
Emily in Paris is produced and created by Darren Star, who also created the smash-hit series Sex and the City. Star enlisted legendary costume designer Patricia Field, who changed the face of fashion when she designed the costumes for Sarah Jessica Parker and the cast of Sex in the City, to dress the cast of Emily in Paris in Parisian chic.
The series was shot entirely in Paris content with no fake or replacement locations and shows many of the most beautiful and iconic Paris monuments plus some off-the-beaten-track locations.
Since I am a tour guide and have been living in Paris since 2005, I instantly recognized almost every location in the show, many of which are on my tours. The show inspired me to make my own Emily in Paris video, where I share the history and information of the locations and some insider tips.
The video is available for purchase here. Read on for an exploration of some of the locations in the show and in my video.
Place De L'Estrapade
In the first episode of Emily in Paris, Emily moves into her sixth-story apartment with no elevator, trudging up the stairs with her luggage. The apartment on the top floor is a chambre de bonne, which originally was a tiny maid's or servant's room converted into an apartment. Many students or young people when they first come to Paris live in chambre de bonnes because they are inexpensive. Although Emily's apartment seems pretty small, it's actually bigger than most chambre de bonnes, which usually measure 150 square feet, with no kitchen except for possibly a hotplate and mini-refrigerator, and the toilet is down the hall.
The location of the apartment is Place de l'Estrapade, a charming, small square and park with a fountain in the Latin Quarter on the Left Bank/Rive Gauche.
La Boulangerie Moderne
In the scene after Emily checks into her apartment, she goes to La Boulangerie Moderne, which is an actual bakery just a few doors from her apartment. She bites into a pain au chocolat then has an expression on her face like she's having an out-of-body experience. This is spot-on accurate. One of the reasons why French boulangerie pastries taste so good is that in order to be called an official boulangerie, they must make all of their pastries and breads on the premises, and that means they are baked daily for freshness. Emily may have gotten lucky and tasted a pain au chocolat right out of the oven, which frequently happens.
Have your own French pastry experience at one of these seven best bakeries in Paris according to a former baker.
Place De Valois
Emily arrives at Place de Valois, where her office is located, and wanders in a clandestine courtyard near the Louvre. The handsome limestone buildings lining the square are from the 17th century, and next door to the office is Galerie Fourtin, an upscale showroom featuring midcentury modern and contemporary furniture and home accessories. Many fashion advertising and marketing firms are located in this area as are the headquarters of some luxury fashion brands.
Palais Royal
On her first day at work, after her fellow workers shun her when she asks them if they would like to go to lunch with her, Emily is seen having a quiet lunch on a park bench until she is rudely interrupted by two children who accidentally knock her baguette to the ground. This prompts their nanny to scold the children, and she then befriends Emily.
This scene takes place at the Palais Royal, which is one of the most beautiful parks and gardens in Paris and just a few steps from Emily's office. The Palais Royal — one of our picks for "5 Secret Paris Parks And Gardens Locals Love" — was built as the private palace for Cardinal Richelieu between 1633 and 1639. Unfortunately, Cardinal Richelieu lived in the completed palace for only three years before he died in 1642. The palace was later inhabited by different generations of French royalty including King Louis XV, Philippe d'Orleans, and Queen Anne of Austria.
In 1786, parts of the Palais Royal were converted into shops, galleries, fashionable boutiques, restaurants, and cafes, creating the first shopping mall in Paris. It was a big tourist attraction, and Europeans and Parisians flocked to the Palais Royal to dine, shop, and be seen. The plot to enact the French Revolution was secretly hatched at a cafe in the Palais Royal and executed a few days later on July 14, 1789, with the storming of the Bastille prison.
In a later episode of Emily in Paris, Emily frantically tries to make last-minute reservations at one of the most prestigious restaurants in Paris, Le Grand Vefour, to impress her boss and their clients. She thinks she has lucked out when she scores a reservation online, until one of her coworkers tells her she mistakenly reconfigured the dates and the reservation is months away.
Le Grand Vefour is located in the Palais Royal and is one of the oldest and most beautiful restaurants in Paris. Opened in 1784 as the Cafe de Chartres, it was later taken over by Jean Vefour and named Le Grand Vefour. Today Le Grand Vefour is owned by chef Guy Martin and has received two Michelin stars.
La Maison Rose
Literally meaning the pink house, La Maison Rose is the adorable restaurant where Emily and her friend Mindy have dinner before their wild night out on the town. La Maison Rose was established in 1905 and has had many owners and changeovers but still remains an independent cafe serving fresh, local, and seasonal cuisine.
La Maison Rose is located in Montmartre, one of the most beloved and visited neighborhoods in Paris. Montmartre, which rises 430 feet above Paris, was originally a country village until it was annexed into the city in 1860. The hilly, cobblestone streets, individual houses, and greenery in Montmartre still make it seem like a village. In the late 1800s and early 1900s, Montmartre was the home of poor artists who later became world-famous, including Monet, Degas, Renoir, Toulouse Lautrec, Van Gogh for a short period of time, and a young Picasso. The second most visited church in Paris, Sacre Coeur, and the Moulin Rouge night club are also in Montmartre.
Pont Alexandre III
Paris has 37 bridges crossing the Seine River, which divides Paris into the Rive Gauche/Left Bank and the Rive Droite/ Right Bank.
The Pont Alexandre is the bridge where Emily attends the making of a commercial for a new perfume — and she discovers the model walking across the bridge is wearing nothing but a pair of high heels.
Constructed between 1896 and 1900, the Pont Alexandre is the most ornate Seine bridge in Paris and is decorated in the beaux arts style with crystal lamps, gold nymphs, and cherubs. The highlight of the bridge is the four 56-foot-high columns with gilt bronze sculptures on top. The sculptures represent the sciences, the arts, industry, and commerce.
The inauguration of the bridge in 1900 coincided with the opening of the Grand Palais and the Petit Palais, just across from the bridge, for the 1900 World's Fair.
The bridge was named after Tsar Alexander III from Russia, who helped negotiate the Franco Russian Alliance in 1892.
A number of other films and television shows have used the Pont Alexandre as a backdrop, including the James Bond film A View to a Kill, the 1998 film Ronin, an Adele video, The Sopranos, and the Woody Allen film Midnight in Paris.
Place Trocadero And Palais De Chaillot
The already iconic shot of Emily in a gorgeous, black strapless dress viewing the glittering Eiffel Tower, takes place in the chic Cafe de l'Homme inside the Musee de l'Homme.
The museum is located on Place Trocadero, in a building that is part of an arts and culture complex, Palais de Chaillot. It was built in 1937, and the center plaza is where visitors gather to get the best view of the Eiffel Tower.
Are The French Really That Rude?
A question I am asked all the time by my tour clients — and one that's been brought to the fore by Emily in Paris — is "Is it true that the French are rude?" This is a tricky question. I was born, raised, and lived in New York City until I moved to Paris in 2005. Many people say New Yorkers are rude, but I rarely found that true, although there were certainly times they were. Parisians can sometimes be a bit formal when you first meet them, and this may be construed as rude. Also, there are definite etiquette rules to be followed. For instance, you must always say bonjour as a sign of acknowledgment when you go into a shop, hotel, restaurant, or cafe, even if you are just looking or don't want anything. Another thing many of my clients say is how pleasantly surprised they were that the Parisians are so nice and friendly. There's been a longtime partially true myth that Parisians are rude, but that has changed considerably since I moved here. The city is definitely more tourist-friendly now, and most establishments that cater to tourists have staff who are more accommodating than before, and they also speak English.
Pro Tips: I would be happy to take you on a live Emily in Paris tour with my company, Eye Prefer Paris Tours. You can also consider all our Paris content and my reflections on my travels in France and beyond here.