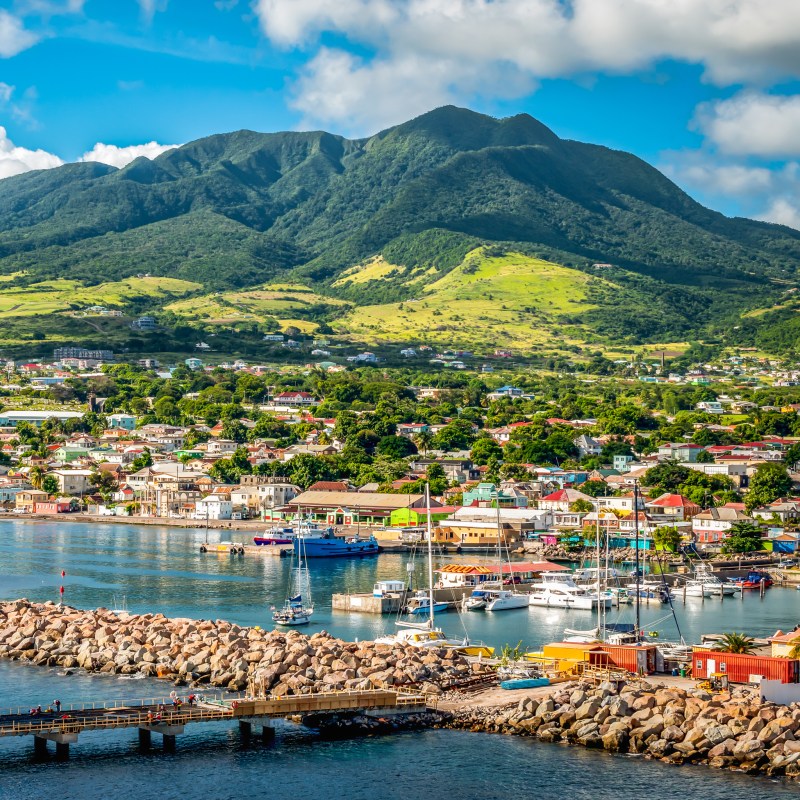 Americans longing for a little Caribbean sunshine this winter have another option with St. Kitts and Nevis opening its borders to international travel this month. But before you pack that bathing suit and suntan lotion, be aware there are still a number of travel restrictions in place in the island nation.
All incoming passengers to St. Kitts and Nevis are required to complete a Travel Authorization Form, available at www.knatravelform.kn, prior to their arrival. Visitors must have proof of a negative COVID test taken within 72 hours of travel and proof of a booked accommodation to complete the form.
The completed form will be reviewed, and the traveler will receive an approval letter to enter the Federation.
There are currently seven hotels in St. Kitts and Nevis that are approved for international visitors: Four Seasons, Koi Resort by Curio (a Hilton property), Marriott Vacation Beach Club, Paradise Beach, Park Hyatt, Royal St. Kitts, and St. Kitts Marriott Resort
Upon arrival in the Federation, visitors must show their approval letter and a copy of their negative COVID PCR test. They will also undergo a temperature check and complete a health questionnaire and be required to download a contact-tracing mobile app.
In addition, there are restrictions on visitors based on their length of stay in St. Kitts and Nevis.
During the first seven days, visitors are free to move about the hotel property, interact with other guests, and take part in hotel activities.
On their seventh day, visitors will take another COVID PCR test at a cost of $150. If it is negative, they can book excursions and visit select destinations booked through their hotel for the following week.
Another test will be taken on the 14th day, and, if negative, travelers can move about the island nation and participate in activities without restriction.
If visitors stay fewer than 14 days, they must take a COVID PCR test with negative results before being allowed to leave.
If that seems like a lot of effort, St. Kitts and Nevis is worth the trouble. In addition to the world-class beaches, there is much more to see and experience. About one-quarter of St. Kitts is covered by rainforests, and the island features Mount Liamuiga, a volcano that has been dormant for 200 years and can be accessed via a 3-hour hike. The island also features a sugar train that gives visitors the best tour of most of the island.
And with cold weather settling in across much of the United States, the mid-80s temperatures are pretty appealing right about now.
For more information and updates, visitors should check the St. Kitts Tourism Authority website and the Nevis Tourism Authority website. You can also see all our St. Kitts and Nevis content here.