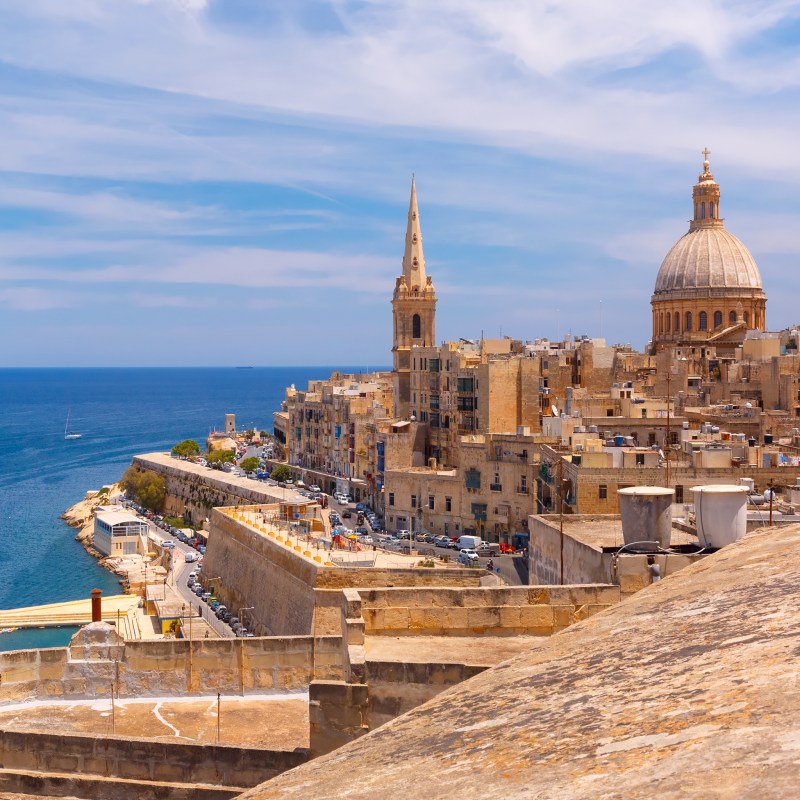 Centuries of history, stunning seascapes and coastline, clear crystal waters for diving, WWII war rooms, some of the best weather in the world, and delicious food — you can enjoy it all on a tiny archipelago of islands called Malta, which UNESCO has recognized for its three World Heritage Sites.
The Republic of Malta is composed of three islands: Malta, Gozo, and Comino. I recently rented an apartment on the island of Malta and spent 10 days exploring.
I was fortunate to receive three comps on my visit; however, this review consists of my own thoughts.
Things To Know Before Visiting Malta
Centered in the middle of the Mediterranean Sea, just south of Sicily and north of Africa, Malta (the Maltese Islands) is small in stature. Approximately 17 by 9 miles in size but huge in historic and cultural heritage, Malta claims to have one of the highest historic concentrations per mile in the world. With a population of nearly 500,000, Malta is also one of the most densely populated areas.
A brief history will help you to understand the significance of Malta.
Long considered the crossroad of the Mediterranean, the documented history of Malta dates back to 5000 B.C. Its location led to a succession of early invaders including the Phoenicians, the Romans, the Normands.
In 1530, the Knights of Hospitaller, Order of Saint John arrived. They were the elite of European aristocracy. The knights left their mark with the beautiful St. John's Co-Cathedral. Napoleon ousted them in 1798, and Malta sought protection from the British Crown. The British were in Malta for about 160 years. Malta played a huge role in the Allied Victory of WWII. Its independence from the United Kingdom was gained in 1964.
Malta's official languages are Maltese and English.
Things To Do In Malta
1. Visit St. John's Co-Cathedral In Valletta
The gem of Malta, St. John's Co-Cathedral is located in the main city of Valletta and holds some of the most important treasures on the island. The interior is considered to be one of the best examples of European baroque architecture.
Built by the Order of Saint John, the ceiling features frescos of St. John's life. The marble floor is a series of tombs of the Knights of Malta. Ornate marble tombstones also decorate the nave.
The main artistic highlights are two canvases painted by Caravaggio, one of which is the only one he ever signed, and his largest painting: The Beheading of Saint John the Baptist. Saint John was the patron saint of the Knights of Malta. St. John's Co-Cathedral is listed on the National Inventory of the Cultural Property of the Maltese Islands.
The entry fee includes an audio guide. The cathedral is a must-visit. Plan to spend at least 3 hours here.
Pro Tip: Visit early in the morning to avoid long lines.
2. Lascaris War Rooms In Valletta
Malta played a pivotal role in the Allied victory of WWII. Spend a morning learning about this history at the Lascaris War Rooms, also located in Valletta.
The war rooms are an underground series of chambers that housed the headquarters of the Supreme Allied Commander. This is also where U.S. General Eisenhower and the British Generals launched Operation Husky, the Allied invasion of Sicily.
As a result of these efforts, over 15,000 tons of bombs fell on Malta, more than what fell on England. Malta paid a big price and was heavily damaged during the war.
The Lascaris War Rooms are also a must-visit. The admission fee includes a guided tour. If you're interested in WWII history, also consider these five reasons to visit Bletchley Park, home of the Code Breakers, and why you should visit the Churchill War Rooms in London.
3. Explore Valletta's Upper Barrakka
Learn about the history of Valletta through the 3-hour Complete Walking Tour by Colour My Travel. Enjoy the beautiful harbor views, appreciate the history of the dockyards, and look out over Fort Saint Elmo. Malta is also a popular movie location, and one can view the island's movie history here. Also, take a moment to honor those fallen in WWII by pausing at the Great Seige Bell.
4. Visit The Ancient Walled City Of Mdina
Mdina was once the capital of Malta, and its development dates back to the Middle Ages. It is located on the western portion of the island.
No vehicles are allowed within the walls, so one can leisurely stroll the old cobblestone streets. Do check out the Mdina Experience, a 25-minute theatrical presentation about the history of the complex. Visit also the Mdina Dungeons, Mdina Glass, and the catacombs at St. Agatha's Chapel. Guided tours are available.
5. Explore The Fishing Village Of Marsaxlokk
Explore the remnants of an old traditional fishing village. Marsaxlokk is located on the southeastern part of the island.
The harbor is particularly enchanting, with dozens of moored traditional fishing boats. Look for the eye painted on each boat — an old custom believed to protect from evil. Check out the Sunday market, where you can find everything from food and beverages to clothing, housewares, and trinkets.
Pro Tip: Go early. The market gets very crowded. This was the only time we took a taxi. Navigate the taxi price before you get in.
6. Water Sport And Diving
Malta is acclaimed as one of the world's best diving spots. The area is also home to hundreds of caves and ancient maritime wrecks. With crystal clear waters averaging a temperature of 65 Fahrenheit, choose from other water sports as well, including snorkeling and sailing.
Best Restaurants In Malta
Malta is an epicurean delight with over 3,000 restaurants on the islands. From local cheeses and sausages to traditional Maltese bread, fresh fish, and a variety of other seafood, plus local beef, lamb, and rabbit, there is something for everyone.
Bacchus Restaurant, Mdina
We dined at Bacchus Restaurant on the day we visited the walled city of Mdina. Friends had recommended Bacchus, and we were delighted.
Bacchus bills itself as "a celebration of Maltese and Mediterranean cuisine," and what a celebration it is!
We chose two Maltese Boards: one a selection of local goat cheeses, bean pate, and sundried tomatoes, and the second a selection of smoked local ham, dried Maltese sausage, pickled eggs, sundried tomatoes, fresh ricotta, and caponata — fried eggplant and vegetables. Both were served with galletti (mushrooms) and Maltese bread.
We paired them with a delightful white Maltese wine.
Grabiel Restaurant And Grabiel Terrazza, Marsaskala
In our little village of Marsaskala, we enjoyed dining at Grabiel Restaurant and Gabriel Terrazza.
The menu is extensive. We particularly enjoyed the smoked salmon and brie baguette as an appetizer. We then each had a seafood pasta dish; I chose the Garganelli Gamberi e Zucchini: fresh pasta with prawns, zucchini, prawn bisque, and cream. My friend chose the Spaghetti Octopus: octopus with tomato sauce, garlic, capers, and tomato sauce. Portions are generous.
King's Own Band Club Bar And Restaurant, Valletta
I learned about the King's Own Band Club Bar and Restaurant through the delightful food and walking tour hosted by Offbeat Malta Food Trails.
Opened over 100 years ago, King's Own is owned and run by one of Malta's most successful restauranteur families. It claims to offer one of the most comprehensive selections of Maltese and Mediterranean food.
Our menu consisted of a Maltese Platter, bean paste, Maltese Water Biscuits, stewed rabbit, and a variety of Maltese wines. It was a feast fit for a king or queen!
Meridiana Wine Estate And Tasting Room
I was delighted to experience a tour, tasting, and food pairing at Meridiana Wine Estate. This is the only wine estate on the island.
Situated at the base of historic Mdina, we first learned the history of the small estate, from reclaiming the land which had been a WWII airfield to the challenges of the soil and growing conditions.
Their mission is to produce world-class wines of Maltese character. Mission achieved! They currently produce approximately 140,000 cases annually under 10 labels. Much of the labor is done by hand. We saw the grapes drying in the sun. Most of the wines are sold domestically and are so popular that some are sold out before release.
Be sure to team the wine tasting with a Maltese Platter. The platter must be ordered in advance.
Where To Stay In Malta
Airbnb In Marsaskala
My friend and I both rented apartments overlooking the bay in the small village of Marsaskala.
I chose to rent a one-bedroom apartment in the small village of Marsaskala because I had a friend staying there. It was a good decision! Prices are more reasonable. I rented an apartment from Justine through Airbnb. My host even picked me up at the airport. This was very welcome since I arrived at about 11 p.m.! I highly recommend this Airbnb.
British Hotel In Valletta
If you are more into a hotel, I was introduced to the British Hotel on one of the stops on my food tour. The British Hotel is a two-star hotel overlooking the Grand Harbor in Valletta. There are various types of rooms for different tastes and budgets. Rooms vary from single internal rooms and twin sea view rooms to superior rooms. We sampled desserts at their Panorama Restaurant. Dining is on a large open terrace, and meals are offered to hotel guests, locals, and visitors staying elsewhere. I could tell I would enjoy staying here!
Pro Tips
Although well-known in Europe, Malta is not well-known in North America. When I mentioned to several friends that I was heading off to Malta, they asked, "Where is that?" With the rich history, stunning coastlines, crystal clear waters of the warm Mediterranean Sea, and delicious food, I am certain that you would enjoy a visit to Malta.
Public transportation is easy and convenient around the entire island. Taxis are also readily available. One can fly into Malta from major hubs in Europe. I flew in from London and flew back through Italy.
I visited from the end of September through the first week of October. Temperatures ranged from 80 to 90 degrees Fahrenheit.
Editor's Note: More on Malta's UNESCO recognition, referenced in the first paragraph, is available here.