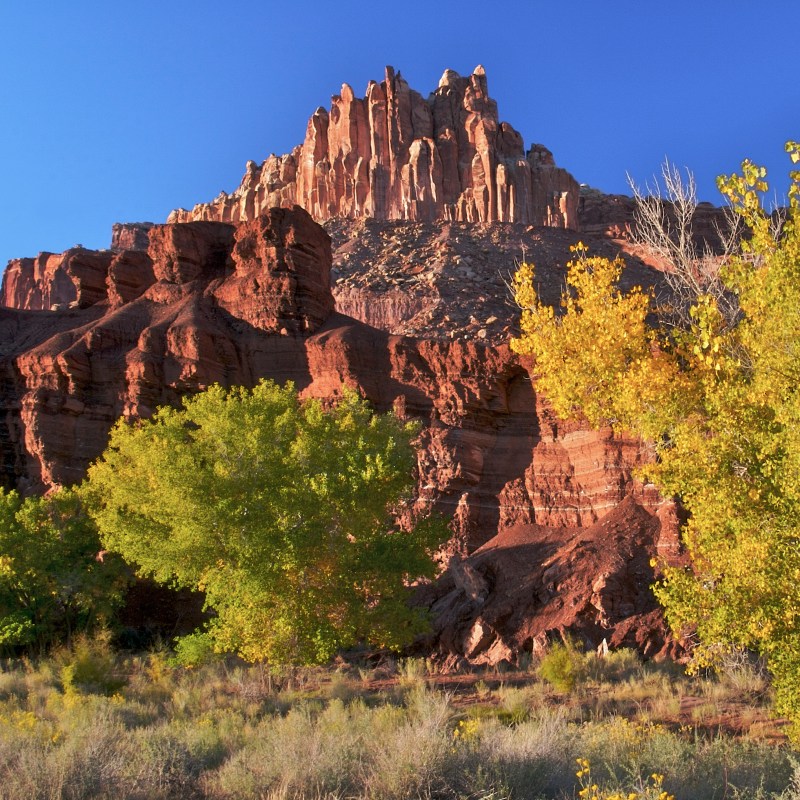 Capitol Reef National Park is located in south-central Utah. In my opinion, it is one of the most underrated national parks in the United States. There are no major roads to get to this hidden gem, but the drive is well worth it. The cliffs, canyons, domes, and bridges showcase the beautiful, prevalent red rock. Everywhere the eye takes you, the land formations are a rich, red rock. It's easy to spend one full day exploring this stunning slice of paradise. History and beauty combined into one make this national park a treasure for anyone who visits.
Once you arrive, you will find yourself immersed in the beauty that makes Capitol Reef National Park. Spring and fall are prime times to visit, as the daytime temperatures are ideal. You will also want to start early in the day to avoid any late-day thundershowers that may develop, which are most common in July, August, and September. One incredible day in this national park will inspire you to start planning your return visit. Here are the things that you need to experience to make the most out of your visit. There is a fee to visit this national park, but your annual national park pass will take care of your admission fees.
Petroglyph Panel
The Fremont Culture Petroglyphs are along Utah Highway 24. They are wheelchair accessible by two wooden boardwalks. Though you will be relatively close up to the petroglyphs, if you want a closer view, bring a pair of binoculars. The longer you look at this wall, the more detail you'll see. If you have never seen petroglyphs, these are a great place to see them for the first time. You don't have to walk far, and you are close up to them. I find petroglyphs fascinating, as it's hard to imagine people carving or pecking these images into the stone. You can easily spend 1 hour analyzing these works of art. The petroglyphs are free to see and a short walk from your car.
Fruita Schoolhouse
Near the Fruita Schoolhouse, you can see the rock with "Fruita Grade School" carved into it. In 1964 the National Park Service nominated the school to the National Register of Historic Places, and it was restored to the 1930s time period. You can see the schoolhouse along Utah Highway 24. You can stroll around it and look through the windows. School took place here years ago. Today, it's up to you to use your imagination to hear the kids in the classroom. There is no fee to stroll around this historic site.
Historic Orchards
There are numerous fruits to be harvested in the historic orchards in Fruita. Cherries, apricots, peaches, apples, and cherries can all be harvested throughout the year. Visitors cannot harvest fruit in all of the orchards. If you come upon a sign that says "U-Pick Fruit," go ahead and pick the fruit. Treat the orchard as it is yours, as fruit trees are susceptible to damage. There is a fee to harvest the fruit, and it's essential that you pay the fee, so you don't receive a citation and fine. The orchards are beautiful, surrounded by the rich, red rocks that shoot skyward. With approximately 1,900 trees, you will most likely see flowering trees or rich fruit ripened on the trees.
Grand Wash Trail
We hiked the Grand Wash Trail and loved it. While starting at the parking area off the Scenic Drive, this easy, level trail is welcoming for hikers of all levels. It's a narrow, bumpy drive to get to the parking lot — which does have a restroom — and begin this 4.5-mile out-and-back hike. The trail is rocky and uneven in places and fairly even in other places. There is a narrows section of this hike that interested my husband and me. Water does not typically run through these narrows, yet it's gorgeous. The rich, red rocks tower above and close in as you trek through this trail. We loved every minute of this hike.
Pack plenty of water and wear comfortable hiking shoes. When you enter the road to take you back to the parking area, pay attention to the signage. If it looks like rain, I would advise not going back into this canyon area. Wait until the threat of rain comes to an end. You will want to plan a minimum of 3 hours to experience this beautiful hike.
Picnic In Fruita
There is a green space near the orchards that offers a beautiful picnic area. You will see the signs in this area as you approach the buildings and orchards. A little stream runs nearby with beautiful red rocks surrounding the area. Picnic tables are abundant, and there is a perfect space to toss a frisbee or two. It's a colorful place, as it's lush and green with trees, surrounded with rich, red rocks. We cooked hot dogs on our portable grill and enjoyed the view. It was as though we had stepped back into a quieter place in time while in a majestic setting.
Coast On The Scenic Drive
The Scenic Drive is approximately 16 miles roundtrip. Stop at the visitor center before you embark on this drive to stay up to date on any road closures within the park. Vehicles up to 27 feet can travel this paved road safely. There are many stops along the way that offer incredible views and photo opportunities. Even though you will travel back on the same road, the rock formations will all look different. The angles from which you see them on your return trip will bring new light to the magnificence that these rock formations have to offer.
I loved this drive. Allow yourself approximately 1.5 hours to make this drive, and don't be afraid to check out the two dirt spur roads along the route. Your vehicle will get dirty while traveling through this national park, as the dust does fly.
Cathedral Valley District
The Cathedral Valley District in Capitol Reef National park is in a remote area of the park. Four-wheel drive vehicles are recommended, as the ground clearance can be an issue throughout this area. A short .2-mile hike to the Upper Cathedral Valley Overlook will be your reward. This trail is approximately 17 miles from Highway 24. Your drive to this trail is incredible, but the valley below known as the Cathedrals will make every mile of your drive worth it. The Cathedrals Trail is also an easy hike. Your reward from this 2.4-mile hike is a beautiful view of the Cathedrals and Upper Cathedral Valley. The frequent signage along this route will direct you to some of the highlights within this district. It's important to know that these roads are not plowed in the winter and are not passable in excessive amounts of rain. The best tip I can give you is to check the road and weather conditions before you embark on any road trip within the park.
Pet-Friendly Areas
On my last visit to Capitol Reef National Park, I noticed several people had their dogs along. There are no kennels in the park, and you cannot leave your pets unattended in the campground. You can take your pets with you on a 6-foot (or shorter) leash in the developed areas in the national park. They are not allowed on the hiking trails and numerous underdeveloped areas that make up a large part of this park. Pets are allowed in the parking areas that are open to travel for public vehicles. If you are a solo traveler, it will be hard to explore this incredible national park while traveling with your pet. For your pet's safety and the missed opportunities you will experience in the park, I recommend leaving your dog at home.
The Drive To And From The Park Is An Experience
Capitol Reef National Park is spread out over a fairly large area with numerous opportunities to explore the red rocks of Utah. The drive to and from this national park is an experience in itself — the landscape changes over the miles. Pine and aspen trees along the rolling hills and cliffs make for beautiful views. It's also not uncommon to drive through a cattle range and come across a cow on the road. Utah is home to many wide-open spaces filled with beauty that you will not find anywhere else.
Capitol Reef National Park is stunning, and I'd go back to this park tomorrow if I could. Don't be afraid to hike where others are not. As with any national park, find the trailhead that has few cars and start hiking. These lesser-traveled trails are often home to a magical space within the park borders.
Whether you visit one national park or visit all five in Utah, Capitol Reef National Park is not to be missed. Once you see the breathtaking color and views that present themselves, you will find it hard not to fall in love with the park. Your magical day in Capitol Reef National Park will be memorable and one that you will be talking about for years to come.
Capitol Reef is just one of many breathtaking spots in Utah. Here are some other recommendations in the area!