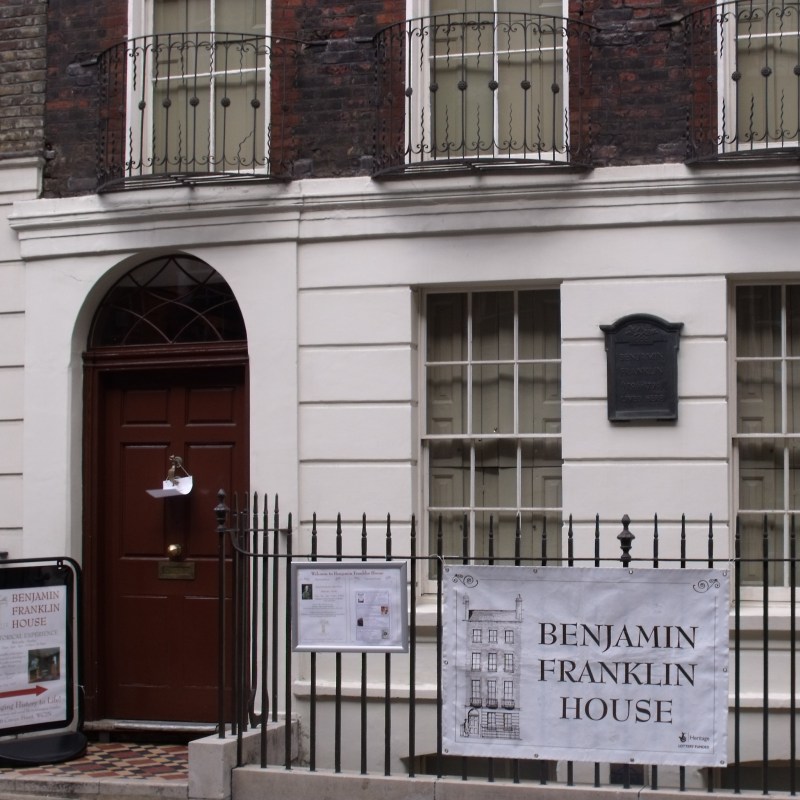 Skeleton fragments are not what a visitor might expect to see displayed at the Benjamin Franklin House in London, but then again, politicians generally do know where the bodies are buried, as Orson Welles noted in Citizen Kane.
That's just one of the surprises that greets visitors at this historical museum where the iconic United States postmaster general, cowriter of the Declaration of Independence, and signer of the U.S. Constitution lived. I was also surprised to learn the following things about Franklin's lengthy stay in London.
1. The Only Remaining Building In The World Where Franklin Resided Is In London
The Benjamin Franklin House is not located in Philadelphia, where Franklin lived most of his life, or in Boston, where he was born and raised, but in London. In fact, this modest Georgian townhouse near Trafalgar Square is the only remaining building in the world where Franklin resided.
Franklin lived on the second floor of what was then a boarding house owned by Margaret Stevenson, a lively widow who lived on the top floor with her daughter, Polly. During his 16-year stay at the house, Franklin developed warm friendships with both women (some have speculated the friendships were more amorous), and he even gave Polly away when she got married.
Franklin approved of the anatomical experiments performed in the house's basement by Polly's husband, William Hewson, a brilliant physician who performed surgeries on cadavers robbed from graves in order to teach students about anatomy. Polly and William were married for only four years — until Hewson died from blood poisoning after dissecting an infected corpse. He was 34. She was pregnant with their third child.
In the late 1990s, restorers found 1,200 skeleton fragments from a dozen bodies buried in a neat meter-wide and meter-deep pit in what had been the garden. Many of the bones bore marks and scalpel scars, and a few are on display at the Benjamin Franklin House.
2. Franklin Regularly Took 'Air Baths' At The House And In Its Garden
Franklin was a nudist. He relished his morning "air baths," where he would sit by his open window overlooking Craven Street "without any clothes whatever," he wrote to a friend, "half an hour or an hour, according to the season" to let air circulate over his body. Occasionally, he would take his "air bath" outside in the back garden!
3. Franklin Traveled To London To Protest British Laws Designed To Raise Money From The Colonies
Franklin came to London in 1757 to protest new British laws designed to raise money from the colonies. His persuasive lobbying helped repeal the Stamp Act — the British law that spawned the revolutionary cry of "no taxation without representation!" The law required colonists to purchase stamps for legal documents, newspapers — even playing cards! The tax hit hardest some of the most influential colonists: lawyers, printers, and ministers, who protested loudly. Opposition was fierce and fomented rebellion against King George III, which, less than two decades later, would lead to the American Revolution.
4. Franklin Initially Opposed America's Independence From England
Franklin initially opposed America's independence from England and worked his diplomatic magic throughout his time in London. Since he worked from Mrs. Stevenson's boarding house, the Benjamin Franklin House is (unofficially, of course) America's first "embassy" in England!
5. Franklin's Son Remained Loyal To The Crown
Franklin's son, William, lived with him in his two small rooms while William studied law. Later, father and son would have an epic falling-out: William had been appointed by the crown as the governor of New Jersey, and, in the autumn preceding the Revolution, was the only serving governor still loyal to King George. Meanwhile, his famous father was drafting a precursor to the Declaration of Independence. Barely a year later, William was imprisoned for remaining loyal to England, and the elder Franklin was en route to Paris to persuade France to support America's fight for independence.
6. Franklin Perfected The Lightning Rod During His Stay In London
Franklin perfected the lightning rod in the laboratory he set up in one corner of his room. A rod was controversially placed on the peak of St. Paul's Cathedral, and a part of it is still on display at London's Science Museum. Franklin also refined his ideas for a free-standing stove (the Franklin stove!) in his bedroom/laboratory.
7. Franklin Brought Two Enslaved People With Him To London
Franklin owned slaves. In fact, he brought two of his slaves, King and either Peter or George (depending on the source), with him to London from Philadelphia. They lived in the house with him and probably slept on the top floor along with the other household servants.
"Peter stayed with Franklin for the whole time he was in London," said Caitlin Hoffman, operations manager for the Benjamin Franklin House. "King actually ran away. When Franklin managed to find him, he was being taught to read, write, and play music by a wealthy woman in Suffolk."
Franklin, who agreed to sell King to his new benefactor, was beginning to revise his views on slavery. After visiting a school for blacks in Philadelphia a few years later, he wrote, "Their [comprehension] seems as quick, their memory as strong, and their docility in every respect equal to that of white children."
However, he did not free his slaves, but gave one to his daughter and made provisions in his will for the emancipation of the remaining two upon his death. Nonetheless, Franklin became the president of the Pennsylvania Society for Promoting the Abolition of Slavery.
The Benjamin Franklin House recently held a free online presentation titled "Benjamin Franklin and Black Lives Matter" to discuss Franklin's evolving views on slavery and equality.
8. Franklin Was Lauded By The British Aristocracy For His Scientific Inventions
Franklin, the poor son of a candlemaker, was lauded by British aristocracy for his scientific inventions and philosophical writings. His work on electricity won him a Copley Medal in 1753 (the 18th-century equivalent of a Nobel Prize) and a fellowship to the prestigious Royal Society. Mrs. Stevenson delighted in entertaining Franklin's notable visitors.
Franklin was known to his London admirers as "Dr. Franklin." Although he had only two years of formal schooling, he was awarded an honorary degree by the University of Edinburgh.
9. Franklin Invented The Glass Armonica
Franklin created the glass armonica, for which Mozart, Beethoven, and Strauss later composed music. The instrument is a series of glass bowls of various sizes and thicknesses mounted on a spindle and controlled by a foot pedal. To play it, the performer rotates the bowls by manipulating the foot pedal, wets his or her fingers, and touches the glass bowls to make individual tones. When played, the music has an ethereal quality that some listeners claimed invoked spirits of the dead.
"Of all my inventions," Franklin once wrote, "the glass armonica has given me the greatest personal satisfaction."
10. Franklin Was Indeed Early To Bed And Early To Rise
Franklin practiced "early to bed and early to rise, makes a man healthy, wealthy, and wise" while strolling the streets of London each morning. He observed that — although the northern country's sun had been up for hours — shops were still closed at 7 a.m. "The inhabitants of London," he wryly wrote, "[choose] voluntarily to live much by candle-light, and sleep by sunshine, and yet often complain, a little absurdly, of the [tax] on candles, and the high price of tallow."
11. Franklin Left London On Bad Terms With The British Government
Franklin was a whistleblower. In 1773, he leaked letters written by the crown-appointed Massachusetts Governor Thomas Hutchinson that requested England to send troops to quell rebellious colonists. When the letters were published by the Boston Gazette, riots broke out. The British government was so angered by Franklin's betrayal that it fired him as the postmaster general to the colonies. He left England soon after, convinced that the American colonies must fight for independence from the crown.
The Benjamin Franklin House itself has an interesting history. Following its time as a boarding house, it became a hotel, and it served as an office building following World War II. Restorers found NATO documents in the fireplaces and speculate that the house may have been a front for the CIA! It was restored in the 1990s, and the Benjamin Franklin House opened its doors in 2006, on Franklin's 300th birthday.
The Benjamin Franklin House is not a museum filled with objects from Franklin's time. Instead, the empty rooms are filled by a multimedia presentation featuring conversations that may have taken place in these very rooms. (Tea is generously poured!) Interacting with the multimedia presentation is a live actress who portrays Polly Stevenson Hewson. She embodies period manners and mannerisms, providing visitors with a true sense of London life in the 1700s and a unique immersion in both Franklin's work and daily life.
The staircase, floorboards, and wall paneling are original to the circa 1730 house, so visitors walk on the same floors that Franklin did 250 years ago! Be forewarned, however, that the stairs are narrow and steep, and the floor is irregular. Chairs are provided in each room for visitors to rest on during the presentation.
Artifacts on display include Franklin's leather wallet with the inscription "B. Franklin, Craven Street, Strand, London"; a letter Franklin wrote to his sister in 1772; and an obituary for Franklin printed in the Massachusetts Sentinel in 1790.
Franklin reluctantly left Craven Street and his beloved friends on March 20, 1775, to return to America and help craft its independence. But he never forgot London. "Of all the enviable things England has," he wrote in a letter to Polly, "I envy it most its people."
And London never forgot him. A few years before Franklin died, Polly and her three children sailed from London to Philadelphia to be near him.
After visiting the Benjamin Franklin House at 36 Craven Street, pop by 25 Craven to see where Moby-Dick author Herman Melville lived briefly in 1849, to 32 Craven to see where German poet Heinrich Heine lived in 1827, and to 30 Craven to see where Aaron Burr lived after killing Alexander Hamilton.