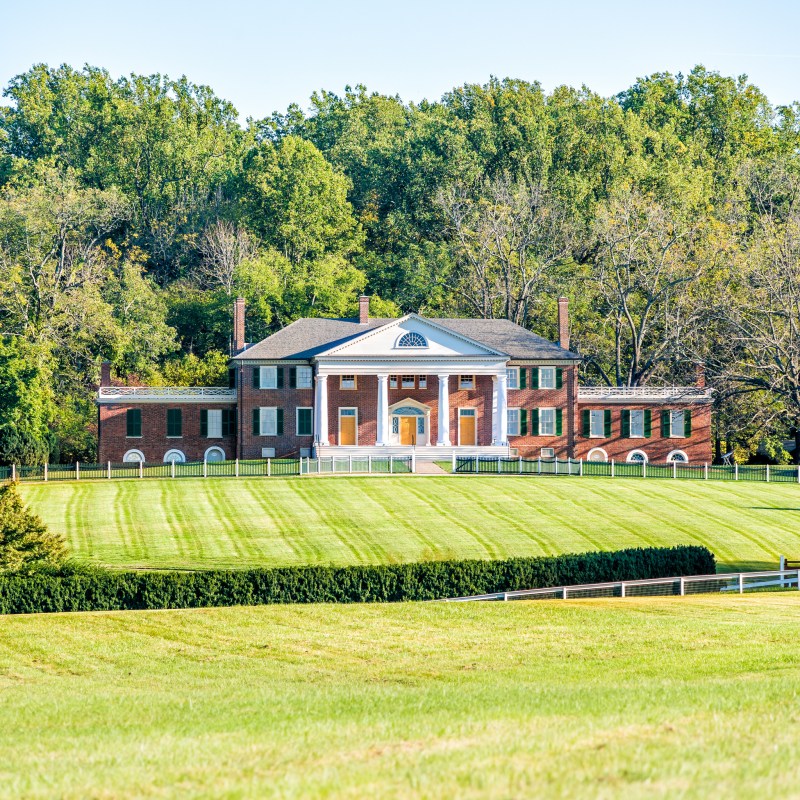 Do you ever wonder why some people aspire to lofty goals? I've often wondered what makes people focus intently on achievement. One of the most impressive achievements, in my mind, is becoming president of the United States. What would make someone want to be president and then craft a plan to make it happen?
We may not be able to ask this of our past presidents, but we can do the next best thing. We can gain insight into what motivated these powerful people by taking a look at their homes. There are many U.S. presidential homes open for tours, and all are definitely worth checking out. In this article, I'll be focusing on the best presidential homes to tour in the Southern U.S. Some are rather modest, and others are beyond lavish, but all are incredibly interesting and unique.
1. Mount Vernon, Alexandria, Virginia
Mount Vernon, the home of President George Washington, is one of the most well-known presidential homes, and for good reason. There is something for everyone to explore at this presidential home, located about 15 miles south of Washington, D.C., in Alexandria, Virginia. In fact, there's so much to see and do here that you'll probably want to plan on at least a half day at the property in order to explore thoroughly.
Start with a tour of the majestic mansion, and then take in the historic outbuildings and the Pioneer Farm. The mansion was originally constructed in 1754 and was remodeled several times over the next 45 years. It's now a 21-room residence that will leave you in awe. The outbuildings offer a glimpse of what plantation life was like for some of the enslaved residents of the estate. You'll be able to tour the historic blacksmith shops, stables, smokehouse, and more.
If you enjoy the beauty of the outdoors, you'll want to spend a good amount of time wandering through the magnificent gardens. Washington was known for his love of plants, and he designed multiple gardens on the property to showcase his beautiful flowers and plants. You'll find a formal garden, a kitchen garden, a botanical garden, a fruit garden, and a nursery. You can even watch costumed interpreters demonstrate some of the farming techniques that would've been used back in Washington's day at the Pioneer Farm.
If you get hungry, Mount Vernon has multiple dining options, including an on-site restaurant, a food court, and even a food truck!
Be aware that this is a very large estate, so there could be considerable walking involved, although there are shuttles that go between some of the buildings. And if you want to avoid crowds, the estate is busiest in the spring, so you may want to choose another time of year to visit.
2. Little White House, Warm Springs, Georgia
A visit to Warm Springs, Georgia, is like a step back in time to the 1940s. Warm Springs is where President Franklin D. Roosevelt lived the majority of his adult life. Roosevelt, who had polio, was told of the healing powers of the warm springs in the area, and he began traveling to the region, located about an hour south of Atlanta, in the late 1920s. In 1932, the modest, six-room Little White House was completed.
The site is open daily except on major holidays and offers a chance to see the home as it was back in 1945, complete with Roosevelt's furnishings. You can also see the nearby therapy pools and enjoy the lovely wooded grounds. In addition, you'll be able to view Roosevelt's classic cars, check out the on-site museum, and pick up a souvenir at the gift shop.
3. Monticello, Charlottesville, Virginia
Exquisite Monticello, the home of President Thomas Jefferson, is the most-visited U.S. presidential home, and at 5,000 acres, the estate is vast. Construction on the home began in 1769. Located in beautiful, mountainous Charlottesville, Virginia, the home now consists of 43 rooms with 13 skylights. Interestingly, about 60 percent of the home's current furnishings are or may be original to Jefferson's time there.
At Monticello, you'll have your choice of many different tours, including tours of the mansion, gardens, and slave quarters. Also, don't miss the historic Mulberry Row, with its period buildings and insight into life on a 19th-century plantation. There is much to see here, and the gardens are a highlight. It's well known that Jefferson was a talented naturalist and prolific gardener, and the Monticello grounds display that talent. In fact, the plant species recorded by Jefferson provided the foundation for the flower gardens there today.
4. Lyndon B. Johnson National Historical Park, Johnson City, Texas
The Texas Hill Country outside of Austin was home to President Lyndon B. Johnson and his wife, Lady Bird Johnson. LBJ was the 36th president of the U.S., and you can see where he spent his formative years at his boyhood home in Johnson City, which is located about an hour outside of Austin. You'll see how the home was furnished when LBJ lived there back in the 1920s. Then, you can drive 14 miles west to a second visitor center, this one at the LBJ Ranch where he and Lady Bird lived together for most of their lives. To see the ranch, you'll need to obtain a free driving permit at the visitor center and go from there.
5. The Hermitage, Nashville, Tennessee
The Hermitage was the home of President Andrew Jackson and his wife, Rachel. The estate was purchased by Jackson in 1804 and included the mansion and about 1,000 acres of land. Every visit to Nashville should include a side trip to The Hermitage. The mansion was a fairly simple design that Jackson had completely remodeled during his presidency to what it is today.
The Hermitage offers various tour options, so there's something for everyone. One option visitors can choose is a grounds pass that allows access to the grounds, the outbuildings, the property's church, the slave cabins, and the historic gardens. Also included is a wine tasting at the on-site winery, Natchez Hills Winery.
6. Montpelier, Montpelier Station, Virginia
The home of President James Madison and his wife, Dolley, Montpelier comprises more than 2,500 acres, and there are guided tours of both the home and grounds. Madison may not be the best known of our Founding Fathers, but his contributions were vast, including authoring the Bill of Rights. At Montpelier, you'll learn about Madison's accomplishments and his time as the fourth president through various exhibits on the property.
After touring the exhibits and the home, you can enjoy more than 8 miles of pristine walking trails on the estate's grounds. You'll see horse pastures, forests, meadows, and gorgeous views of the Blue Ridge Mountains at every turn.
If you really want to immerse yourself in the history of the estate, take the opportunity to participate in the archaeological digs held on the grounds during the expedition season from March through November.
7. Little White House, Key West, Florida
President Harry Truman's beloved Little White House in Key West, Florida, was his home away from home for many years during his presidency. And why not? Magical Key West was a place where he could totally unwind from the stressful days and nights as president of the free world. Truman, the 33rd president, spent almost 200 days of his presidency here between 1946 and 1952. In addition to President Truman, Presidents Carter and Clinton also spent time at the Key West home.
Today, visitors can step back in time and see the home complete with period furnishings from the 1950s. The Truman Little White House experience includes a short movie as well as an informative home tour covering exactly what Truman loved about the home and the beautiful Key West location.