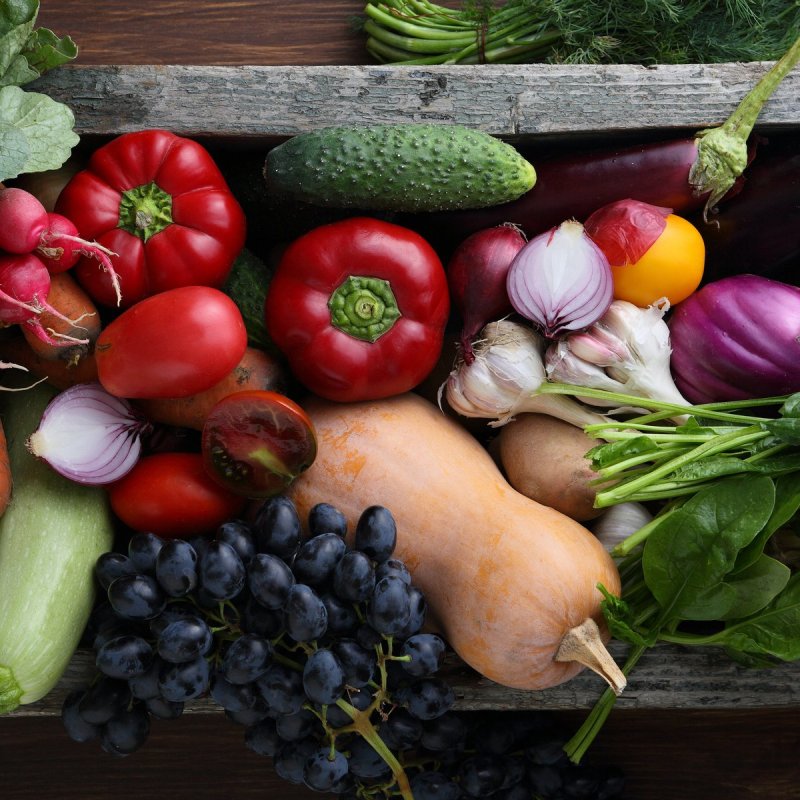 In the United States, Michigan is second only to California in the variety of crops produced, making Michigan a great place to experience farm-to-fork restaurants. With more than 300 agricultural products, the bounty of Michigan's farms is abundant and diverse. You'll find a variety of farm-to-table restaurants that highlight the state's farm-fresh ingredients.
While Michigan's farm-to-table restaurants serve nothing but the freshest ingredients, the downside is that your favorite dish could be gone the next time you visit, and you'll need to choose a new favorite.
I chose these restaurants to represent a variety of locations across the state. Here are some of my favorites in no particular order.
1. Hearth And Vine Cafe
Suttons Bay
Located on the 160-acre Black Star Farms estate grounds, the seasonal Hearth and Vine Cafe features a vineyard view. Be sure to try one of the dishes featuring their estate-made wine or spirits. I had the Black Star Farms Gazpacho, a cold mixed Michigan berry soup featuring their 2017 Pinot Gris.
I enjoyed their shaved fingerling potato bacon pizza, where they make the dough from Black Star Farms red grape skin flour and bake it in a wood-fired oven. The combination of fromage blanc and aged Gruyere came from local Leelanau cheese. Crispy bacon lardons and caramelized onion added a mix of salty and sweet. They topped it with peppery arugula.
Pro Tip: Stay and play on Black Star Farms, a bed and breakfast-style inn with 3 miles of trails for biking and hiking. Then relax and sample the products from their on-site winery and distillery.
2. Willow
Harbor Springs
Willow's menu offers modern American cuisine. The menu revolves around Michigan's micro-seasons, with local produce at the foundation.
The Grilled Peach Salad was my favorite dish. Grilling the peaches caramelized them, amping up the sweetness. The salad's base was local greens. Crispy bacon added salty bites that complemented the peaches' sweetness. They topped it with a crunchy walnut topping. Finally, the chefs dressed it with a house-made herb buttermilk dressing.
What stood out at Willow was the food's presentation. The plates were artwork. The chocolate cake plate had a fun presentation. Starting with a dark chocolate cake slice on a black plate, the chef used powdered sugar to create an outline of two forks on the plate. Strawberry slices combined a pop of color into the otherwise black and white presentation.
Pro Tip: After a day trip through the Tunnel of Trees, return to where your journey began and dine at Willow.
3. Flying Noodle Italian Pasta House
Traverse City
At Flying Noodle Italian Pasta House, known for its house-made pasta, everything is farm fresh, and you can taste the difference. Order their Campanella, a flower-shaped pasta that still haunts me months after my meal. The dish featured the garden-fresh flavor of peas, preserved lemons, and ricotta. I'd make the 3-hour drive to enjoy this dish again.
If you're avoiding carbs, try the Brick Chicken, a half chicken roasted in natural au jus and garnished with an herb gremolata. Pair that with some roasted beets or Brussels sprouts and one of their salads made with local greens, and you'll have your perfect meal.
Pro Tip: The restaurant is small and busy during the summer months. If you don't book a reservation in advance, you'll want to arrive early, get your name on the list, and then explore the quaint downtown shops while you wait for your table.
4. Aerie Restaurant
Acme (Traverse City)
At Aerie Restaurant, on the 16th floor of the Grand Traverse Resort's tower, floor-to-ceiling windows wrap around the entire restaurant, offering spectacular views. As a fine dining restaurant with stemware and white tablecloths, it has a special occasion atmosphere.
Traverse City is known for tart cherries, and Aerie features them often. My salad highlighted Traverse City tart cherries with a tart cherry vinaigrette topping local field greens, pickled red onion, cucumber, and Gorgonzola. The chef added candied pecans for crunch.
Their craft cocktail menu highlights cherries, too. The Tart Cherry Vodka Sour features cherry vodka from Grand Traverse Distillery.
Pro Tip: Plan your mealtime around sunset. You'll want to arrive early enough to see the view of Grand Traverse Bay and then end your meal by enjoying the sunset.
5. Salt Of The Earth
Fennville
Salt of the Earth offers a Midwestern rustic-style food experience. Sustainably sourced in-season ingredients, especially those grown within a 50-mile radius of Allegan County, result in scratch-made recipes with simple preparations.
While Chef Henry Ditmar's menu offers a full selection of sustainably sourced chicken, pork, beef, and market fish dishes, he is also proud of his vegan, vegetarian, and gluten-free options. "They are designed to entice non-vegans as well," said Ditmar, who particularly recommends the vegan chocolate mousse.
Salt of the Earth is also known for its bread made with old-world fermentation techniques. They bake the bread and pizza on a wood-fired hearth.
Pro Tip: Don't overlook the craft cocktail list at the Salt of the Earth bar. It features local spirits in creative combinations. And if you loved the restaurant's bread, you can purchase it in area grocery stores along Lake Michigan's shore to enjoy at home.
6. Terra
Grand Rapids
Terra, meaning Earth, features weekend brunch. You'll find updated American breakfast dishes with a twist, in addition to their salads and wood-fired pizzas.
At Terra, the menu lists a dozen farms and suppliers, so you know precisely the origin of your meal. Many of the farms are within a 50-mile radius, so that means your food is often just-picked.
My favorite bite was the ricotta toast. The dish was simple yet well executed. It started with a toasted milk bread that the cook spread with a lightly sweetened ricotta cheese. They topped that with fresh sliced strawberries and torn basil. To add crunch, they sprinkled the top with toasted sunflower seeds.
The staff is known for their hospitality in a casual, family-friendly environment. Even in the hubbub of a busy Saturday brunch, the host greeted us with enthusiasm.
Pro Tip: Be sure to bring in your parking tab, since Terra will validate it for free parking.
7. Zingerman's Roadhouse
Ann Arbor
Zingerman's Roadhouse elevates farm-to-table by using produce from many local farms. Tamchop Farm in Dexter, for example, supplies their tomatoes and peppers during the summer, while We the People Opportunity Farm in Ypsilanti grows their greens.
My favorite dish at Zingerman's Roadhouse is the Roadhouse BBQ Plate that offers pit-smoked spare ribs and South Carolina pulled pork, barbecue beef, and pit-smoked chicken with Alex's Red Rage tomato barbecue sauce. Locally grown bacon-braised greens and mashed potatoes complement the plate. While the name "Red Rage" sounds scary spicy, it's a mild sauce with a zing.
Pro Tip: Zingerman's sells products online so that you can enjoy their coffee and cheese at home.
8. The Fed Community
Clarkston
At the turn of the last century, Jossman State Bank stood on Main Street, serving its banking clients. Today, that same building serves up farm-fresh meals in The Fed Community, the name a nod to federal banking. At the same time, several of the bank's original features accent the restaurant's decor. You can eat dinner in what was once the bank's vault. Yet, The Fed is bright and airy with its whitewashed walls and modern decor.
I was surprised by what turned out to be my favorite dish, the Crispy Cauliflower. I was admittedly hesitant when the server suggested it because cauliflower often seems bland. The Crispy Cauliflower was nothing like what I expected. The chef separated the vegetable into small bunches and then tempura battered and deep-fried it. Then, they mixed it in a sweet and sour sauce and sprinkled it with crushed red pepper, sesame seeds, and scallions. Delicious!
Pro Tip: Request a building tour to see how the bank's details exist in the restaurant.
9. Red Haven
Okemos
Red Haven, named for a locally developed red-skinned peach, showcases Michigan's best with the mantra, "Local First."
Red Haven works with over 25 local farms to bring farm-fresh ingredients to the restaurant year-round. Their goal is to offer creative, innovative, and fresh cuisine. They're local, down to their decor. The restaurant's woodwork comes from wood reclaimed from an old barn in a nearby town. The result is a rustic yet modern design.
The menu focuses on small plates rather than large entrees. For dinner, they suggest you order two to three dishes per person for sharing and tasting.
An autumn favorite is the creamy butternut squash bisque with apple-poblano salsa paired with the house-made roasted harvest focaccia with pumpkin butter. I enjoyed the tempura-battered Delicata squash rings with a Fresno chili veganaise and grated vegan cheese.
Pro Tip: If you're on the go or want to sample their food in a less formal environment, try their food truck, the Purple Carrot Truck (operates seasonally May through October).
For even more food and spirits in the Michigan area, read up on the Best Places To Eat And Drink In Detroit, Michigan!
Editor's Note: The data presented in the introduction is from Michigan Ag Council.