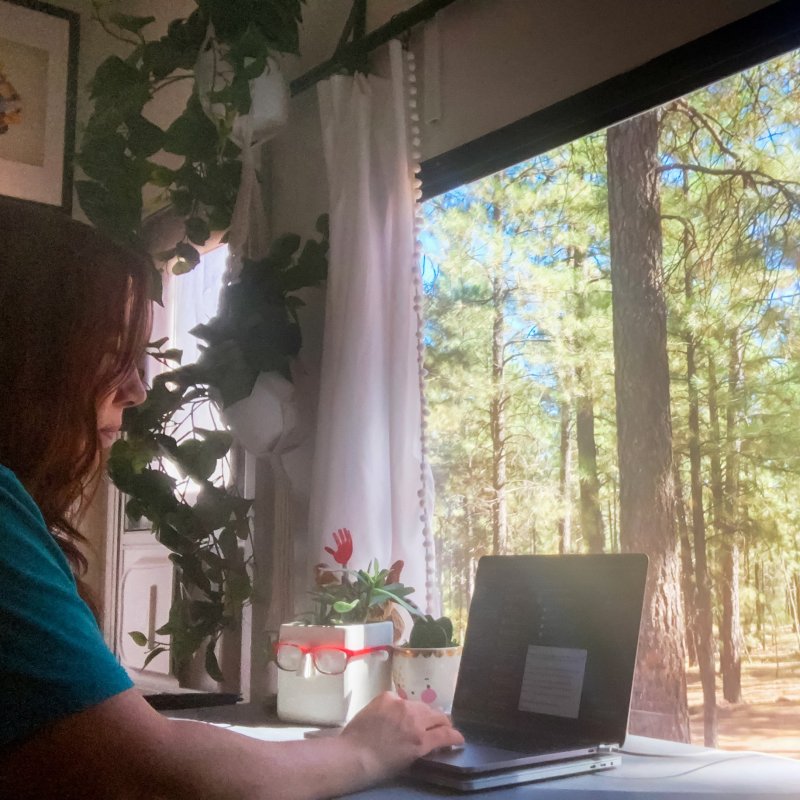 Remote work: It's not for everyone, as many people can attest to after putting their pre-2020 routines to the test this year. I spent the beginning of this year acclimating to the new situation. Some days, I'd get really wild and move from the office to the couch to work. Over time, I noticed that walking from the kitchen to the bathroom a handful of times each day wasn't exactly keeping me fit, yet somehow I was exhausted at the end of every day. I also realized that my poor social skills, filled with dad jokes and ill-timed observations, were declining rapidly (which was already a pretty low bar). Panic was starting to set in that this quarantine life was really not serving me well.
I had bought my RV in November last year and was already preparing to downsize from my 1,800 square feet of comfortability into my blissful 300 square feet of freedom. Along with this lifestyle change, I had to adapt to working remotely in a whole new way, which turned out to be a welcome and much-needed change of pace. I quickly realized a few things that helped me stay on top of the hundreds of emails each day, over a dozen daily meetings, and 25 employees who needed direction each week. Drinking every day got removed from the list, but there's zero judgment if you want to personalize your own experience. Here are my top tips for working remotely on the road.
1. Plan Your Travel Days
As many RVers quickly learn, a life on the road involves many logistics, especially if you plan to move around from location to location. I highly recommend that you thoroughly read the reviews of any campground before booking. You'll quickly learn if the atmosphere of the property is one for respectful nature lovers, robust family tourists with dozens of children under the age of four, or weekend partiers who've mistaken a national park for their own backyard. The good news is that most people are out and about during the day and not at the campground, regardless of what demographic you get. Another key for planning is timing. I learned that traveling on Saturdays worked the best for me. It gave me the time to get to my destination with no other conflicting priorities. It also provided me a day to relax, set up camp, ensure Wi-Fi is strong, and/or fix something that broke before starting work on Monday.
2. Avoid Wi-Fi Woes
Many campsite apps will detail cell carrier signal strength as well as Wi-Fi options. I've stayed at places that claim to have Wi-Fi, only to find out it's only available in a 10-foot radius from the campground office. (Needless to say, I've sat in 100-degree heat 10 feet from a campground office to take important meetings while pretending not to sweat.) Many sites have free Wi-Fi, which often doesn't allow for video streaming or keep your information secure, so I don't recommend this for your main work connection. I always opt for purchasing the upgraded and secure Wi-Fi, which can still be spotty at best. Many times, when I'm paying for 10mb/s, I barely get 4mb/s, which is equivalent to the free Wi-Fi's performance. (If you go to fast.com, you can test your Wi-Fi speed.) I've also found that Wi-Fi at sites will sometimes drop multiple times throughout the day and can get pretty spotty during peak traffic hours. If you do run into issues, you'll typically need to contact the Wi-Fi provider for help, not the campground, as most grounds use a third party and aren't accountable for the Wi-Fi service. To help work around all of this as best as possible, I've found it's important to have at least three layers of Wi-Fi protection.
Use the park Wi-Fi and pay for the upgrade, even if it's not the best. It will give you an overlay of Wi-Fi that will hopefully get you through the day and it's not very expensive — typically around $5 a day, $15 a week, or $30 a month.
Ensure you have a strong cell signal and use your phone as a hotspot for Wi-Fi as a backup option. I have a cell booster installed in my RV to help improve the cell signal in more remote areas. Another option is to purchase a remote Wi-Fi gadget, though many of these also deliver spotty results, so read reviews carefully. You can also purchase a Wi-Fi plan for your vehicle if it's a more recent model with this feature available. The downside is that you need to leave your battery or engine running for Wi-Fi to be available. A workaround to keep your battery from dying or your gas from running low is to plug your trailer electric into your truck, just like you would if you were hitched up to tow. As long as your trailer is connected to ground power, the trailer electric will keep your truck battery from running low when in battery mode. Thanks to a mild level of what is most likely OCD, I still double-check that everything is good every hour or so when doing this to ensure I'm not draining my truck battery and recommend you check in as well if you opt for this route.
When all else fails, make a mad dash to a local coffee shop or restaurant. I'm not above sitting in my truck in the parking lot of a chain restaurant with free Wi-Fi, either. If you're going to take this route, please purchase something from the establishment and be respectful of the other patrons who don't need to hear all of the details of your wildly exciting Q4 planning.
3. Be Inspired By Your Workplace
Many remote-working RV owners have a permanent indent in the skinny foam of the kitchenette bench from the countless hours they've spent hunched over the dinette. While this is an option, it's not the most functional (or comfortable) for the daily grind. I recommend changing up your office area every few days or so to save your sanity (and your back). After all, you're traveling to experience new things, so why not be out in your ever-changing environment? When I'm at a beautiful location with space between me and my neighbors, I sit outside at the picnic table. When the outdoors won't work, I sit in front of one of my RV windows. I made a makeshift office with a plastic fold-out table and bought a beautiful and comfy chair. I've enjoyed it so much, I'm building a desk to replace the temporary plastic table. The key is to sit someplace that is ergonomic enough that you don't have issues from bad posture and that inspires you to take breaks and get up and walk around a bit throughout the day (like in front of a beautiful window — or a mirror that reminds you of those computer-strain bags under your eyes). Nothing motivates change like a mirror reflection on a bad day …
4. Maintain A Routine
It's important to set a healthy routine when you're on the road. Days start to blur, you're not sure what hour it is when you wake up in the middle of the night, and sometimes you can't remember which time zone you're in. On vacation, this may be a welcomed side effect of relaxation. While working, this can be panic inducing. Did I set my alarm for 7 a.m.? Texas time or California time? Does Arizona practice daylight savings? These days, I'm working 2 hours behind many of my colleagues in a different time zone. This means meetings start around 6:30 a.m., but this also means I start to have time to myself again around 3:30 p.m.
Heading to the dog park or grocery store at 3:30 in the afternoon somehow feels thrilling. There's something that makes a chore suddenly feel like an exciting escape for someone who doesn't usually have "daytime errand running" as a weekday option. Or maybe I should just admit that this is what joy has started to look like in quarantine. I've also found that when you're out in nature, you start to follow the circadian rhythms of your environment. You start to settle down as the sun sets and you start to wake up earlier with the sunrise. A little tip: If you're allowed to build a wood-burning campfire at your location, it's usually nice to start it before sundown. Once you throw a log on, it will be at least 1 hour before it's died down enough to extinguish it before heading to bed, so factor that into your level of tiredness and need for sleep.
5. Reduce Your Distractions
I'll get back to this tip after I go see what the dogs are barking at.
6. Prioritize Communication
If you're like me, you expect that your RV adventures will have zero impact on your work whatsoever. Thankfully, this is usually the case. However, there are unexpected moments of RV living that want to prove to us how little control we really have in this world. Ensuring you have a healthy, open dialogue with your teams when these moments come up is essential. With remote work, there is a lot of nuance that can be missed in body language, so people can't tell if your tension-filled voice is due to them or your master plug melting in 116-degree heat, leaving you retreating into your truck for air conditioning and power. Honesty is the best policy. Just work extra hard to make sure any RV mishaps don't blend into your workday or become the norm. I've actually found most coworkers are really interested in this lifestyle and often ask what state I'm in during a given week as well as other travel-related questions.
Pro Tip: While you want to clearly communicate responsibilities and expectations, you'll want to limit going into detail about how wonderful your RV week has been. Keep in mind your colleague most likely hasn't left their living room in months and they're trying to homeschool algebra to an under-stimulated preteen in between work meetings. Know your audience to avoid a jealous backlash.
7. Set Healthy Boundaries
When you're used to working in an office, you may feel the pressure to take a break after the pumped-in office air starts to freeze your brain (and fingers). Or you know to take a quick lunch when you smell someone's salmon and broccoli leftovers stinking up the hallways. When working remotely, it's easy to miss some of these regular cues you no longer receive. In order to keep balance and to honor your traveling lifestyle, here are some boundaries you can set for yourself to ensure you don't burn out.
Take a full hour for lunch to try a local restaurant. Truly take the hour to absorb your environment (not multitasking, emailing, or IMing people).
Take a moment to enjoy nature throughout the day. Have your morning coffee outside. Go for quick, 5-minute walks around the RV park or longer walks somewhere in town. Put a hummingbird feeder outside of your window or set up shop for the day in a local park.
Have a limit for how early in the day you start meetings as well as how late you end them so they don't bleed into your entire day.
8. Know When To Log Off (And Make Time To Explore)
I have a rule that at the end of workday meetings, I close my laptop, take my dogs to the local dog park, and then go explore the town a little. The dog park really flips a switch to signal the end of the workday. It's also nice to see the location from a local's perspective, as most dog parks are filled with people from the neighborhood who like to chat. With or without dogs, you can find local hangouts where people are friendly and have good insider tips, like farmers markets, grocery stores, and restaurants. Servers and bartenders always have a good pulse on what's happening. To help further solidify a break from work, I give myself two nights a week to work late/long hours but do my best to log off at a decent hour the other nights. I usually try to search for interesting things to do in the area where I'm staying, and I'll pick one thing to check out each night after the dog park. It gives me extra incentive to make the time to explore. One final thing to note: It's easy to skip taking vacation days when you're working remotely. Most days you step out of your RV at the end of the day and feel like you're already on vacation. Some trips don't require a lot of exploration, but if you hit an area that you'd like to see more of, take the time off and do it right. You'll be thankful you did!
Working remotely has many benefits, even more so when changing up your office view every once in a while. I've found that my time management and work-life balance has improved. I stay focused on getting things done more quickly and efficiently because I have other things I'd like to do when the workday is done. I've also found that stressful days take much less time to decompress from. When in doubt, a cold beer (or toasty s'more) and a warm campfire will create a beautiful end to any day. If you're fortunate enough to be able to work remotely while living your RV dream, congratulations! You've unlocked one of the lesser-known secrets to happiness. For more inspiration, read up on
RVshare is the world's first and largest peer-to-peer RV rental marketplace. With thousands of satisfied customers and a broad inventory ranging from travel trailers to luxury motorhomes, RVshare has the perfect RV for your vacation, tailgate, or temporary lodging needs.