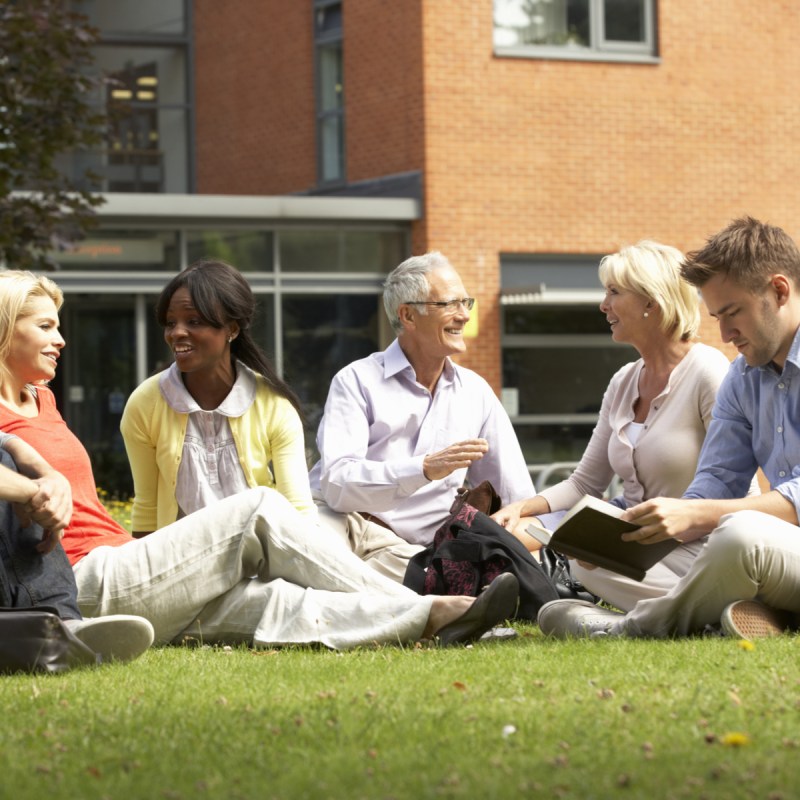 Our experience as English facilitators began in the early 2000s. It was like a stone tossed into a pond. First there was a plop. Then the ripples expanded outward into the present.
We were empty nesters, working at our jobs and contemplating retirement. One morning, an article in our local paper seized my husband's attention. It told of the need for native English-speaking volunteers to help facilitate English language programs in Europe. The students were professionals working for multinational companies who needed to improve their English. We were intrigued, submitted our applications, were accepted, and promptly forgot all about it.
Fast forward to 2014. We were planning to travel to England for our youngest niece's wedding. It occurred to us that since we would already be on the other side of the Atlantic, we should try to volunteer for an English language immersion program in Spain. Little did we know that what we were about to do would lead to a passion that's changed our lives.
How It Works
You will find these programs in many European and Asian countries. They all differ slightly, but the framework is the same.
As a volunteer, you are responsible for your transportation to and from the meeting point, usually a large city such as Madrid, Munich, or Bucharest. There, you attend a pre-program meeting for the volunteers involving food, entertainment, and/or a guided city tour.
The following day, everyone meets for the bus ride to a remote location. This is where you become acquainted with the students.
Once on the bus, your meals, accommodations, and health insurance are covered by the program. Accommodations can involve a hotel, cabins with a central dining and meeting facility, or, as was our experience in Southern Tuscany, a restored 11th-century abbey.
Depending on the program, you spend the next five to seven days working with the students individually and in groups. Most programs include pre-dinner entertainment such as music, presentations, and skits that involve a mix of students and volunteers.
The accommodations are comfortable, the food incredible, and the settings conducive for walks with students during one-on-one sessions. You begin at 8 or 9 a.m. and work a 12- to 14-hour day with perhaps a free period and a 1.5-hour break after lunch. You go to bed exhausted — and bounce out of bed the next morning eager to do it all again.
Our First Experience
Following the wedding, we flew to Madrid for some sightseeing and to begin our week with a program run by Diverbo, a company offering programs in Spain and Germany. The day before our departure for a week in the Andalusian foothills, the volunteers met to enjoy paella and a demonstration of traditional flamenco. Some, like us, were first-timers, while others had volunteered before. We ranged in age from mid-20s to late 70s and came from Canada, the U.S., England, Scotland, and Norway.
The program coordinator explained the cardinal rule: No Spanish to be spoken by students or volunteers at any time during the week. He also gave us an excellent overview of what we should expect.
The next morning, as we boarded the bus, the volunteers were asked to sit with a Spanish student, and our week of facilitating began.
The students included professionals in various types of careers, a college student, and a retiree whose passion was growing roses. The latter was determined to be proficient enough to speak English with his grandson who lived in Florida.
The week flew by, and 22 individuals who began as strangers departed as family. We came to learn this experience was the norm when people with a common purpose open themselves up to new experiences and to each other.
An Enduring Passion
Since our week in Andalusia, We have volunteered for more programs in Spain as well as Italy, Germany, and Romania. We sampled superb regional cuisines and stayed in comfortable, sometimes historic, accommodations in several locations in Spain, the Black Forest in Bavaria, Tuscany, and Transylvania.
We have met fellow volunteers and students with whom we are still in touch, and others we'll never forget. The more programs we attend, the more we want to experience.
What We Learned
My husband and I volunteered to teach, but we learned more from our students than we taught them. Roberto explained the finer points of making Spanish chorizo. Juan instructed me on making proper paella. Anna told us so much about her hometown of Cadiz that when we first visited this magnificent jewel on Spain's Atlantic coast, it felt as if I had been there before. And Carmen revealed the exact location of the holy grail in the cathedral in her home city of Valencia.
During our one-on-one sessions, we took long walks with our students, engaging in casual conversation. We learned about their hometowns, families, interests, and professions. By Tuesday, the 50-minute sessions included helping them prepare for the presentation each one would make before the end of the week. One of the group activities involved role-playing to help them gain confidence for those scary-to-them international conference calls.
All the students were delightful and eager to learn. The volunteers grew fonder of them by the hour. Most were serious about improving their English, but after hours we could see differences from country to country. The Spanish and Italian students headed to the bar after dinner and partied until closing time at 3 a.m. On the other hand, our German students disappeared shortly after dinner to study and prepare for their presentations. The Romanian students landed somewhere in the middle. What they had in common was their courage, determination, and genuine gratitude for the help and support we provided.
Our Takeaway
The time we spent as volunteer English language facilitators altered our perspective on travel in all the best ways. We learned to delight in finding smaller towns and villages, to seek out restaurants frequented by more locals than tourists, and to openly engage with people in the places we visit. Even more importantly, our volunteer experiences served to deepen our respect for cultures and traditions other than our own. Another precious takeaway was the knowledge that no matter how different our languages, customs, political views, and religious beliefs, there is — more often than not — common ground, if we are prepared to look for and embrace it.
Your Turn
If you're interested in exploring the possibility of volunteering as an English language facilitator, here are some things to keep in mind.
First, you don't need to know a word of Spanish, German, Italian, or any other language besides English. And if you do, you don't want to let the students know that you know!
You don't need any teaching experience. The program coordinator will set the schedule and give you guidelines to follow as the week progresses.
If you're outgoing, friendly, and open to new experiences, you have all you need to be a good facilitator, and you'll soon become as passionate about pursuing these opportunities as we are. This is an experience that feeds your mind and heart as nothing else can.
For volunteer opportunities, consider
Also read up on