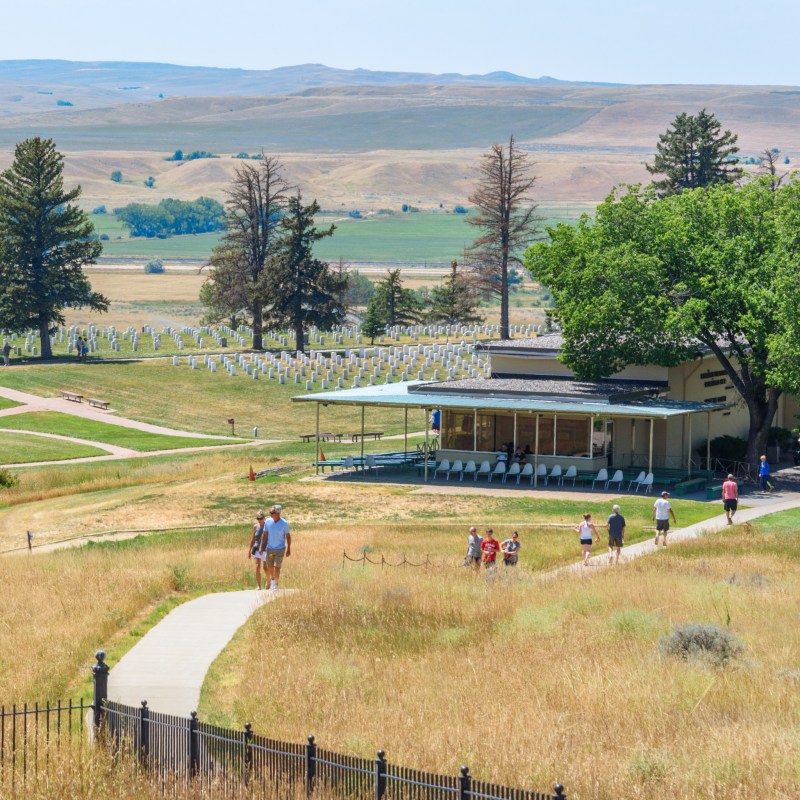 From Ekalaka to Hardin, seven museums take visitors from prehistoric, dinosaur-roaming days to back-breaking homesteading days to the bloody days of the Little Bighorn Battle in the unforgiving and beautifully austere land of southeast Montana.
I'm a Texas transplant, having recently moved from southeast Montana. It's a funny thing that when you live somewhere for 20 years, you always think you'll have time to visit local places that tourists flock to. But I didn't make the time until I returned to Montana for a recent visit. Here are seven historical museums worthy of a U-turn, a detour, backtracking, and/or going out of your way to visit because they educate, entertain, and allow visitors to witness southeast Montana's storied past.
1. Carter County Museum
Ekalaka, named for an early settler, Ijkalaka, a Sioux woman, is home to Montana's first county museum. Amateur archeologists and paleontologists founded the museum in 1936 to showcase dinosaur finds in the area. It includes fully mounted specimens of T. rex and Anatotitan copei, a Triceratops skull, and many more fossils from the area. The dinosaur story spanning 90 million years accompanies the exhibits.
They also have an extensive collection of Native American arrowheads, clothing, and pottery shards from nearby excavations dating back thousands of years.
The flour sack dress from pioneer days is museum attendant Gwen Schultz's favorite because it reminds her of everything her forefathers endured to settle here. "Nothing was ever easy, and nothing was ever wasted."
Pro Tip: To learn more about dinosaurs from paleontologists and join a dig, you can attend the Annual Dino Shindig the last weekend of July. For information on the event and the wheelchair-accessible museum, visit their website. Allow one to 2 hours for your visit.
2. O'Fallon County Museum
The six-building museum complex shows visitors a slice of life in Baker, beginning with prehistoric fossils in the Block Building, and continuing with antique cars and farm machinery in the Metal Building. Near a tar paper homesteader's shack in this building is the story of a woman homesteader, Ella Roget. Any man or woman willing to brave the trip to Montana could inherit public land provided he or she improved it by building a home and working the land within three years.
Across the street, a shockingly small, two-room cabin is the original homestead built by Amos and Cordelia Lambert. A productive pair, the Lamberts raised nine children in the house. The homestead contains their humble belongings from the early 1900s, while the adjacent building, once a mining claim shack, displays fine heirlooms from the late 1800s donated by a local family.
Steer Montana — the world's largest steer, weighing in at 3,980 pounds when alive — greets visitors to the former Fallon County Jail. The sheriff's quarters were on the ground floor while the jail was upstairs. It closed in 1974.
The ground floor contains a vintage kitchen where the jailer's wife prepared food for her family and the inmates. The inmates reportedly washed their own dishes.
Upstairs, vintage women's clothing hangs where the women's cells were located, and military uniforms hang where the men's cells once were. All areas of the museum are wheelchair accessible, except the jailhouse and mining claim shack.
Pro Tip: For hours, visit their website. Allow 2 hours for a visit.
3. Prairie County Museum And Evelyn Cameron Gallery
This museum in Terry is full of artifacts and old photographs by several local photographers. Next door, the Evelyn Cameron Gallery houses her photographs. Museum volunteers, Glen Heitz and Rich Miller, eagerly share Terry's rich history.
Cameron (1868 to 1928) was a well-heeled Englishwoman who fell out of grace with her family when she married a divorced Scotsman and moved to Montana. Her family continued to send her a small annual stipend, but Cameron began photographing the area's people and landscape to make ends meet.
Cameron rode a horse with her camera and glass plates to farms, church picnics, and haying days when neighbors gathered to help each other. She took self-portraits, too, of typical days and extraordinary ones, filled with wildlife and wild terrain. In addition to seeing the photographs, you can read her journals about pioneer life.
Pro Tip: The wheelchair-accessible museum is open regularly during the summer and by appointment the rest of the year. View hours and contact information here. Allow 2 hours for your visit.
If you want to spend the night in Montana's longest continuously operating hotel, where Teddy Roosevelt and Calamity Jane each stayed, check into the Kempton Hotel.
4. Range Riders Museum
Located in Miles City, the museum started in 1939. It has since expanded to include several connected buildings, a one-room schoolhouse, and a homesteader's house. Their collection runs the gamut from fossils and 1200 arrowheads to an iron lung and everything in between.
Renditions of a pharmacy, millinery shop, saloon, and post office take you back to 1877 when Miles City was called Milestown, and people strolled along boardwalks. Given the museum's ranching lifestyle, you'll find a comprehensive collection of barbed wire and branding irons.
Pro Tip: Hours are on their website. Allow 3 hours to visit the wheelchair-accessible museum.
If you're visiting the third weekend of May, you can experience the bucking horse sale. A rodeo, horse race, bucking horse auction for rodeo stock, concert, and street dance are all part of a jam-packed weekend.
5. Big Horn County Historical Museum
Hardin's 35-acre museum showcases 24 historic buildings, including stores, log cabins, a farmhouse, a barn, a train depot, a school, a gas station, and a church. All are connected by a wheelchair-accessible boardwalk.
Of particular interest is the display on cowboy artist and writer Will James. His house and studio are among the historic buildings on the grounds. Born Joseph Dufault in Quebec, Canada, he immigrated to the U.S. in 1910, changed his name to William Roderick James, and became a cowboy. After he landed in jail for rustling cattle, he started drawing. Later, his wife encouraged him to write and illustrate his cowhand stories in over 20 books.
Pro Tip: Allow 2 to 3 hours for your visit. The museum's website includes directions and hours.
If James has piqued your interest, the largest collection of his work and personal belongings is in the Yellowstone Art Museum in nearby Billings.
6. Little Bighorn Battlefield Museum
Located in the Little Bighorn Battlefield National Monument's Visitor Center in Crow Agency, historians offer lectures about this complicated battle pitting George Custer against Sitting Bull and Crazy Horse. Custer disagreed with the U.S. government's removal of Native Americans from their land but was politically motivated to advance his career. Sitting Bull wanted nothing more than to continue the nomadic way of life he and his people knew.
Displays include Custer's belongings and Native American weapons and beaded garments. The museum seeks to educate visitors about the events leading up to the conflict.
Pro Tip: Allow 3 to 4 hours to visit the museum and battlefield. Both are wheelchair accessible. Directions and hours are on their website.
To get a Native American perspective on the battle, Native American guide Olivia Williamson offers private tours. Visit her Facebook page for more information.
7. Custer Battlefield Museum
At the entrance of this private, not-for-profit museum in Garryowen lies the third tomb of an unknown U.S. soldier, a victim of the Little Bighorn Battle. The other two tombs are in Arlington, Virginia, and Pearl Harbor, Hawaii.
Near the tomb, a crypt contains a buried hatchet, sword, letters, and photographs. Once inside the museum, a photograph of the day the hatchet was buried by representatives from the Sioux Tribe and U.S. Military greets visitors.
The museum showcases Chief Sitting Bull's only known signature. It's on a contract to join Buffalo Bill's Wild West Show. You'll also see Sitting Bull's death mask, the most precious item in the museum, according to the museum's owner, Chris Kortlander.
Custer's beaded leather gloves and his brother's revolver are displayed, too. In all, five members of the Custer family died in the battle.
The largest collection of photographs taken by American West artist David F. Barry lines an entire wall. Custer and Sitting Bull's portraits are among the collection.
And for those interested in Lewis and Clark's expedition, which explored Montana in 1805 and 1806, check out the display of early edition books about their journey.
Pro Tip: Allow 2 hours to tour the wheelchair-accessible museum and watch a documentary about the Little Bighorn Battle. View hours and directions here.